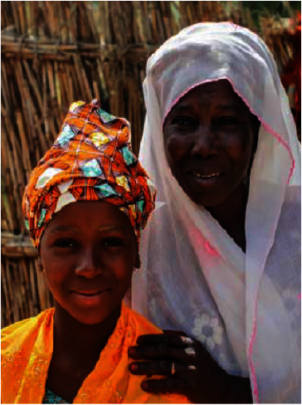 "Since the construction of the well, our lives have changed. My daughters and I don't have to wake up at 5 a.m. to walk a long distance and fetch water on our heads. I'm so glad that they can go to school." - Haoua, 47
Women like Haoua and girls like her 13-year-old daughter Habiba understand the transformative power of water better than anyone. Before a well was drilled in their village of Garin Maizouma, Haoua and her daughters would rise before the sun to walk miles in search of water. Often they would find that a water source they had accessed just the day before had run dry, so they would keep walking. The water they managed to find was often contaminated, and they knew that drinking it would likely make them and other members of their family sick.
Once a well was drilled in Garin Maizouma last year, everything changed. Instead of walking for water, Habiba and her sisters spend their days in school. Haoua has joined her village's savings group, which consists of other women from the village who contribute money to the group pool every month and then take turns borrowing the funds to invest in their families, buy seeds for their gardens, or launch a money-making venture. Haoua has already been the recipient of one of these monthly loans, which she used to start a small soap-making business. Most importantly, water-borne illness in Garin Maizouma has been eliminated. Haoua and other women like her no longer fear that they water they give their children will give them a life-threatening case of diarrhea.
We are thrilled to report that in 2019, we helped to deliver the kind of transformation experienced by the villagers of Garin Maizouma to a total of 66 villages. We also funded a solar-powered mechanized water system for a rural health clinic that will benefit 8,000 to 10,000 people a year. We are looking forward to funding another clinic water system and many more village wells in 2020!
With deep appreciation for your compassion in action,
Kate Cusimano
P.S.: We are so excited to be participating in GlobalGiving's Girls Fund campaign, which launched on March 6th. If we are one of the organizations with the most unique donors when the campaign ends on March 13th, we'll be eligible for year-long membership in the Girls Fund, which is supported by hundreds of donors who are committed to creating a more equitable future for girls around the world. It's the number of donors that matters, so a donation of as little as $10 could make all the difference!