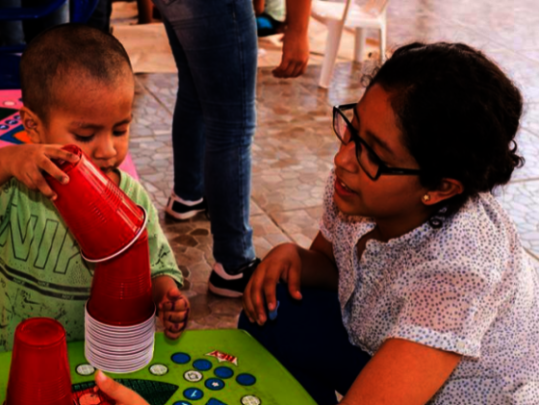 Kristell is 15 years old and lives in Chiclayo, Peru. She signed up in Peru Champs about three years ago, thanks to her grandmother, who found out about the program from a flyer she found in the store. The Champ has always been a good student, she entered as an academic talent; however, at the first bimester didn't get the grades she expected, even in her star courses: Math and Science.'I came from a different school, where they dictated everything to you and you just had to listen and repeat,' she tells us. Kristell decided to strive and take into account the advice from her new friends, which still serve her today: Research more about any topic after each class and work as a team.
At the end of the year, she saw the results of her effort and managed to renew her scholarship with an outstanding achievement. For the following year, she was already considered a leader, since it is she who now helped her new colleagues to understand the methodology and the importance of being interested in social issues.
In addition to academics, Kristell really enjoys music, dancing and oratory. She doesn't miss a performance and her specialty is folkloric dance. She plays organ, violin and ukulele, 'I also sing, but it's not my strong point", She says.
The Champ forms part of the MUN Innova Schools Chiclayo and has participated in different competitions with projects that are intended to solve problems of our society. This is how Translated Signs was born, an initiative that seeks to generate learning material for deaf-mute children. In her short years, Kristell tells us excitedly: 'It is impressive to know the stories about these girls and boys who possess skills in things that we do not have such as: language skills; they are able to read and remember the written stories and interpret them within their own sign language.'
As a child, she had the opportunity to participate in different volunteers, but it was with these children that she realized that she wanted to be part of the new generation with basic knowledge about sign language and inclusion from an early age.
Kristell seeks to reach out to more people and to learn about her mission to expand the borders of deaf-mute people and to make everybody that they are part of a culture, and they should not be discriminated against, but a source of pride.