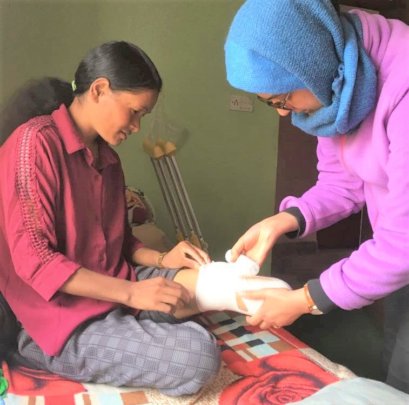 Namaste!
As part of this report, we thought we would share Chhema's story with you which is another wonderful example of how you change the lives of people who have no one else to turn to and nowhere else to go.
Chhema is 29 and comes from a village in the Solu region of Nepal where many households still cook on an open fire. She has a history of epilepsy and during her first seizure in ten years she fell into the fire resulting in burns to her left foot, ankle and lower leg. It was a walk of several hours to the nearest health post where the wound was dressed, but infection and later gangrene set in. Chhema was sent to Kathmandu and required a below knee amputation.
She was devastated, not only due to the loss of her leg, but her husband abandoned her knowing she would be disabled leaving her alone with her beautiful baby girl. Cheema was discharged from hospital to NHEDF for post-op wound management, physiotherapy and intensive rehabilitation. Her brother became her care-giver and helped support Chhema along her 9-month road to rehabilitation, which was made even longer by the Covid pandemic. Eventually with the help of new shoes, a prosthetic leg and lots of physiotherapy she was discharged home in mid-July.
There are so many stories like these, all made possible by your amazing support without which there would be no NHEDF and no good news stories like the above to report. Thanks to you, Chhema, like all patients at the Shelter, has been able to have somewhere to stay in Kathmandu and receive physical and emotional support, medical and surgical treatment, wonderful nursing care and physiotherapy at no cost to herself. Without this, like many of NHEDF's patients, she would have either died or been left destitute.
If you would like to read a bit more Covid-19 in Nepal and how it has impacted and is still impacting life at the Shelter please read on, otherwise on behalf of all past, present and future patients, and everyone at NHEDF, we thank you from the bottom of our hearts for your kindness and generosity.
Covid, NHEDF & Nepal:
As this report goes to publication there are now 22,600 reported cases of Covid-19 throughout Nepal with the pandemic no longer being confined to regions along the border with India. About 50% of NHEDF's patients returned to their villages before lockdown. Those who could not manage without the services NHEDF provides remained.
Throughout this crisis, Samrat had to skilfully negotiate with local authorities before he was allowed to take a patient like Govindra to the Emergency Department for IV antibiotics for cellulitis, or deliver gas bottles for cooking to the Shelter or allow NHEDF's nurses to attend work.
We made a decision to continue to pay our nurses wages whilst they were prohibited from going to work during the first 3 weeks of lockdown, during which time nursing instructions were provided by tele-health. After 3 weeks of lockdown, Samrat finally obtained permission for staff to continue their duties which meant he acquired an extra job as a taxi driver (as there was still no public transport operating) and was allowed to transport them from home to work and back again every day.
Now NHEDF's Shelter is almost close to capacity again with patients with burns, orthopaedic injury and hospital acquired pressure sores requiring surgery, neurological conditions and wound management and there is an increasing demand for NHEDF's services.
The nationwide lockdown in Nepal eased on July 21, so life for patients at NHEDF's Shelter is starting to get back to normal despite many establishments remaining closed. Public transport outside the Kathmandu valley is still not operating so a couple of patients have had to stay despite being well enough to go home, as they simply cannot get home however it looks like Nepal, including the airport and public transport, will open up later this month. The need for NHEDF's services will only increase as a result of the economic impact of the pandemic.
We hope you are staying safe during these difficult times, and on behalf of all past, present and future patients, and everyone at NHEDF, we thank you again from the bottom of our hearts for your kindness and generosity.
With best wishes and grateful thanks,
Virginia Dixon,
President, Roads to Rehab Nepal