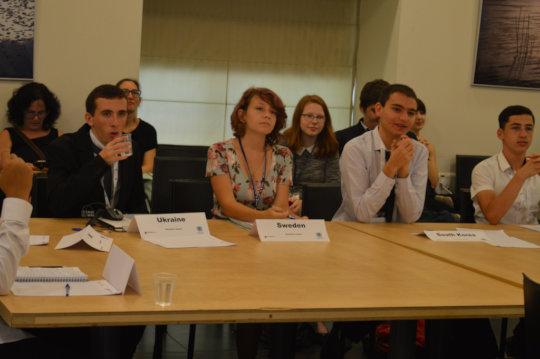 9.6.17
Our summer continued with more diplomatic visits.
On Friday June 9th, we brought a small group to the Embassy of Taiwan to discuss Israeli-Palestinian peacemaking, and Taiwan's own history of reconciliation with China.
7.7.17
On Friday July 7th, we held a follow-up session with Yoni Eshpar from UNSCO, hosted once again at the American Embassy. Another 20 students joined, and following the discussion and Q&A with Yoni, and some words from US Embassy representatives, the students split into 2 groups to discuss what a post-agreement Palestinian state might look like, and how to address inequalities within Israeli society.
14.7.17
On Friday July 14th, a group of students was hosted at the Embassy of Cyprus, and spent two hours meeting with H.E. Ambassador Thessalia-Salina Shambos. We presented the ambassador with a bouquet of flowers in congratulations of her recently being named "Ambassador of the Year" by Israel's Ambassadors' Club, and spent two hours discussing the occupation of Cyprus and conflicts with Turkey and within Cyprus, as well as the Israeli-Palestinian context, and the role of religion. The Embassy gave all of the students a gift of a special book published on Islamic heritage sites in Cyprus.
21 & 28.7.17
Finally, to close off the summer with a bang, 20 fantastic students, from Daburiya and Sakhnin down to Gedera and Gan Yavne, all met at the Charney Resolution Center in Kfar Hayarok youth village for 2 consecutive fridays, July 21 and 28, to participate in an "Israeli-Palestinian Congress" with the Minds of Peace program. The first Friday the group met with Palestinian peers from Nablus and Jerusalem, and spent 5 hours on icebreakers and confidence-building negotiations. Because of tensions over the Haram al-Sharif (AlAqsa-Temple Mount area) situation, the second friday only a small number of Palestinian students from east Jerusalem came. We went ahead with our negotiations anyways, with some of our (Israeli) Palestinian students negotiating the Palestinian side, at times joined by Jewish students who were role playing. After another 5 hours of negotiations, we had two signed negotiations, and all of the students received special certificates. What was particularly interesting was that unlike most of the Israeli-Palestinian Congresses, we brought both Jewish and Muslim students from Israel, which made our group more representative, and added to our ability to build linguistic and cultural bridges. At the end of the program, 6 students: Zohar, Marsel; Fiona; Omri; Yafa, and Aviv, were announced as students chosen to travel to the European Parliament in October to present our program there.
Links: