Music Interfaith Group- 8 Encounters in September and October 2019
Our Interfaith Band continues to meet on Tuesdays. In September we met on the 3rd, 10th, 16th and 24th. In October we met on the 1st, 8th, 15th and 22nd.
Lately we have been working on our new song "Emtza Haderech", written by Yoni, who plays the guitar and sings with our group. We also worked on the song "Al Azin". We went back to some of the old songs we know and sometimes we just jam a little, which is the most fun!
We are now excited for the coming first ever Interfaith Singing Evening of the Interfaith Encounter Association in cooperation with Felm!
Links:
The group met in Hebron with fifteen participants.
The theme for the encounter was repentance.
Several members said that the mere activity of our group is by itself a form of repentance – restoring the good relations between neighbors.
Gideon explained the concept of Teshuva in Judaism and said that Rabbi Kook told us that repentance is not only about regret for sins but also about bringing light to reality.
Ashraf responded that in Islam it is very similar: anyone who did wrong has to return to Allah. He quoted Sheikh Shahrawi who said that the Muslims are in difficult situation because they are not true believers and should return to Allah. We all should have good hearts of love to others.
Issa added that we wish to build a good future for us and for our children, a future of peace between neighbors.
Links: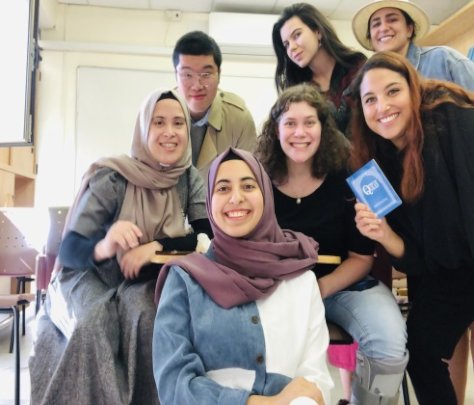 After successfully completing the Interreligious Dialogue course last year, we have gathered again to the first encounter of our new group that will give continuation to the process of building bridges through interfaith encounters. The encounter took place at Bar Ilan University with eight beautiful people: five Jewish women, two Muslims women, and one atheist.
This week's topic was about the prophet "Yusuf", "Yosef", "Joseph" PBUH. We listened to the story of the prophet Yosef from both Islamic and Jewish perspectives. We were happy to hear how similar the stories are. The meeting lasted two hours, and the participants were very curious and asked many questions about both sides. We hope to continue our journey together and invite other students at Bar Ilan University to join us for our future encounters.
Links:
WARNING: Javascript is currently disabled or is not available in your browser. GlobalGiving makes extensive use of Javascript and will not function properly with Javascript disabled.
Please enable Javascript
and refresh this page.