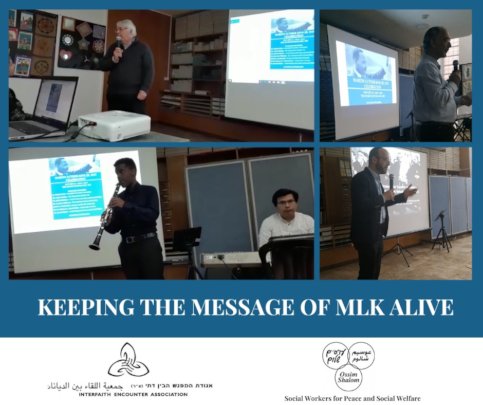 For the first time, the Interfaith Encounter Association celebrated an event in honor of Martin Luther King Jr. Day, in cooperation with Osim Shalom, at the Museum of Islamic Arts. The event was moderated by Carolina, Community Manager of IEA.
Dr. Stolov, Executive Director of IEA, greeted participants saying it is natural for IEA to celebrate MLK's legacy which we very much share. As MLK, IEA holds the vision of transformation of the heart towards harmony between people. We also have a dream of all Holy Land people living in harmony of good neighborhood; a dream they will all learn to see their love to the land as uniting them, not separating them; and a dream they will understand we are all brothers and sisters.
Ms. Wishman, Director of the American Center in Jerusalem, spoke about Minister Theodore Parker who inspired MLK and many others. He said that the arc of history is long but bends towards justice, but only because of people with indignation and hope who push it towards justice. As Pirkei Avot, a 2000 years' old Jewish text, said: "It is not [incumbent] upon you to finish the work, but neither are you free to desist from it".
After a most beautiful musical interlude, by Naor and Aaron who played Verdi's La Traviata, we were honored to host Her Excellency Dr. Shakya, Ambassador of Nepal. Dr. Shakya reviewed MLK's life story, stressing his genius and that he chose to resist racial segregation in a not violent way, influenced by Mahatma Gandhi. Dr. Shakya said that Nepal always wanted to contribute to peace, harmony and non-violence in the world. One day before he was murdered MLK gave a prophetic speech in which he said that we already see the promised land and we will get to the promised land. Hopefully we all learn to join hands and work together for a wonderful world.
Rabbi Dr. Roth, Director of Mosaica Religious Peace Initiative and Lecturer at Bar Ilan University, brought a few of MLK quotes and then the quote "Alas, in Heaven's name! Are we not your brothers? Are we not the sons of one father? Are we not the sons of one mother? Why are we different from every nation and tongue that you issue such decrees upon us?!" which sounds like MLK but is actually 2000 years older - from Yehuda ben Shammu'a in the Talmud. Rabbi Roth explained the story of anti-Jewish decrees by the Romans and how Yehuda ben Shammu'a chose not to surrender on the one hand or start armed rebellion on the other hand, but work from within the Roman system, with advice from a well-connected Roman noblewoman and through nonviolent sitting protest, until the decrees were cancelled.
Ambassador Liel shared how he was appointed as the Consul in Atlanta in 1990 and developed connections with MLK Center there, which began with an exhibition of photos from the coming of Ethiopian Jews to Israel. Through this connection he met twice with MLK's widow, Coretta Scott King.
After screening the famous "I have a dream" speech we had some concluding words.
Mr. Shalev, co-chair of Osim Shalom, brought two quotes from MLK: "darkness cannot drive away darkness, only light can", and: "we must learn to live together as brothers or we will perish together as fools".
Mr. Sheiban, Director of the Museum for Islamic Art, shared how happy he was that we chose to hold the event at the museum, and stressed that we have to work together in order to create a better society in Israel.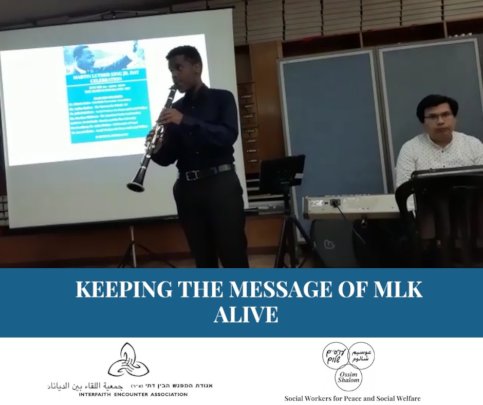 Links: