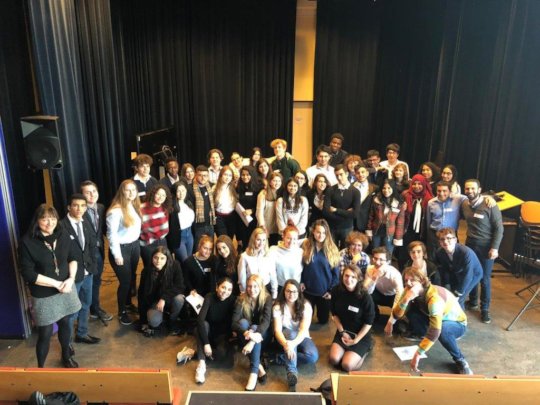 January 4: We held a meeting in Tel Aviv to prepare for the YaleMUN conference.
January 10: A delegation of 9 students to the TIQVAMUN conference, with a number of students winning awards.
January 18: We held a training session for the 10 students attending the MEDIMUN conference in Cyprus, overseen by trainers from the Cohen-Idov Center for Rhetoric.
January 14-21: YALEMUN delegation visited NYC and Connecticut synagogues, mosques and the UN, as well as competing in the conference. The Kosovo mission held a special interfaith meeting in our honor. See more here.
January 25: We had a meeting with the Ambassador of Cyprus, H.E. Ms. Thessalia-Salina Shambos, in anticipation of the MEDIMUN 2019 delegation.
January 29: 9 students attended the YachadMUN delegation to YACHADMUN conference in Modi'in, with several winning awards.
February 1: We had a briefing with the Ambassador of Guatemala, H.E. Mr. Mario Bucaro, at the ZOA House in Tel Aviv.
February 7-10: The delegation to MEDIMUN in Cyprus, with 10 students competing in the conference and meeting with the UN in Cyprus. Read more here.
February 14-19: The Empathy Storytelling Delegation visited Netherlands, spoke at schools and the Anne Frank House there, and met with interfaith groups. Read more here.
February 20-25: Students participated in the RESOLVE Youth exchange in London, with peers from Georgia, Sweden and the UK
February 22: We had a briefing with the Ambassador of Costa Rica, H.E. Mr. Esteban Penrod, at the ambassador's home.
March 1: we held a volunteering day in south Tel Aviv, with six students coming from Petah Tiqva, Akko, Ramat Gan, and Modi'in.
March 8: we had a meeting with about 25 students at the US Embassy cultural affairs office in Tel Aviv to plan out group projects.
April 1-2: we had a delegation to the GALMUN conference in Nazareth, with 9 students participating. Two students won awards.
April 5: we held another volunteering session in south Tel Aviv with refugee children.
After the volunteering session a group of 9 students and one teacher stayed in Tel Aviv for shabbat, where they joined a visiting group of Belgian students for shabbat prayers and dinner, and activities on Saturday.
April 7, 9, 10 and 11: We had a number of students join the Belgian delegation through AIM (Actions in the Mediterranean) for debates in Tel Aviv and Jerusalem.
April 11: we had a delegation of 10 students to the TIRAMUN conference in Tira. Most of the students won awards, and all had a great time!
April 14-18: 10 students competed with university students in the JLMUN conference at Hebrew University. We stayed together in an AirBNB during the week.
April 24: We held a sports and barbeque social event over Passover, with about 20 students participating.
April 30: A delegation of 7 students attended SHAREMUN conference in Netanya.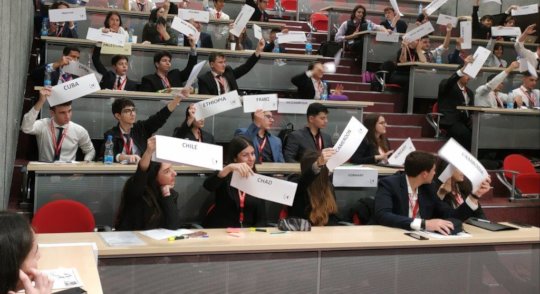 Links: