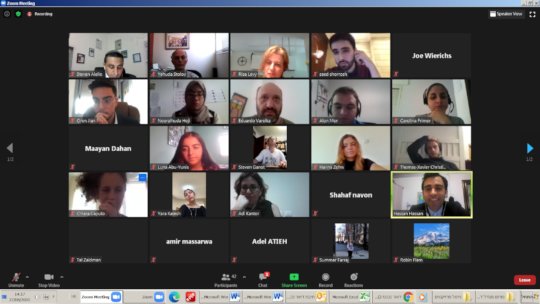 The goal of this project is to demonstrate that through an empathetic, respectful approach, a topic like Refugees need not be divisive, and can in fact build solidarity and deepen friendships between young Jewish and Palestinian citizens in Israel. These leaders can then inspire and impact others.
The topic of refugees has been considered extremely polarizing, one of the issues left for future discussions at Oslo, and virtually taboo. We turn that on its head by using the topic to foster solidarity and deepen friendship. The educational center at the Anne Frank House in particular was so impressed by the project that we were the first group ever invited to present in the context of the Israeli-Palestinian conflict.
To the best of knowledge this is the first attempt at having Israelis and Palestinians share one another's stories of being refugees.
There are 8 students participating:
Luna, 14 years old from Sakhnin, a city in the north of Israel. She is a Muslim Palestinian Arab Citizen of Israel.
Her grandparents were born before the establishment of the state of Israel.
Luna speaks Arabic, Hebrew, and English. She studies at Albshaer Private School, and she is passionate about diplomacy, science, and languages. She is a violinist too.
Snabel is 19 years old and Muslim from Rahat city.
Yoad - 18 year old from a small village in the Municipality of Be'er Tuvia. Yoad graduates from High school in 2020, and will start his military service in December 2020. He speaks English, French and Hebrew. His family has long roots in Europe and North Africa. Yoad comes from a Jewish- Atheist background.
Oren, 17 years old- Oren is Jewish Israeli, he lives in the city of Netanya, and he has Persian roots.
Mihal is a senior from Caracas, Venezuela. She is Jewish and Spanish, and attends a boarding school in Even Yehuda.
Tal is a Jewish Israeli and Zionist student from petah tikva. her family is from Yemen and Poland.
She loves studying diplomacy and international relations. In school she is specializing in medicine and chemistry.
Amir is 15 years old, from Taybie. Amir is Muslim and a Palestinian Israeli citizen
Saed is Palestinian and graduated from high school. Saed lives in Nazareth and is of Christian background
We held several weeks of meetings, and are now in the stage of presenting the stories (via Zoom)
Meeting 1: Empathy circles discussion-- we had a 90 minute discussion among the group using the Empathy circles framework (April 25)
Meeting 2: Discussion with Corey Gil Shuster (Ask an Israeli/Ask a Palestinian youtube channel) on empathy and lack of empathy in the context of the conflict (May 4)
Meeting 3: Transitional Justice with Professor Monroy-Santander (May 13)
Meeting 4: Jacob McCleland (US Embassy): How to be a Journalist? What questions to ask. (May 18)
Meeting 5: Eddie Ashkenazie (Diarna) : exploring heritage; looking for clues. (May 25)
We spent 3 weeks researching stories with partners (Mihal and Luna; Snabel and Tal; Saed and Oren; Yoad and Ameer)
Meeting 6: Storytelling with Rebecca Zafrani (June 24)
July: we held several different meetings to practice the storytelling, first with smaller groups of friends and family, then for teachers.
In August we will keep presenting to larger audiences
September 10-16- travel to Belgium to present there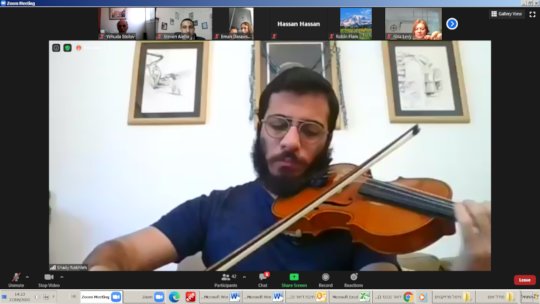 Links: