Anyone who has seen a performance of our amazing interfaith band Wast E-Tariq knows the magic they create: Israelis and Palestinians singing together about peace and friendship.
Because of COVID19, they haven't been able to perform live since March, leaving some of its members without their main source of income. Together with members of the band, we ran a campaign asking for support in lifting up our friends from difficult times and giving them the opportunity to keep creating music and promoting peace.
We hope very much that very soon the band will again be able to practice and perform!
Links:
The last time we met face-to-face was in December of 2019, and since then Midwives of Peace has been meeting online on Zoom. We have held 4 encounters so far - in April, June, September, and at the end of October. The attendance has been surprisingly good, but the same members seem to be present each time. The format, the need for technology, and the need for good and consistent internet service prevent many of our members from attending, which is very sad.
Most of the members continue to work throughout these trying and difficult times and are exposed to the coronavirus on a daily basis. Some of them have been sick, and one of our participants lost a close family member. It is difficult to console them in this way, over the internet, and on the screen, and the level of frustration is high. But it is good to stay in touch and interesting to learn how the public health systems on "both sides" are dealing with the virus.
Because the coronavirus has sort of taken over all of our lives, most of the discussion was on this topic. We tried to go beyond it, but it was pulled back in that direction over and over. So, we talked, we listened, we laughed and we cried. This is similar to what we usually do, but doing it over the internet is a new experience. We are missing the hugs.
We had planned to host another seminar on the topic of sexual violence, as the first was very successful, and there was a request for a continuation, but it will have to wait. In the meantime, we maintain our friendship and our connection in these strange times of disconnection and hope to meet again soon.
Links: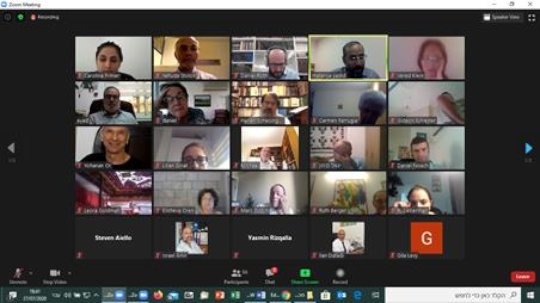 On July 27, the Interfaith Encounter Association and Mosaica Religious Peace Initiative held a special online event on the occasion of the "Jerusalem Ahavat Hinam Week"- moderated by Carolina (Community Director of Interfaith Encounter Association).
On this very week, Jews will be fasting and mourning during Tisha Be'Av, while Muslims will celebrate one of their most important holidays, Eid Al-Adha (Festival of the Sacrifice). As Rabbi Dr. Daniel (Director of Mosaica Religious Peace Initiative) stated at the beginning of the event, the closeness of these two dates can be (and has been in the past) fuel for violence and hatred, specially in Jerusalem's Old City. Since one of the themes related to Tisha Be'Av is baseless love (ahavat hinam), as opposed to baseless hate (sinat hinam), we invited two religious leaders- a Sheikh and a Rabbi- to speak about the concept of Ahavat Hinam in these holidays, and in our current reality.
Sheikh Eyad explained the origins of Eid Al-Adha (the binding of Abraham's son, Ishmael), and how it is celebrated worldwide- including a fast the day before, which this year will coincide with the fast of Tisha Be'Av. He also spoke about the deep sadness he feels about not being able to go to Mecca for this year's Hajj (peregrination) because of Coronavirus.
Rabbi Matanya brought some sources on the relationship between Tisha Be'Av (a fast for the destruction of the Jewish Temples), and the concepts surrounding the commandment to love one's neighbor. The Sheikh and the Rabbi engaged in a very interesting exchange regarding the challenges and the importance of developing Ahavat Hinam in relation not just to one's neighbor, but specially with "the other". They also answered questions from some of the more than 60 participants.The questions addressed topics such as dealing with disputes and criticism from more extremist groups within one's own religion, and religious concepts that can contribute to building baseless love (such as respecting the foreigner in Judaism, and Wasatya- the middle path- in Islam).
Sheikh Eyad and Rabbi Metanya concluded the encounter with special blessings for the week ahead.
Links:
WARNING: Javascript is currently disabled or is not available in your browser. GlobalGiving makes extensive use of Javascript and will not function properly with Javascript disabled.
Please enable Javascript
and refresh this page.