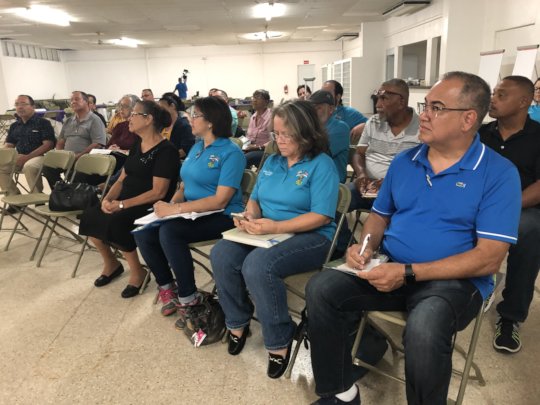 With more than 250 community aqueducts in our island, Fundación Comunitaria de Puerto Rico has been able to work with 65 of them through technical assistance, grants and provoking peer learning experiences through a series of convenings.
As we approach the end of the year 2019, we were able to provide six grants, totaling $229,560, to support the improvement of the physical infrastructure in six communities that provides access to clean and drinkable water to 760 families. The long-term sustainability of these systems is very important, and the community wants to be a part of it.
Fundación Comunitaria provided a grant to Asociación de Residents Villa de Oro in Caguas and Humatas Deep Water in Añasco respectively, to install water metering equipment. These aqueducts provide access to water to 100 families. The metering system will allow measuring water consumption per family in order to charge families for the use of the water. This is a very important step for community residents, as the amount charged will allow for maintenance, repair of the infrastructure and, better yet, becoming self-sustainable.
On the other hand, twenty families will benefit from a new water storage infrastructure in Cidra through a grant given to Asociación de Residentes Villa Vigia. The grant will allow for this community to have clean water with new water storage and distribution system as their current infrastructure is contaminated with lead and copper putting at risk the community's health and well-being. Meanwhile, Acueducto Rural Bayamoncito in Aguas Buenas is a community aqueduct with which we've been working for more than a year to strengthen its community organizing, administrative, and compliance capacity. With the grant provided to this community of 180 families, they will be rebuilding the water storage and distribution system. And the Comunidad Gabino Negrón in Aguada will build a solar infrastructure that will allow uninterrupted water access and; Comunidad Perichi Aqueduct in San Germán, will rebuild the filtering and disinfection system that provides water to 250 families.
With these six grants, we have been able to provide grants to 18 community aqueducts and provided direct technical assistance to 30 of them, the other 35 aqueducts have received some sort of minimum technical assistance and have participated in our community aqueducts convenings.
As we continue to listen to the community, we were able to convene Third Community Aqueduct Convening, celebrated in Adjuntas, with the participation of 45 individuals from thirteen communities belonging to the following municipalities: Ponce, Jayuya, Aguas Buenas, San Germán, Coamo, Caguas, Arecibo, and Adjuntas. The previous two were celebrated in Corcovada community in Aguada (western region) and Las Corujas community in Aguas Buenas (eastern-central region). Forty-three (43) community aqueducts have participated in these two convenings. As the aqueducts are at different stage levels, this type of convening is a very rich way to have a thorough peer to peer exchange of ideas and learnings, and serves as well, as a platform to share the challenges faced by these communities and how to solve them.
Our community aqueduct initiative is also supported by Oxfam and Hispanic Federation.
Our long-term goal is to work with the 200 community aqueducts in a five-year period. The approximate cost per aqueduct varies between $30,000 to $50,000, depending on the needs and opportunities it represents for the community. Our goal is to raise $8 million to continue to work with the remaining 170 community aqueducts.