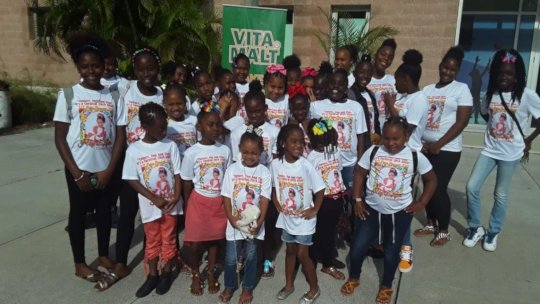 The Coral Bay Community Council (CBCC) has been interacting with local nonprofit children's programs, government, and others to help assure that all of the children in Coral Bay have access to good options this summer - through a combination of offering transportation, scholarships, subsidizing staff and other assistance. Options for children remain limited since the storms and the organizations doing these programs are still working to rebuild their programs and locations. CBCC has put out feelers into the nonprofit programs community and welcomes developing other connections so we can support providing opportunities to all children who live in remote Coral Bay. Of course, when they are involved in programs with other children, we will support them collectively!
A few months ago, CBCC was given the opportunity to apply for a Global Giving disaster recovery grant. We chose to apply for $25,000 to support removing barriers for Coral Bay children to participate fully in children's programs this summer and into the new school year. We received the full grant, and CBCC was accepted as a participant for fundraising on the Global Giving platform.
Through our partnership with the Global Giving platform, CBCC is reaching out to new donors who have a special affinity for supporting children's programs. These are the kinds of programs that will be supported – and more is possible if nonprofit children's program leaders work in partnership with CBCC.
CBCC has been trying to set up a taxi van transportation program for children's transport this summer. However, it looks like parents and programs have worked to get the start & end times convenient for public bus or parent after job pickup. CBCC welcomes new ideas, concerns and opportunities being presented for possible funding.
Additional funds may be spent to get new or rebuilt facilities ready for full use, such as the finishing touches on the Guy Benjamin Community Center Sprung Structure building in Coral Bay, in cooperation with the VI Department of Education. CBCC has also received a very generous $10,000 contribution from a donor who wished to remain anonymous that is targeted for children's programs.
Children in the Dynamic Dancers program have taxi van transportation for their field trips and performances being paid under this program. It cost $500 to get all of them to the St. Thomas Carnival Princess Contest at the University of the Virgin Islands. Our Global Giving Initiative, and the initial $25,000 grant, paid for that.
Funds will be available for starting a children's gardening program this summer and for new costumes for the 40 girls who are the Dynamic Dancers! It will pay for other summer program field trips and scholarships for children's pottery-making classes.
Flexibility is important as recovery after the hurricane disaster evolved. Some programs are delayed in starting up – like the St. John Bookmobile, the Dept of Education - sponsored Community Center and John's Folly Learning Institute. The Boys and Girls Club will start in the fall. The St. John School of the Arts is running a summer program, as is the Julius E. Sprauve public school. CBCC is reaching out and will respond to any needs that are encompassed by this project.
July 18th is a special Global Giving Bonus Matching Fund Day for larger gifts, submitted on line. If you want your large donation to support these children's programs to be matched, it is important to make it shortly after 9:00 ET on July 18th, since the Bonus will end that day when the $250k in matching funds run out. Let's work to get our share! You can use your credit card or PayPal at https://www.globalgiving.org/donate/61129/coral-bay-community-council/
Here are the details for the Bonus Match day for large contributions – and another great bonus program if you want to give dollars each month.
Donations will be matched based on amount:
Donations $100 - $499 USD will be matched at 15%
Donations of $500 - $749 USD will be matched at 30%
Donations of $750 - $1,000 USD will be matched at 50%
Donations under $100 USD will not be matched
Donation above $1,000 USD will be matched on the first $1,000 at 50%.
Or would you rather give a recurring monthly amount – to sustain this program for the long term? There's a short term 100% match for New Monthly Giving:
New monthly donations up to $200 per donor per project started during this bonus day will get an additional 100% match on their initial donation as long as it remains active for a minimum of four payments.
Thank you to everyone who is supporting these efforts!