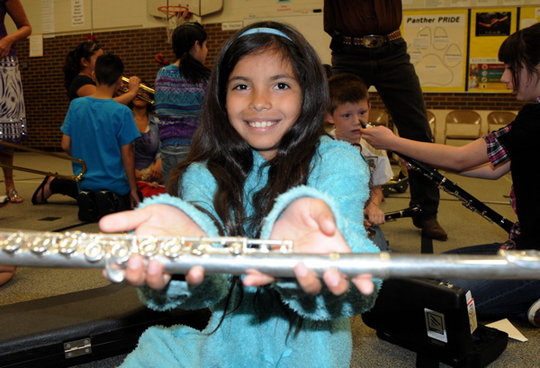 Kids light up when they hold a new instrument. So you can imagine the joy and the smiles that were created in the 98 schools across the country that we helped during the last school year. The 1,683 instruments we distributed not only made students happy and more accomplished, but will help to secure a place for music for all the kids who will play them in years to come.
Sandy Craig, Principal at Pennington Elementary in Wheat Ridge, Colorado, expresses her gratitude for receiving an instrument grant this school year:
"The Mr. Holland's Opus Foundation grant will provide musical instruments to every 5th and 6th grader at Pennington Elementary. Our students have limited resources outside of the school setting for any type of enrichment activities. This grant puts opportunity at their finger tips. These instruments will maintain music instruction at our school for generations to come. We can never thank the foundation enough for this generous and unexpected gift."
As we gather instruments for the upcoming school year, we thank our donors who make it all possible, and we thank the thousands of grateful youngsters who make those instruments sing. Below is a link to a list of all the exceptional schools we helped in the 2011/2012 school year.
Links: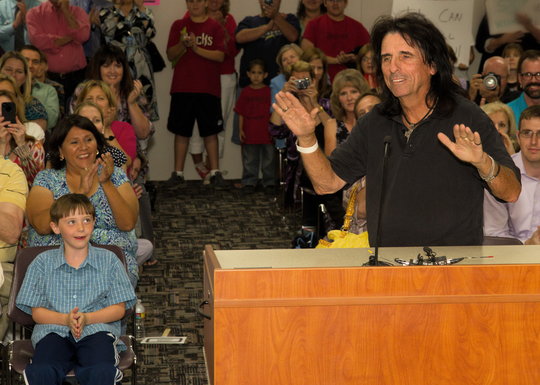 Alice Cooper was on hand Thursday, April 5th, at Paradise Valley Unified School District's board meeting to announce the Mr. Holland's Opus Foundation's $20,000 grant to Arrowhead Elementary in Glendale, AZ. Alice Cooper also spoke about the importance of music education in a kid's life and in our communities.
"There are kids out there that really want to play that just can't afford it and here they are, here's the instrument, put it in their hands and just watch them go. Maybe some of them won't be great musicians but so what - it's something that they're doing that they love." - Alice Cooper
Arrowhead Elementary school principal, Teresa Simmons, was thrilled to hear about the award, "All students love to learn new things. This includes learning to play a violin or a trumpet, viola or flute. The students at Arrowhead want these same things, but are often unable to fully participate due to a number of circumstances beyond the students' control. The band and strings instructors have worked their magic each year trying to get an instrument in each student's hands, but can work only so many miracles. With the Mr. Holland's Opus' grant the miracles will continue and instruments will be available for our own talented group of children. We are thrilled and honored to receive this amazing donation and are already making plans to share the gift of music and creativity with our deserving students. Thank you to the Mr. Holland's Opus Foundation from Arrowhead Elementary School." 24 instruments and over $1,000 worth in repairs were awarded to Arrowhead Elementary.
Here is a list of all the other schools awarded this school year.
Many donors have made so much possible and we thank them.
Links: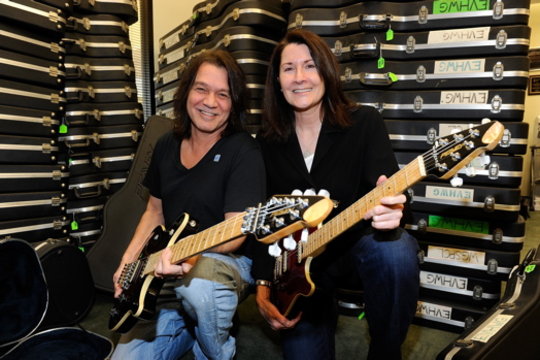 "Music is the universal language. It has the ability to transcend and convey every human emotion that exists without saying a word. Music kept me off the streets and out of trouble and gave me something that was mine that no one could take away from me. Music education and families are dealing with the economic times, and I wanted to help them. If I can help a kid discover a liking, or even a passion for music in their life, then that's a wonderful thing. Music has provided a good life for me and hopefully it can help make life better for others with this donation." - Eddie Van Halen
Eddie Van Halen donated 73 guitars from his personal collection to the Mr. Holland's Opus Foundation. They will be distributed to 7 Los Angeles area schools. Among them, Garfield High School, has already witnessed a surge of enthusiasm in guitar class.
"It was like an injection of enthusiasm when you let them know where the guitars are coming from and what a legend Eddie Van Halen is," Music Director Eloy Adame said. "As the band director here at Garfield High School, I not only run the marching band but the symphonic band and the jazz band in addition to the beginning band and beginning guitar class. With this significant donation from The Mr. Holland's Opus Foundation, we can continue to expand our guitar class and diversify our guitar class to include electric guitars and enable students to broaden their horizons. Thank God, again for your support."
We are deeply grateful to Eddie for allowing us to give these stunning instruments to so many deserving youngsters.
Links:
WARNING: Javascript is currently disabled or is not available in your browser. GlobalGiving makes extensive use of Javascript and will not function properly with Javascript disabled.
Please enable Javascript
and refresh this page.