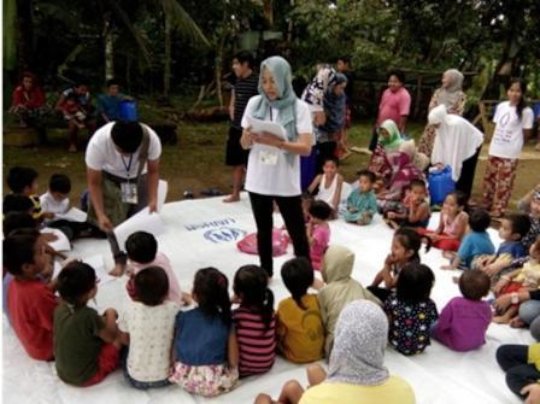 Dear Friends and Supporters,

This is a busy time at KI as we are starting the recruitment process for our 12th Batch of Muslim Youth Peacebuilding Volunteers. Your much needed support will contribute to their upcoming development training. We look forward to informing you of their progress in the coming months. At the same time, our current 11th batch will finish their placements at the end of March. All of our volunteers are asked to write their Significant Change Story at the end of their placement. In this report, we thought we would share with you the story of Aisah
"Things get solved if you get involved" by Aisah
I am Aisah, 23 years of age, my place of origin is Gadongan Saguiaran, Lanao del Sur. In my college life I didn't have much confidence to do service in the community and I was afraid to speak in crowded place and to communicate with other cultures because I'm an introverted person.
After I finished my studies, I asked myself, what if I try the things that are opposite to my life, like volunteering and face my fears? But I don't know where to start and how? Fortunately, a friend told me about a Non Government Organization which is Kapamagogopa Incorporated. Luckily, they are looking for another batch of volunteers to be trained and placed in other partner organizations and I feel excited because this is what I'm looking for. This might be the right place where I could know myself better, boost my self-esteem & confidence and discover my skills and what I'm capable of.To make the story short I was chosen as one of the newly batch volunteer, we were trained for 1 month for the preparation on our 1 year placement of volunteering in their host partners. After the straight one month heavy training and workshop, I can say that it was fulfilling because I've learned a lot and had met my expectation.
At first I was placed at an organization in Marawi City. It was challenging for me because it's more on Documenting and it improves my capacity on writings and translating Maranao dialect which is the mother tongue for us Maranao's into English language. However after a few weeks, due to the outbreak of conflict in Marawi City, I was withdrawn for my safety.
I returned to Iligan City and KI placed me with Community and Family Services International (CFSI) which is an International Non government Organization. I was a responder when the emergency response team of CFSI was activated on Marawi conflict, and eventually worked as field assistant under the Psychosocial Support in emergency project. It was challenging for me because during this time we do Psychosocial for children and Psycho Social First Aid for Mother's that were affected by the Marawi siege, and also distributing of Non food items (NFI) to the Internally Displaced Person (IDP's) while Fasting during Ramadhan. It was my first time also to organize a big crowd of people, I've learned a lot regarding the different strategies on handling big crowd, it was hard actually but Alhamdulillah I faced it because I have this sense of volunteerism, indeed I overcome it.
One of the important things that KI has done for me is they planted a seeds on my head so that my ideas will continuously grow on my journey on volunteerism. I gained knowledge, skills and I've experienced in dealing with different people every day. The things that I wanted to solve when I was not a volunteer have been solved because I got involved in it. Things have change in me, even the people that surround me have told me that I've changed a lot regarding on my Self- esteem and confidence. The most significant part is I've learned in different ways such as being patient, flexible and be open to new ideas.
**********************
Aisah will join the rest of our 115 Alumni volunteers who will continue to work for peace and development in their communities. If you are interested in helping other young people like Aisah, then consider making a donation or please contact us for more information.
Thank you
Mariam