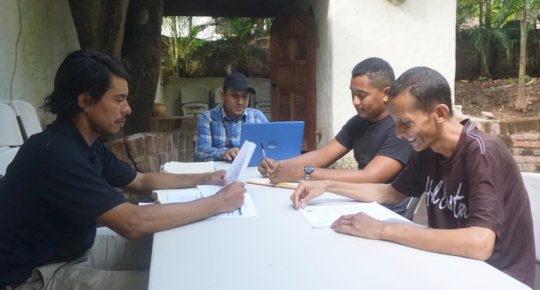 To our GlobalGiving family,
I am thrilled to report that the groundbreaking ceremony for the new Fundación A. Jean Brugger offices is scheduled for December 15!
Our Building Committee, which is made up of two members of the Board of Directors and two Fundación graduates in engineering, spent the last two months searching for the right contractor. The group interviewed seven contractors and received offers from six, and after careful analysis, chose a firm called MultiServicios.
Not only will this project build our new offices, it will build capacity in our students and graduates, because part of the agreement with the contractor is that they will provide work opportunities for our students and graduates. Aurora, a recent engineering graduate, will have a job as an assistant to MultiServicios' on-site engineer. Henry, an engineering student who needs only to do an internship before he graduates, will be able to do that internship on the office project. Current engineering students will be welcome to visit the construction site and observe at any time. Three Fundación engineering graduates will form an independent supervisory team. They will be on site at all times, making sure the contractor is following the plans and technical specifications for quality of materials.
One of the reasons we chose MultiServicios was precisely because of their openness to this level of participation by our students and graduates.
Thank you for believing in the Fundación and helping us take this big step forward to ensuring the long-term future of Fundación A. Jean Brugger.
In gratitude,
Kathleen Brugger
President, US Board of Directors
Fundación A. Jean Brugger