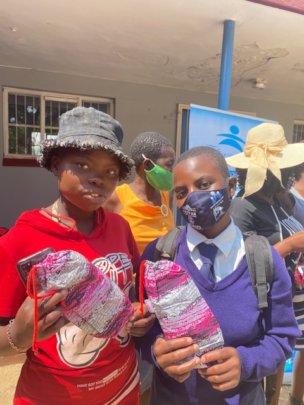 The on-going Covid-19 pandemic has brought increased poverty levels in most marginalised communities due to the decreased household income levels. The country experienced a third wave of the pandemic from May to July 2021 where the number of deaths increased to more than 120 deaths per day. The government implemented several restrictive measure to control the spread of the Coronavirus and this included closing down of schools from June to September 2021.
Most girls rely on the school system to access sanitary pads and the prolonged school closures left them stranded and desperate for menstrual hygiene products. During this current reporting period, Talia reached out to 125 girls in disadvantaged communities and provided the much needed relief through the provision of the menstrual hygiene products. Through partnering with healthcare facilities, Talia had access to girls in the communities as they were mobilised when they visited the clinics for various other services. Some of the girls are living with HIV/AIDS and receive their anti-retroviral treatment from the clinics. The girls also belong to support groups which meet at the clinics to discuss issues of life and help them cope with mental health matters.
Girls like Sandra, expressed deep gratitude when they received the pads. Sandra confirmed that she had resorted to using old rags to manage her flow and the pads she received meant that she had one less thing to worry about and she could focus on her education as she is writing her O level exams at the end of the year.
Talia remains immensely grateful for the support received through the GlobalGiving platform. The fight against period poverty is real and lives are being transformed as girls are given the freedom to pursue their goals and empowered to reach their full potential.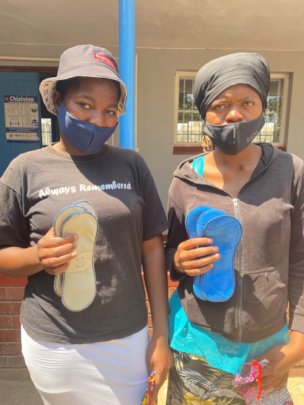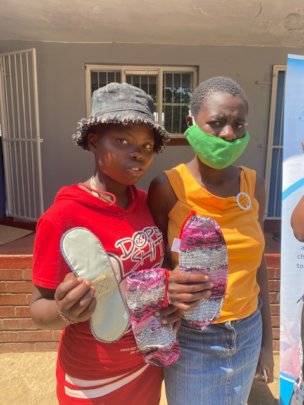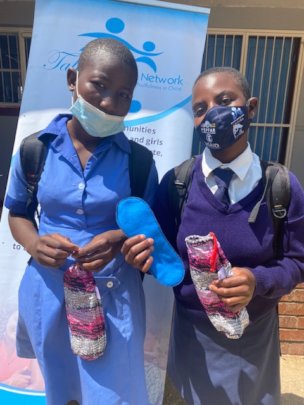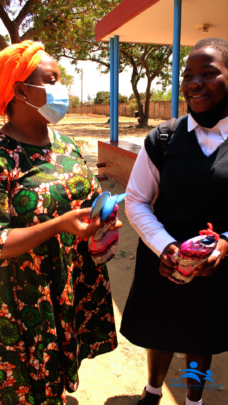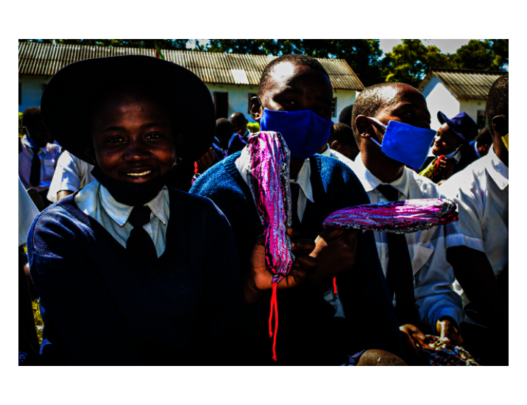 Kanyemba Village is located in the Mazowe District in Chiweshe, Mashonaland Central Province of Zimbabwe. The active economic activities in the area include agricultural crop production and small-scale mining activities. Talia identified both Kanyemba Primary and Secondary Schools to benefit from the sanitary pad drive through the #EndPeriodPoverty campaign which has been running since 2020.
Lack of sanitary wear is one of the major reasons why adolescent girls miss school in the rural areas (32.5%) according to a formative research on menstrual hygiene which was conducted by UNICEF Zimbabwe in 2020.
A Menstrual Health & Hygiene outreach workshop was conducted for 374 girls at both the primary and secondary schools. The initial discussions started around sexual reproductive health and rights. The students were taught about the changes that happens in a girl's body when they reach puberty and what they meant. The discussion also focussed on the myths and taboos surrounding menstruation. Culturally, menstruation is not a subject that is discussed at family level, hence most adolescent girls do not have a platform to discuss such pertient issues and are unable to cope with the changes in their bodies or any discomforts or irregular periods.
The girls were also educated about the home and medical remedies to manage period pain and were informed of the symptoms they should watch out for and when they should seek medical attention. One objective of the session was to start the conversation on menstruation and break the silence on the subject that is evident in most rural communities.
All the girls received reusable cloth pads, which are cost effective, hygienic and will be reused by the girls for up to 18 months, with proper care.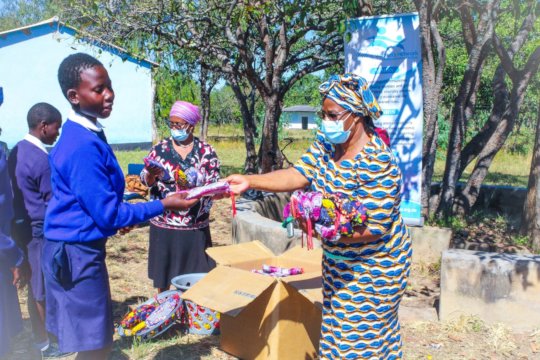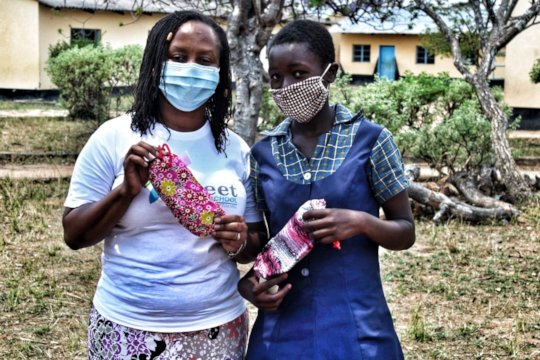 Meet Panashe, a fourteen year old girl from rural Mashambanhaka in Mashonaland Central in Zimbabwe. Panashe was affected by the school closures from March 2020 due to the COVID-19 pandemic. Being in a rural community, Panashe was unable to access online schooling like her counterparts from the urban government and private schools in the country. Her family's source of livelihood was a garden, where her mother worked tirelessly to grow vegetables and tomatoes to sell in the nearby Bindura town. When COVID-19 happened, the government imposed travel restrictions which limited the access to the traditional mass markets and that meant less income for Panashe's family. Panashe's father was employed in Harare and was forced to move back to the rural home because industry was closed. The nine months from March to December were really desperate for Panashe's family.
Panashe started her period at twelve and because of cultural taboos, she is not free to discuss feminine issues with her mother. Culturally, her aunt is supposed to be her go-to person but the aunts live in other parts of the country. She is not able to ask for money for sanitary pads even. Sometimes when her mother has a few extra dollars, she gives Panashe pocket money. These are the times when she is able to purchase her own sanitary pads but this rarely happens. Panashe would receive pads from the female teachers at school, especially if her period started when she was at school. Sometimes they get organisations like Talia, coming for menstrual health and hygiene outreaches but with the schools closed for more than six months - Panashe struggled to manage her monthly flow. Panashe was not sure she would continue with school - her whole world was crumbling around her.
In response to the COVID-19 country-wide lockdown and school closures, Talia resorted to reaching out to vulnerable adolescent girls in the communities. Driven by the understanding that periods do not pause for pandemics, Talia could not wait for schools to re-open as they were closed indefinitely. The community outreach programs allowed Talia to reach out to more girls, both in-school and out-of-school.
In the period October to December 2020, Talia held three outreach programs at Mashambanhaka, Hopely Farm and Epworth. Through the support from partners and friends, 125 girls, like Panashe, received menstrual health and hygiene education, basic hygiene products and the much needed sanitary pads. Thank you for supporting this drive, together we can end period poverty and allow adolescent girls to live healthy and productive lives.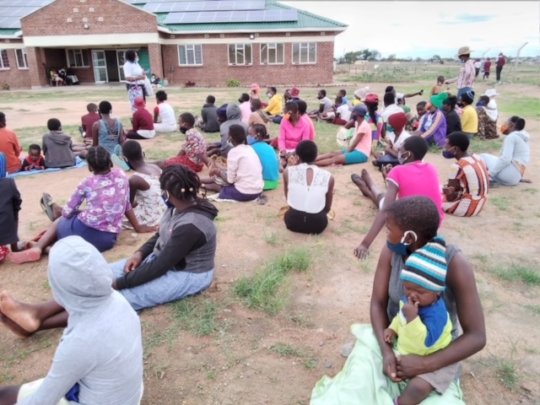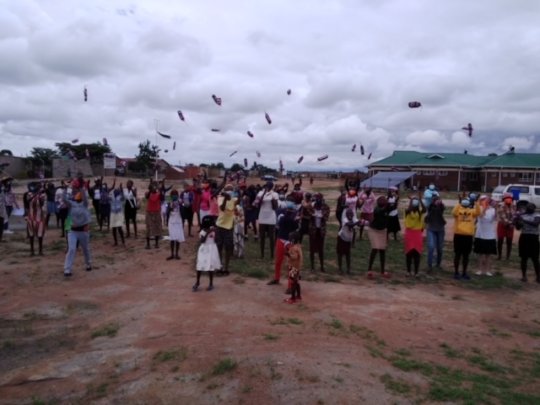 WARNING: Javascript is currently disabled or is not available in your browser. GlobalGiving makes extensive use of Javascript and will not function properly with Javascript disabled.
Please enable Javascript
and refresh this page.