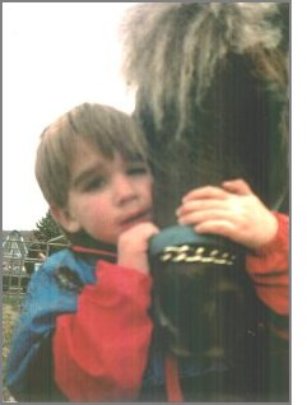 Thank you for your dream that made my son's dream a reality!
Steven and MIKEY MAN Where to begin?
A little about Steven Steven: He was born with a rare liver disease and underwent a transplant when he was only three months old.
He was three years old when he received his "Personal Pony," the first child in his community to benefit from the program.
Everywhere we go Steven says, "Ya know what? I got a pony. Yep, his name is MIKEY an' he's my best friend. We hunt for frogs all the time. I brush him and get all the germs off of him."
It is so cute how the two of them have bonded! We really think that MIKEY knew all along that he had a special job to do once he got here. He has taken such an interest in Steven. He ignores everyone else, but Steven has his undivided attention always!
He is a smart little pony and he likes to give nuzzly kisses. We enjoy brushing him and talking to him too. I even caught my burly husband giving him a kiss and talking "baby talk" to him in the barn! So funny...
MIKEY's goat friend GIZMO is doing well also. And Steven loves him oh so much too. We are in the heart of summer here in northeastern Pennsylvania and MIKEY's coat has shed its winter hair. He is soft and shiny and definitely dappled as we were told he would be...such a pretty pony.
I hope that he and Steven grow old together and catch many frogs over the years. After all, what else should a little boy with a goat named GIZMO and a MIKEY-PONY do on summer days?
Thank you again for filling our dream..........................