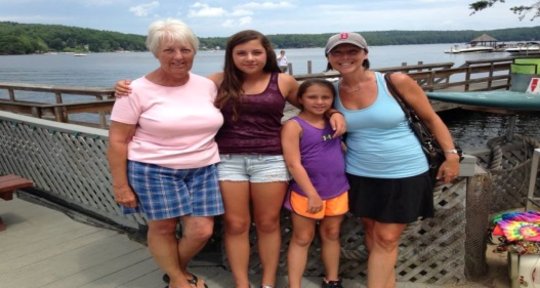 Each year around the holidays I am reminded of all the things for which I am grateful. Among them are the experiences and people that helped shape me. If you have been fortunate enough to achieve any measure of success in life, you have had these as well – the people and places along the journey that nurtured and inspired you.
I am here today because of my mother, Dianna Lockwood. My mom grew up poor in a small town in New Hampshire, on a working farm, the youngest of three sisters. She never had the opportunity to go to college and was determined that my brother and I would. She and my dad created a wonderful life, until it all came crashing down during the recession of the 1980s when both of my parents lost their jobs. My father never quite recovered from that setback and it was my mother who got up each day, worked several jobs, and made sure that my brother and I had what we needed. Her example of strength and resiliency taught me.
I do what I do because of her. I've devoted my career to working on behalf of low-income women and their families because I want her to know that the investment she made in me, all of her sacrifices, were not in vain. And now that I'm a mother, I have a new, more profound understanding of what she did, and I know that as I strive to make a better life for my own daughters, I am paying forward what my mother has given me.
There are more than 200,000 women and girls living in poverty across the Washington metropolitan region, who like my mother and I have a story of hope to step beyond their own experiences and limitations. Sadly, that statistic hasn't changed significantly in recent years, particularly in light of the recession and what has now become a slow and prolonged recovery for those most in need. As frustrating as these numbers are, and as impatient as we all are for change, we have to remember that most women in our community didn't suddenly fall into poverty. And just as it didn't happen overnight, it won't be resolved overnight.
And that's why, now, more than ever, we are grateful for your support.
The challenges our region faces to address poverty are complex. This is the time to stand firm in our commitment, craft a bold vision, and re-double our efforts so that future generations of girls can one day achieve their dreams.
We must do all that we can to move women and girls from a place of economic vulnerability to security. As I look ahead to our work in the coming year, I need your support to realize our goals.
Our investments in girls will support high school completion, develop self-esteem, encourage positive choices, and empower them as social change agents. Our goals for investing in women are to obtain jobs with family sustaining wages and benefits, support increased financial capability, and provide the foundational skills that allow them to break the cycle of poverty for their children.
Your support makes it possible for us to:
Provide financial education, job training, and access to early care and education resources to thousands of low-income women in the region.
Invest more resources into ground-breaking two-generation work with girls and their female caregivers to break the cycle of poverty.
Leverage the combination of our investments and our influence to have the greatest impact with our powerful voice on behalf of women and girls.
These goals are ambitious. But, I believe that—together—we can achieve them. We are poised and ready to lead a movement that will shape the future of local families, our communities, and this world. Let's harness our collective strength to, in turn, strengthen others.
There are thousands of women and girls with hopes and dreams that deserve the opportunity to reach their full potential who need us. Your support matters and makes a difference in their lives.
Stand with me. Here. Now. For Her.
With gratitude,
Jennifer Lockwood-Shabat
President and CEO