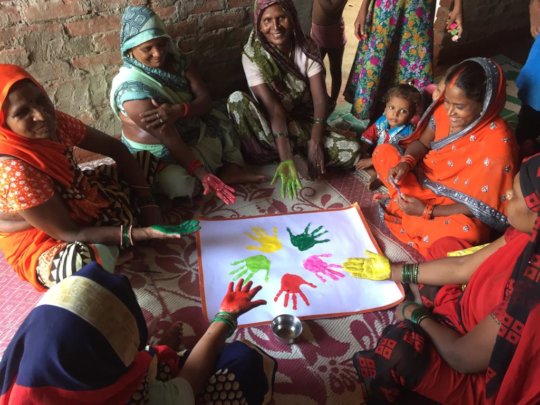 Dear Donors,
Greeting from Empower Foundation!
We are delighted to share with you updates from the 2 Badlav Programs we started with 60 women with funding from GlobalGiving donors, such as you.
Laxmi & Munni from Khalsada Village, Alwar are learning to put together simple words in Hindi using 'matra' (Vowels). Their joy in discovering how to write their name and that of their village is infectious! Laxmi & Munni are part of the 30 women group attending the 'Badlav' program there now into its 45thday.
And at Mandar Village, Allahabad, Rupa and Guddi are also putting together words in Hindi. Most of the 30 women part of the Badlav program here has to supplement their meagre family income by working as garbage collectors for 5-6 hours daily and yet they make time to come and learn.
These 60 women are learning to also do banking transactions and how to manage money. To strengthen our relationship with the community members, we conducted an awareness session on "Importance of livelihood generation' in Khalsada village, Alwar. It was amazing to see 75 community members, out of which 47 were women who turned up to be a part of this session (Pictures attached). This was followed by a captivating interactive session with women who attend classes at Alwar center.
This dream of a literate world will be incomplete without the hard work of our teachers/mentors. They are an important pillar of our campaign. They come up with innovative approaches and activities to engage students in the classroom. One of those activities i.e. paint your hand was conducted in the Badlav Centre, Mandar Village, Allahabad (Pictures attached). This picture made us realize the truth in the quote i.e. "Inside every adult, there's still a child that lingers'. We hope to continue keeping that child's enthusiasm intact and take it on an enriching learning path.
Thank you for being a part of our 'Light up Lives' campaign. This World Literacy Day, September 08, we have dedicated to your spirit for helping the 'Light up Lives' campaign.
We need your support in helping us reach out to more women. Just a small donation of $50 will help us conduct a session on Legal & Social Rights for 30 illiterate women. We need to raise $ 1,38,128 more to fulfill our goal of making 1000 women literate. Every drop helps! Help us 'Light up Lives' with your contribution. Do share our campaign with your friends, family or anyone who would like to support by clicking here.
We will be back with more updates soon!!