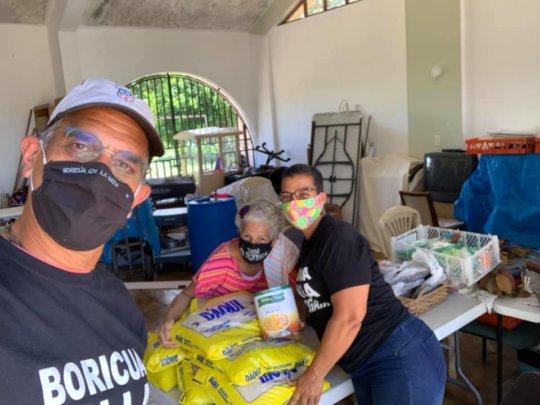 Dear supporters,
Puerto Rico and the world have been shaken by the coronavirus pandemic that has exposed innumerable failures in health systems globally. However, it has also allowed us to see and feel the unquenchable commitment of tens of thousands of volunteers who have not stopped for a second trying to meet the needs of those affected.
Even Puerto Rico does not rise from Hurricane Maria when we are affected by dozens of earthquakes, the pandemic and a new hurricane season that is already beginning.
During 2020 Puerto Rico Rises has managed to continue with its missions obtaining the following impact:
1. Over 35,000 people received groceries distributed at the island level. Currently,we began a new phase where we estimate to impact 35,000 more people.
2. Camping tents, gas stoves, water filters, solar showers and bedding sets were distributed to assist those directly affected by the earthquakes.
3. Masks, gloves, and basic necessities were distributed to 3,000 people.
4. Construction materials were distributed to 100 families to rebuild their homes.
On a personal level, I suffered the loss of my home, my beloved dog Sade and all my belongings due to a fire that destroyed my home in a matter of 8 minutes. Live put me on the other side of the disaster. This time I was the one receiving the assistance, the support, and the love of all those volunteers. This terrible situation allowed me to feel the immense relief that those in a situation like mine feel when someone showed up to help.
I can assure you that this experience has made my commitment even greater and more firm so that aid not only continues to come directly into the hands of those who need it but that it arrives faster. and more consistently.
Let's achieve that together!
Sara