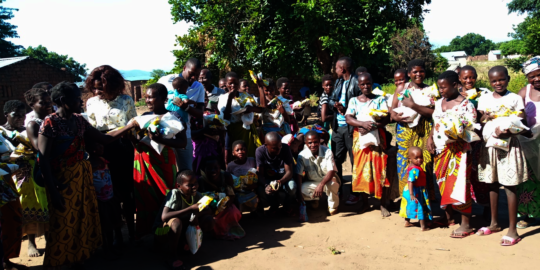 Hello all!
Once again, your donations and generousity have helped us help others with great success.
In March of this year, Cyclone Idai swept through regions of southern Africa, Malawi being one of the most heavily impacted countries. Villages across southeastern Africa, Malawi included, have face devastating floods, ruined crops, and more as a result. By April, it was reported that the cylone and its associated flooding and heavy rains have led to over 1,000 deaths and hundreds of thousands of people displaced throughout Malawi, Mozambique, and Zimbabwe. At least 60 deaths are confirmed in Malawi, over 500 injured, and tens of thousands displaced, particularly in the LowerShire region.
Bwenzi has reached out to victims in the Chikwawa district who have found shelter at the Mlambe Church of Christ camp during this disaster. The camp hosts 65 families, with a total population of 262 people. With populations in this camp growing, and resources dwindling, we felt an emergency response was necessary. Our Malawi Polytechnic team visited the camp on May 4th, 2019 and distributed maize flour, soya pieces, laundry soap, and salt.
Each family received two packets of maize flour weighing 4 kilograms in total, 3 packets of soya pieces, 2 bars of large Ufresh laundry soap, and a packet of salt. The team gladly report that every single family recieved items, and some of the extra packets of salt were left with the Chief of the village were the camp is located.
After our visit, the camp sent their appreciation to the Bwenzi team for the great initiative. They lamented that their camp is mostly neglected when it comes to resource distribution, especially food and other necessities. Their gratitude towards Bwenzi was beyond measure, however our work here is not done. We are still hoping to provide tents or other materials for temporary shelter, more food for the future, and first aid/sanitary supplied for those injured.
Thank you for your continued support to those in need. Our hearts are with those effected by this natural disaster, and we are doing everything in our power to keep our international friends safe during these hard times.