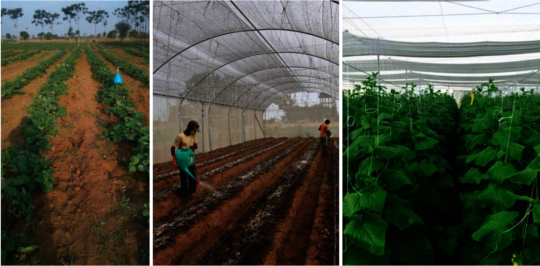 The journey towards better farming and sustainable income has started in earnest! This family has been helped to start growing a healthy crop in 260 sq. meters that they would otherwise tried to grow in 4,850 sq. meters of open land farming subject to drought, excessive heat and pests.
Seeds of inspiration: Sathya - one of our Project Leaders in the field, had longed to find a way to help India's small-holder farmers since encountering a destitute farmer eating mud out of desperation. Quitting his corporate job in 2009, he spent over 1.5 years visiting numerous villages, and found that the inequality between farming household incomes was staggering.
This enormous disparity was due largely to the poor small-holding farmer's lack of available resources (i.e. access to water, quality seeds and fertilizers, soil testing, technology and knowledge). The farmers' challenges were further compounded by the increasing exposure to drought, excessive heat and pests that have decimated these farmers' livelihoods, leaving them with growing debt and little (or no) income to feed their families.
After researching, then understanding the nature of the challenges faced by these farmers, Sathya, together with his inspired colleagues set about designing, developing, and then deploying the innovative Greenhouse-in-a-Box solution.
Please watch this video to hear from our project leaders about the Greenhouse solution:
https://www.youtube.com/watch?v=NKTIj4CrXnw&feature=youtu.be
Progress till date: Our colleagues in India have successfully completed the induction and training programs with 100 poor small-holding farmers in the state of Telangana. During these past few months, these farmers have been introduced to the tools and methods with which to start growing crops inside their greenhouses in a more sustainable manner. The farmers are also encouraged to become part of our collectives to adopt a greater sense of community development and knowledge-sharing.
Your support is helping these farmers take their first tentative steps towards a brighter, healthier future for their families. Together with a composite program of seed & fertilizer procurement, monitoring, and training during the crop-growing season, more of these farmers are growing better quality crops while using less resources, and earning greater income when they are helped to sell their harvests directly at the farm gate.
Please continue supporting these farmers by encouraging your family, friends and colleagues to consider following your wonderful example.