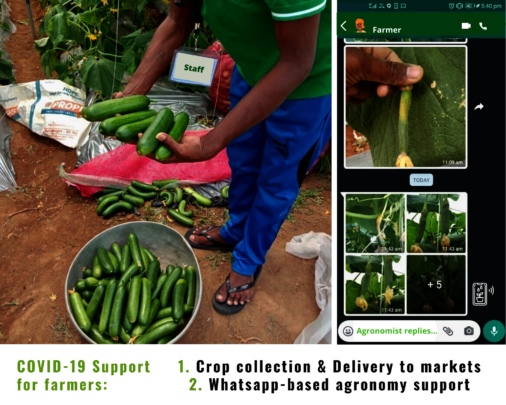 Climate-smart greenhouses sustaining livelihoods for poor farmers
We are pleased to report that 223 farmers are now benefitting through their use of climate-smart greenhouses and the plan remains to start enabling another 327 farmers as soon as Covid-19 restrictions are removed.
Despite the severity of the Covid-19 restrictions, especially in terms of access to and transport from their villages, these farmers have continued to receive uninterrupted guidance and support from our partners,including remote agronomy advice using WhatsApp and help with the transport of their produce to the markets. By enabling and maintaining these important services during these exceptional times, the farmers have retained their ability to earn a steady income, secure seeds and fertilizers needed to start their next crop cycle and maintain the food security for their families.
Many of these farmers have however, also lost the value of theiropen land winter crops that normally would have been harvested, transported, and sold to the markets during the Covid-19 lockdown period, but instead have had to be sold in smaller quantities locally or consumed domestically.
This has meant that for many of these farmers, their climate-smart greenhouses have proved to be the principal source of sustainable income.
Introducing the $500 climate-smart greenhouse
In such times of adversity, we believe innovation can help. We are pleased to therefore announce the planned launch of the $500 climate-smart greenhouse. These smaller and more affordable greenhouses will help extend the same principal benefits of resource preservation, reduced water consumption, greater food security and environmentally friendly farming to even more poor farmers.
A donation of $500 will help us to secure a climate-smart greenhouse for a small-holding farmer and her family.
Through the planned introduction of a broader range of crops (e.g. onions, cabbages, carrots) these farmers will also be able to rotate their crops, continue to sustain their livelihoods and food security as well as provide greater crop diversity to their local markets.
With the help of constant innovation to meet the challenges of struggling small-holding farmers, your generous and continued support is helping to improve their food security and sustain their livelihoods.