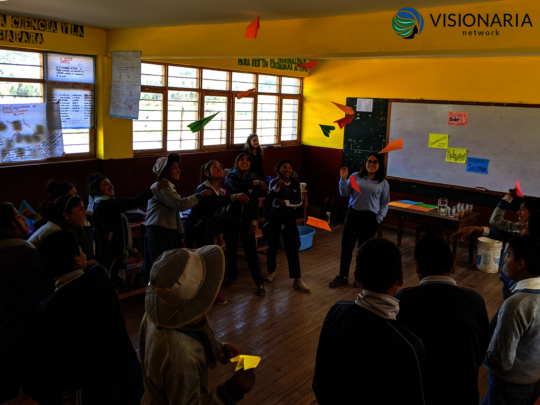 In 2019, Visionaria reached over 1,200 students and supported over 100 teams of students in 30 different partner schools in Cusco, Peru.
By supporting this project, you allowed us to add 2 more partner schools and reach 88 more young leaders. By bringing Visionaria to these students in public-secondary schools, they were asked - many for the first time - to reflect on their goals and visions for themselves and the world around them.
Our local team continues to aggregate and process data from each classrooms and student teams (the school year ends next week!), and we will be preparing reports and amplifying their calls to action in the coming months to influence district government officials and other key stakeholders identified by students.
These young leaders are serious, and standing up to some serious problems.
Like Janet, for example, who leads a team focused on combatting domestic violence. She knows her neighbor is abusive to his wife, and is concerned about the impacts it has on young people and bullying. With Visionaria, she was able to explore existing anti-violence projects and inform her peers about options and ways to seek help from local authorities.
Or Ruth, who leads a student team focused on human-caused forest fires in the hills that were particularly dangerous this year due to a growing drought. "One of my friends was seriously affected this year – his house burned downed, his animals were killed, he was left with nothing."
Thank you for making this project and transformation possible. Students are not taking the opportunity for granted – and they are beginning to see their potential thanks to innovative programs like Visionaria.
ALSO, you should know… Not only did you transform education for these 88 young leaders, but you helped to build a movement with educators to transform education for all students in Cusco with Visionaria. It's happening, with more demand from teachers and educational authorities than we have capacity for we are hard at work planning our program and strategy for 2020 that looks towards long-term adoption and local investment in our teacher training and student-leader support program.
Watch our 2019 program video and hear from teachers themselves about what Visionaria means for public education and young people in the Andes.
Visit www.visionarianetwork.org/support to learn more about how to help more Andean youth lead in their lives and communities.
Onwards,
Paul & the entire Visionaria team
Links: