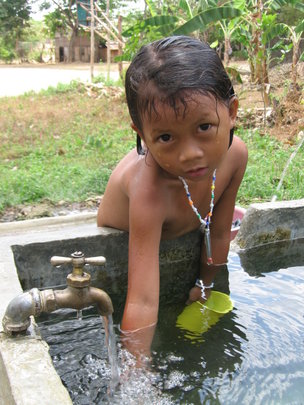 This is an exciting time for AIDFI and Green Empowerment in the Philippines. We don't use 'game changing technology' unless we really mean it-- but that's exactly what the ram pump is! And now, AIDFI's hard work over 15 years and 180+ installations serving 50,000+ in 10 countries is finally receiving the attention it deserves. Your donations are simultaneously improving the health of some of the most remote communities in the world, while increasing awareness of the ram pump. If you have already donated to this project, please tell your friends. If you haven't yet donated to this project, look no further.
Recent developments include:
8 feasibility studies for new ram pump installations on the island of Leyte have been completed (opportunity to provide improved access to potable water to an additional 3,000 people).
AIDFI wins the Ramon Magsaysay Award, considered the Nobel Prize of Asia. Watch AIDFI Director Auke Idzenga's acceptance speech: http://www.youtube.com/watch?v=cMktFbesJnc
AIDFI completes a ram pump technology transfer to Aprotec Colombia, including a 3 week training of two Aprotec engineers at AIDFI Technopark in the Philippines, and a ram pump installation in Colombia.
AIDFI has established 3 regional installation teams within the Philippines
Green Empowerment and AIDFI have forged a new partnership with Negros Forests and Ecological Foundation to identify ways to integrate access to potable water via ram pumps, forest conservation, and biodiversity protection in 3 highly threatened forest regions of Negros Island, Philippines. Negros Island only has 4% of forest cover remaining. It is also home to one of the highest concentrations of endemic species, many of which are critically endangered including the Visayan Warthog, Visayan Hornbill, and Visayan Spotted Dear.
If you're a donor or prospective donor that lives in the San Francisco Bay Area, join us at Luminalt on October 14, 2011 for a Green Empowerment presentation on the ram pump and activities in the Philippines: http://www.greenempowerment.org/blog/?p=1809.
Individual donations of any amount play a critical role since ram pumps are one of the lowest-cost renewable energy technologies for improving access to potable water. Your donation goes a VERY LONG way. literally. In Sitio Anangue (a village near Northern Negros National Park), ram pumps deliver water to a village of 400 people, with some villagers located more than 3km away, at an elevation 60+ meters higher than the source. With no fuel input and only 2 moving parts, the AIDFI ram pump is a game-changer-for-good.
Links:
Senior staff from our in-country, NGO partner in Colombia (APROTEC) went to receive training and exchange design concepts on ram pumps with AIDFI (in-country, NGO partner in the Philippines). At the same time, AIDFI learned about APROTEC's work on low-head/high flow river turbines, and more.

Our partner in the Philippines, AIDFI, was named recently as one of the recipients of this year's Ramon Magsaysay Award, Asia's equivalent of the Nobel Prize! Among AIDFI's technical expertise is the hydraulic ram pump which won the BBC World Challenge in 2010.

APROTEC is an active member of the "Network of Biodigesters for Latin America and the Caribbean" (RedBioLAC), also promoting biogas in Columbia as another source of renewable energy.
Connecting our partners and networks creates opportunity to replicate innovative projects on a regional and global scale.
This just in from Shen Maglinte, our Project Contact in Dlumay. We will add photos/videos as they come in, and the more detailed report Shen references as it becomes available:
Hello, apologies for late reply. Yes, meantime am happy to report the MicroHydro Plant and multigrade corn mill has been finally commissioned and inaugurated last August 11 in Dlumay attended by more than a hundred people. Finally, we were able to strike clarifications with the LGUs and concerned agencies and the project was completed lighting up the streets the plaza and running the multigrade mill at 10kW capacity after all those issues of militarization and intrigues sowed on the project. I am preparing a detailed report on this just came down last August 14 from the project site. ...
WARNING: Javascript is currently disabled or is not available in your browser. GlobalGiving makes extensive use of Javascript and will not function properly with Javascript disabled.
Please enable Javascript
and refresh this page.