As summer draws to a close, September is a season of new beginnings for the ladies of our program. For little two-year-old Lara*, this means starting at nursery daycare! Lara arrived in our program when she was three months old. Her teenage mum had been left homeless when the local shelter closed suddenly in the middle of winter, and after hearing about our program she knocked on our door with her baby in her arms. Since then Lara and her mum have done so well and it has been a real joy to watch this beautiful little girl grow up. Now that she will start at the local nursery, her mum is ready to start looking for a job and creating a new future for herself and Lara.
Another one of our ladies moved into her own house this summer. Vera* is an orphan who inherited a house but has been living in shelters and our program for several years after experiencing severe violence. She has enjoyed our program; healing from emotional trauma and learning to read and write a little as well as gaining life skills and new confidence. Vera is ready now for new independence in her own home! However, after leaving her house empty through several winters it had become mouldy and some of the walls were tumbling down. Luckily another local NGO brought a team of volunteers to fix up the house, and Vera was able to move in recently. She is so happy to be back in her own home and is really looking forward to a peaceful and independent future.
Thank you so much for your support which helps ladies like Vera and kids like Lara get back on their feet and have new lives of hope and independence.
Despite lots of rainy weather, spring always seems to bring fresh hope and new ventures in our project. Recently one young mum started a new training course making jewellery, decorations for weddings and other handcrafts. She is really good at it and is hoping to start a business where she is able to work from home to take care of her baby and sell her work through social media. However, the staff keep buying all her beautiful jewellery so she doesn't have any left to sell elsewhere!!
The ladies and kids are continuing with their psychology sessions, trainings, schooling and much more! They also learn a lot just from living together, including how to work together to take care of their children, each other and the house. Sometimes the center feels like one big family, with problems and joys like any other family! Recently Kosovo celebrated a festival and all the kids from the daily program arrived (uninvited!) to spend time with the staff and ladies in the center; we decorated biscuits, laughed and danced together.
Thank you so much for your support. It allows women who have experienced unimaginable violence to imagine and create a more joyful future for themselves and their children.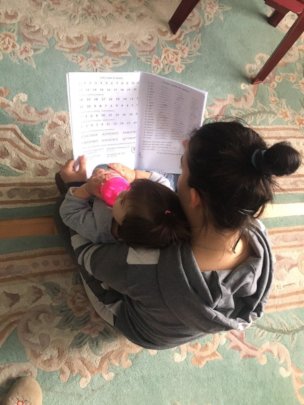 Throughout the winter, the ladies going through the rehabilitation and reintegration program of Operacioni i Mëkëmbjes (Operation Restoration) have been gaining hope, confidence and life skills. They have been having regular psychotherapy sessions; fitness classes; cooking lessons; learning how to budget; dealing with documents; and hearing from local doctors and experts about staying well and taking care of their families. Thank you so much for your financial support which allows this work to continue!
Anita* is a lovely young mum who has survived trafficking and a difficult childhood. She has been in the program for about a year and is doing really well in all her sessions, especially her schooling. She is working hard to try and catch up the years she missed in school after leaving at the age of 14, and our teachers are really pleased with her progress. Anita is also taking great joy in passing on her learning to her little daughter Maja, so that she can do well in school and have every opportunity for a positive future. Anita's biggest hope in life is to make her daughter proud of her as she grows up. We are proud of Anita and we're sure Maja will be too!
*Names have been changed for security reasons.
WARNING: Javascript is currently disabled or is not available in your browser. GlobalGiving makes extensive use of Javascript and will not function properly with Javascript disabled.
Please enable Javascript
and refresh this page.