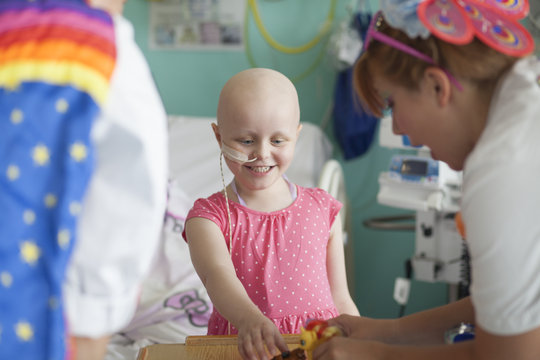 We recently gained a new patron – award winning comedienne and ventriloquist, Nina Conti.
"I'm delighted to become a Patron for The Theodora Children's Charity. Having trained as a Giggle Doctor myself in the past, I have seen first-hand the difference that the visits from these gentle and skilled professional performers make to children and their families in hospitals."
Nina Conti, Patron, March 2015
We're continuing to receive lots of positive feedback from the hospitals, hospices and specialist care centres we work with.
'It is always such a wonderful experience to see the Giggle Doctor in action, she always manages to bring a smile to the faces of everyone around her- from children, teenagers and adults, including service users, siblings, parents, carers and staff! She's incredibly silly- but in the best possible way, we all love having her here.'
Rachel Flower, Activities Co-ordinator, Richard House Hospice, April 2015
Below are some messages we recently received from parents of children visited by our Giggle Doctors:
"Marianne has just turned one. A few months ago she was in hospital and the Giggle Doctors made her burst out laughing – it was gorgeous to see and hear and cheered us all up. Thank you."
"Three of your wonderful Giggle Doctors just made such a difference to my 5 year old's day in ophthalmology outpatients at Birmingham Children's Hospital. There were smiles and laughter all round, they even managed to include my eldest 16 year old daughter in the fun and frolics. Bravo! Excellent job, well done. Thanks so much"
"We love the Giggle Doctors. What amazing people and so well needed when we were at our lowest. Anyone able to make our four year old smile was welcome at his hospital bed. Thank you!"
One day we hope to be able to bring magical Giggle Doctor moments to all children who need them, and with your help we're inching ever closer to that dream.
Thank you so much for your support.