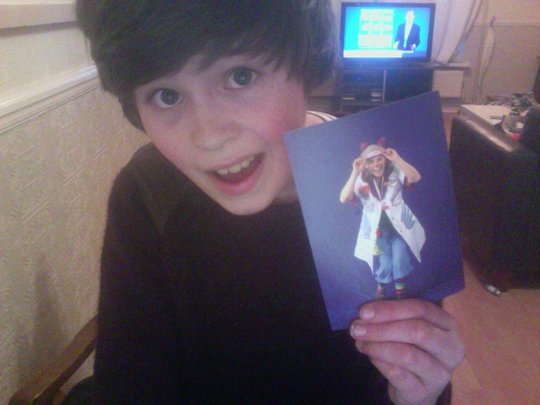 We receive lots of messages from parents of children who have met our Giggle Doctors. Harry's mum got in touch to tell us about his visit from Dr Dovetail…
Harry has had problems with his teeth since he was tiny. The enamel did not form properly on them and he has had to have lots of work done on them, including lots of extractions of baby teeth. He has visited the Royal Alexandra Children's Hospital in Brighton regularly for treatment.
Harry has had three general anaesthetic procedures in day surgery at the Royal Alexandra. The first time Harry visited the hospital he was really quite nervous as he was only 7 years old. He finds it really boring and being a growing lad really doesn't like having to be starved or having nothing to drink for hours before he goes down to theatre.
Harry met the Giggle Doctors for the first time when his older sister was in hospital for a biopsy procedure back in 2008. The following year he met them again for his first procedure. He recalls it quite clearly as they had sticky bubbles which he found fascinating.
The Giggle Doctors really took Harry's mind off the whole hospital experience; they made him laugh and really lessened his levels of anxiety about having various things done, such as needles, and having to talk to staff about how he was feeling.
At his last appointment Harry had a terribly long and tedious wait for his surgery and was feeling rather low after not eating for over 9 hours and not drinking for over 5 hours due to being bumped down the surgery list.
Dr Dovetail was absolutely fantastic with him, she was such good fun. Hopefully this was Harry's last day surgery and she made it incredibly special for him. It's not easy being 12 years old on a 4 bed ward with 3 very young children but she really took his mind off things.
The Giggle Doctors have helped all 3 of my children through the procedures they have had to endure. They make us all laugh and smile, and make the boredom of waiting much more bearable. Above all they make the children totally forget, for a short time, the reason they are there. We are so grateful for them at difficult times.
Harry tells us how Dr Dovetail cheered him up at his last visit to hospital…
I was really looking forward to seeing the Giggle Doctors because they always make me laugh and smile and forget about everything that is happening, like the needles and waking up with blood in my mouth. I saw Dr Dovetail this time and she took selfies with me! It was really funny because she used the remote control for the bed instead of a camera. I told her all about breakfast and how mum made me have a shower because I was stinky! Dr Dovetail thought it was funny. I was really nervous because I was nearly the last on the list to go into theatre. The first boy that came back from theatre was screaming and it upset me so I left the ward and found Dr Dovetail. She was in the kitchen with another child and she did magic tricks which really took my mind off it all. She is lovely and I want to say thank you to her because she gave me a postcard with her picture on it and signed it. It says 'Thanks for all the top tips on showering and eating cornflakes. Laters alligator! Love Dr Dovetail.'
Thank you for helping to make all these smiles possible.