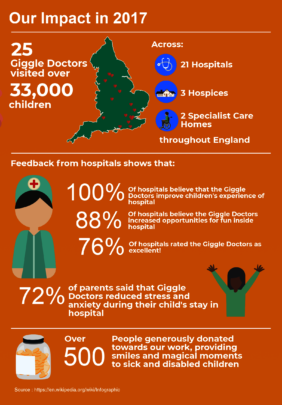 Thank you for supporting us through GlobalGiving. Your support has helped us to reach thousands of children. Children just like Amy:
"Dr Snug's visits gives us a little break and it also gives us hope. When Amy was last in hospital she was having her tube out and hadn't spoken for a day. She went all that time without speaking and just went in to herself emotionally. When Dr Snug visited, she actually started smiling and talking. She helped to bring her back. Dr Snug does so much. You can see she really cares about all of the children she visits. She has so much love to give them."Heidi, Amy's Mum
It costs £10 to fund a Giggle Doctor visit for one child so any donations received through GlobalGiving help children to laugh and feel at ease during what can be an incredibly difficult time in their lives and we are so grateful.
Helping us to reach even more children
Donations through GlobalGiving are used across our entire Giggle Doctor programme in 21 hospitals, 3 hospices and 2 specialist care centres. This means that your donation has had a national impact, improving the hospital experience for thousands of children across England.
Measuring the impact of donations
We aim to
Reduce distress and anxiety
Increase opportunities for play in the healthcare environment
Improve well-being
Staff from the office conduct Impact Focus Days at each hospital once a year, to observe the Giggle Doctors and gather feedback from the children and their parents afterwards. These days give us the opportunity to ask more in-depth questions via a feedback form. We recently adapted our feedback form to make it double-sided; one side is very child-friendly and allows the child to tell us about the Giggle Doctor visit, whereas the other side asks the parents to give their feedback. This has allowed us to collect more authentic feedback to understand a Giggle Doctor visit from the point of view of a child.
100% of parents/guardians believed that the Giggle Doctors had a positive effect on their child
95% of parents/guardians rated the Giggle Doctors as Very Good or Excellent
82% of parents/guardians felt the Giggle Doctors improved their child's experience of being in hospital
70% of parents/guardians believed that the Giggle Doctors helped to reduced distress and anxiety during their stay
Thanks to feedback collected, we are able to see the impact of the support we receive and how this correlates with our aims. It also means we will be able to continue to grow and improve our services in the future.
The lasting impact
Although a Giggle Doctor visit may only last a few minutes, the effect it can have on a child can last lifetime. The visits often have a longterm affect on the children and families they visit. 88% of parents said their child continued to talk about the Giggle Doctors after their visit and we often receive feedback from parents telling us the visits have helped to improve a child's long-term experience of hospital:
"Because of the Giggle Doctors my daughter actually looks forward to coming to hospital for chemotherapy"
"We first met the Giggle Doctors 6 months ago, at Lewisham and Evelina hospitals. Louis still remembers these visits and talks about them, as well as more recent visits in the Royal Marsden. The Giggle Doctor visits have had an ongoing impact for Louis"
"The Giggle Doctor visits have helped my son to interact as he has developed a phobia of medical staff and the Giggle Doctors have helped him be less scared of people on the ward"
"The Giggle Doctors have helped Holly to make friends in hospital which has improved her experience and will hopefully help her when we have to come back to hospital"
It is evident that our Giggle Doctor visits can have a significant impact on a child's perception of the hospital environment.
Working closely with hospital and play staff
As part of our quality control we regularly observe the Giggle Doctors in action and work closely with hospital staff to monitor the quality of our work through regular meetings. What makes us stand out is the professionalism that our Giggle Doctors demonstrate. We pride ourselves on the quality of our artists who have been trained by us.
Alongside regular meetings with hospital staff, we also conduct an annual survey where we ask them to feedback their experiences with the Giggle
Doctors over the last year. Here are some of the results from our most recent survey:
100% of hospital staff rated the Giggle Doctors as very good or excellent
87% of hospital staff believed the Giggle Doctors increased opportunities for fun and play in hospital
100% of hospital staff believed the Giggle Doctors improved the child's experience of being in hospital
87% of hospital staff believed the Giggle Doctors reduced distress and anxiety of the child during their stay
We also regularly receive comments from hospital and play staff describing the impact of our Giggle Doctor programmes:
"The Giggle Doctors have been fantastic at not only creating smiles within the children's wards they visit but provide constant cheer even when walking through the corridors they have time to chat and make patients young and old smile"
"One of our children is very non -communicative and tends to sleep a lot. It was lovely to see her connect with the Giggle Doctor who got her attention and sat with her for over 30mins. It was wonderful to see."
"A patient was due to go to High Dependency Unit (HDU) because of his oxygen levels. The Giggle Doctor came along and made him laugh, which bought his oxygen levels up again meaning he didn't have to go to HDU!"
Thank you
The impact of our work and the difference our Giggle Doctors make is epitomised in this email we received from a parent recently:
"I wanted to get in touch to say thank you to the Giggle Doctors at the Royal Marsden Hospital in Sutton who made such a difference to my daughter's time in hospital.

Rosie (aged 7) arrived at the Royal Marsden in December with stage 4 liver cancer... She was acutely unwell and very traumatised by the amount of intrusive interventions she had had to undergo in a previous hospital. It had been a complete whirlwind and we arrived at the Royal Marsden within a week of the diagnosis. Rosie stopped talking, and our typically happy chatty daughter withdrew into herself. It was heart-breaking to see. Just after Christmas she met two of your amazing Giggle Doctors, Dr Yo-Ho and Dr Bananas. I had tears rolling down my cheeks as I watched with amazement as Rosie started smiling, laughing and talking again and for a while she was able to escape the pain and the grim reality of cancer. I hadn't heard her talk in over a week and hadn't seen her smile since before Christmas. The weekly visit of the Giggle Doctors became a real highlight in our week and something for Rosie to look forward to.
I wanted to express how grateful we are for the joy and laughter that the Giggle Doctors brought into Rosie's last few months of life. It is a wonderful charity which has an amazingly powerful impact on children and indeed on their families too." Jane, Rosie's Mum
We are very grateful for your support which has made such a significant difference for so many sick and disabled children at a time when they need it most. We are so grateful for the smiles that you have made possible for children and their families across England.
If you have any questions or would like to talk further about our work, please feel free to get in touch.
Alice Barley
Fundraising and Communications Manager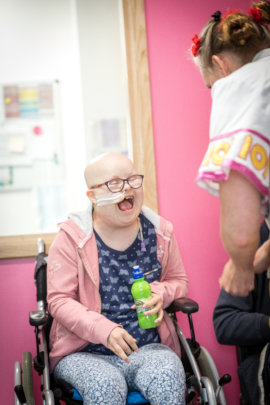 Links: