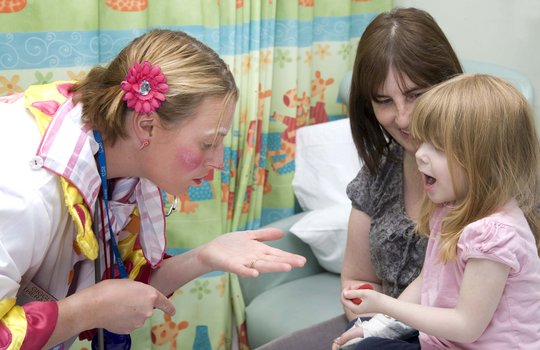 In our last project report we announced that we had just taken on 8 new Clown Doctors. These trainees have now completed 3 modules and are currently undertaking their fourth and final week before starting their assisted visits. We are so excited to have such a passionate group on board and are looking forward to 2012 when they will join our current team of 17 Clown Doctors.
I thought the best way to tell you about the training is for you to hear it from the trainees and trainers themselves. I recently attended one of the modules and asked Kirsty Hudson, one of our trainees, to share with you her experience of the training so far.
Why did you want to become a Theodora clown doctor?
I've always worked with children since finishing school. I love to make people laugh and smile. I think the best thing about this job is that you give something to people who need it the most. Children in hospital really need laughter.
What previous experience do you have?
I have a Performing Arts degree but have also worked in a nursery and crèche for 4 years. I've had very little experience in clowning so that element of the training is quite new to me.
What has your training entailed so far?
Lots of modular work, including infection control, child development in relation to humour and how that's impacted by illness. We've also looked at the impact on a family when a child is ill. On the practical side, training involved the beginnings of developing a character, creating a team, an environment and a supportive network. I've loved the modules which I've found so interesting and thought provoking, especially the work with the hospital specialists.
What did you think of your 1st hospital visit?
My 1st visit was to Southampton General Hospital and I felt very privileged to be there. I really enjoyed watching the different reactions, not just from the patients and children but also from the parents and staff. It was wonderful to see with our own eyes what we're aiming to achieve.
I also caught up with Hilary Day, one of our trainers...
How did you choose the trainees?
With great difficulty. We had an amazing number of people apply. We look at whether they'd be able to cope with working in a hospital and whether they'd fit in and work well with the current team. We also look at their skills and experience and how these would compliment those of the existing clown doctors.
Why does the training take so long?
It is important to allow people enough time to develop their skills, as well as experience various scenarios. Even after 10 years of doing this job, I still get surprises; we can't equip them for every single situation but we try to simulate different circumstances you may come across on a children's ward so they can tailor their skills and adapt.
Once trained, these new Clown Doctors will enable us to visit over 70,000 children and their families each year. That's a lot of laughter for people who really need it.
"On our first meeting with Dr Kala our daughter was very ill, she just lay in bed with tubes and drains coming from all parts of her body. She hadn't spoken to us for a few days and we were desperate as we felt she would give up. Then one day in walked a clown doctor who sang and talked and joked and played silly tricks that made us laugh. Our daughter responded in her own way, which was with her eyes; they sparkled, she was hooked, there was a funny lady who had come to entertain her and our hopes started returning...On a cancer ward a lot of children won't make it through treatment, but their last days are filled with laughter and fun from the clown doctors...they show the parents that they are allowed to smile and that it's good to have laughter around even when things are bad." The parents of a child with cancer at Addenbrooke's Hospital
Thank you so much for your continued support.
Links: