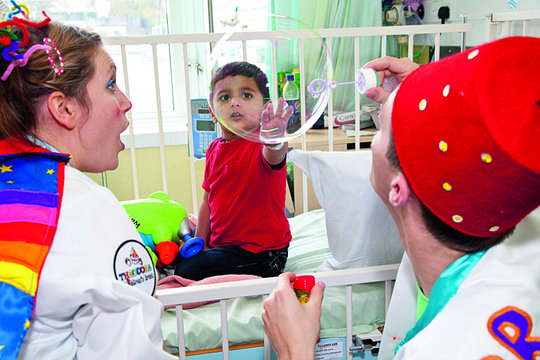 Since joining Global Giving in October 2010 Theodora Children's Trust have visited over 16,000 children and their families at 17 hospitals throughout England and Wales.
The Clown Doctors love sharing stories from the hospitals with our donors. It seems only right that you should hear about the magical moments that you so kindly help to create. Below is one such story from Dr Dovetail:
"On Monday I had the pleasure of bumping into a little girl I'd met once before. I had just entered the ward and stopped at the sink to wash my hands when a lady called out to me. 'Thank goodness for that', she said, 'We were so hoping to see you. You met my daughter last August and she talks about you every time we come back to the hospital.' The lady explained that her daughter had arrived on the Friday for an operation and had been in intensive care all weekend. Monday was her first day back on the ward and she was delighted that I had arrived just in time to see her. She led the way to her cubicle and as soon as I poked my head around the door her daughters face burst into the biggest smile I had ever seen. Despite her scars and weakness from the operation her expression was one of pure delight. 'We were talking about you ALL the way here', she said. 'You made me a big, blue balloon dog last time. I LOVE dogs. My favourite colour used to be pink but it's blue now!' This is the most magical part of being a Clown Doctor. Whether we're here or not, we live in the imaginations and minds of the children and make hospital a little less scary and a little more happy."
As part of our quality control we regularly meet with staff at the hospitals we visit to evaluate our Clown Doctor programme. Below is a quote from Anoushka Duroe who is an Arts Coordinator at Birmingham Children's Hospital:
"I am writing to thank you and the team at Theodora's Trust for running the Clown Doctors programme. I would be grateful if you could extend this thanks to the donors and supporters and to your wonderful team of Clown Doctors who bring magic to Birmingham Children's Hospital each week. We have had fantastic feedback from families and ward staff. The Clown Doctors bring lightness and laughter to families who often spend long periods of time in hospital. This can be a stressful time and everyone values the opportunities that the Clown Doctors create to be able to smile together as a family. Thank you so much for making so many people happy."
Although we have grown significantly in the last few years we still have a list of hospitals waiting to be visited and in 3 of the hospitals we currently visit, due to a lack of Clown Doctors, we are only able to visit half the hospital each week, alternating the following week. For this reason we have decided to train 8 new Clown Doctors to visit an additional 20,000 children per year.
The training began last week with 5 days of seminars run by health care professionals and our Clown Doctor trainers. Subjects covered included infection control and common childhood illnesses and diseases. By 2012 we hope to have a team of 25 Clown Doctors who will visit over 70,000 children each year.
Thank you for your continued support.