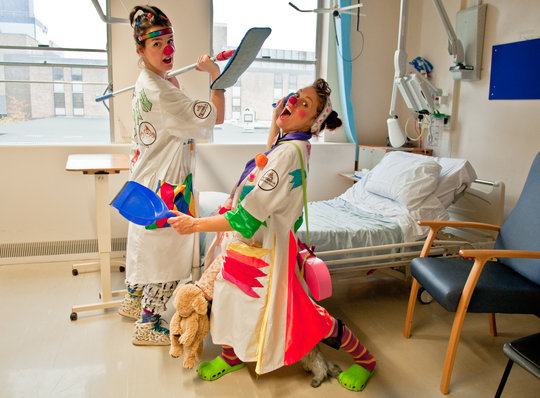 This month we launched our very first Chores for Chuckles week (13th - 19th May) which was very exciting. During this week we encouraged people to carry out a chore (or chores!) in return for a donation towards the wonderful work that the Giggle Doctors do. It was lovely to see so many people rolling up their sleeves to help children in hospital.
Training is going well for our aspiring Giggle Doctors. Our 10 trainees are finishing their Giggle Doctor observations next month and will then start their assisted visits with senior members of the team. Our new intake of Giggle Doctors will allow us to bring smiles to thousands more children in hospital.
Below is a story from one of our Senior Giggle Doctors, Dr Jammi:
"Yesterday I worked in Nottingham. On the oncology ward is an area where children come and wait together with their parents. Some are sat on chairs, others in beds. Some are being injected with their chemo, some are awaiting consultations. Yesterday there were five children ranging from three to fifteen with their parents in this area. It was quiet when I entered, nobody talking, the mood heavy and fearful. I was afraid too. Nobody looked at me as I walked into the room, eyes remained glued to television screens, phones and magazines. One teenager was asleep in a bed.
I caught a glance from a teenage girl's mum and quietly introduced myself. A three year old boy in Superman pyjamas held on tightly to his mum as she tried to persuade him I might be fun. A teenage girl remained intent on writing on her iPad. I wondered aloud what she might be writing, a letter, an essay, a story or maybe she was composing a symphony or writing a film script. At this suggestion she raised her head and grinned at me saying that this was what she was doing. She was writing a film for her friends based on The Avengers.
The three year old continued to watch curiously and shyly, draped around his mum. A seven year old lying on one of the beds, who'd been absorbed by his television, said that he too had seen The Avengers. Spying a pile of pencils on the boy's table I suggested a duel between the two of us, he with a pencil and me with my toothbrush, maybe it could be an audition for the girl's film? She agreed. At which point the three year old decided to come and hand me the remains of his mum's pasta, at which point the whole room burst out laughing. He proceeded to want to stay as close as he could to me, giggling and skipping by my side.
There was only the lad who remained asleep and another teenager who remained absorbed in his DS who were now not engaged in the scene. I politely asked the DS boy whether he thought the lighting was correct to start filming, he raised his eyes and very seriously informed the room that the mimed lights, three and seven, were broken and somebody would need to fix them. A drink can became a walkie-talkie and a mechanic was called. He then said we might be able to work around the broken lights and said, "Action!" and clapped his hands together which the three year old loved and squealed with delight at.
The duel took place and filming and commentary ensued, the whole room actively engaged in playing out their imaginations. The atmosphere of the room had been transformed from fearful, lonely and quiet to a shared communal, playful space. The teenage boy remained fast asleep throughout undisturbed."
Thank you so much for your support, we really appreciate it.