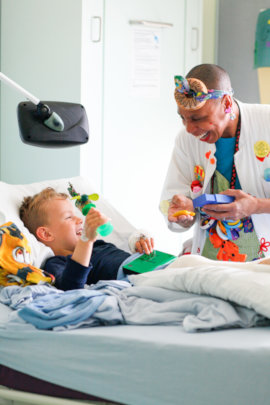 We want to say a big thank you for your very kind support of our work through GlobalGiving. At Theodora Children's Charity we improve children's experience of hospital by combining music, play and storytelling. Our Giggle Doctors aim to improve well-being and increase opportunities for play by bringing magical Giggle Doctor moments to children at a time when they need it most. We have been visiting children in hospitals, hospices and specialist care centres across England for 25 years. Last year, our 24 Giggle Doctors visited more than 33,000 sick and disabled children.
During their visits they aim to:
Reduce distress and anxiety
Increase opportunities for play
Improve well-being
Each interaction is tailored to the child and the Giggle Doctor visits are designed to provide whatever the child needs at the time, whether it's a joke, a song or simply companionship.
We get so much wonderful feedback from the families of the children we visit and, to show the impact of your support, we would like to take the opportunity to share some of it with you.
"Last week my daughter was admitted to our local hospital as her legs stopped working after a minor car crash. It was very worrying and our local hospital transferred us to another hospital for examination.
Dr. Easy Peasy visited us - her timing couldn't have been any better. We had literally just arrived and were feeling very sad for the other children on the ward and very sorry for ourselves. My daughter is 14 and not wanting to sound rude, we didn't really want Dr. Easy Peasy to stop at our bed. Well, Dr. Easy Peasy was exactly what we needed, I cannot put into words what she did for us. She was absolutely fantastic and we will never forget her. My daughter was discharged yesterday too and so we are very fortunate. Your work as a charity certainly appeals to all ages - thank you from the bottom of my heart." Parent
We work closely with hospital staff to monitor the quality of our work through regular meetings. We collect feedback from children's families through our online survey which is open all year round. This provides us with detailed information about the impact of the Giggle Doctor visits. We also carry out in depth interviews with parents of children who have been seen by the Giggle Doctors and who are keen to share their story with us. Through this we are able to learn more about their child and the impact our visits have had. In addition to the parent feedback survey we also send out a survey to NHS staff twice a year.
"The Giggle Doctors have been fantastic at not only creating smiles within the children's wards they visit but provide constant cheer even when walking through the corridors they have time to chat and make patients young and old smile." Hospital Play Leader
How your support helps children like Jack and Charlotte
We receive lots of feedback from families about how our Giggle Doctors have made an impact for their child, but we also wanted to share this story from one of our very own Giggle Doctor's:
"We saw Jack, a boy we know has a very cheeky sense of humour. When he came into the room, I said really loudly to Dr. Yoho – "Oh, Dr. Yoho, I'm going to hide from Jack – tell him I'm not here - don't tell him I'm behind this chair…" and I went to hide behind the chair. Dr. Yoho went over and said "ah, hello Jack, I need to tell you that Dr. Dovetail wants me to tell you that she's not here, but actually, she's hiding behind that chair!". Jack began to laugh as I stood up – outraged at being found out!
We played this game several more times and each time I stood up outraged, Jack's laugh became louder. The final time I'd said "tell him I'm not here, I've gone to the moon". This time when I came out, I asked Jack if he would like to go to the moon with me – he gestured "yes", so his carer wheeled him to sit next to me – we all put on our imaginary seatbelts and then I said, "and now it's time to press some buttons before we do our countdown". And I began to press some invisible, imaginary buttons and each time I pressed a button there was a loud squeak. This made Jack laugh super loud and hard, so we played with him pressing buttons, then him, then his carer and Dr. Yoho. Each time we heard the squeak, we all began to laugh together.
It was just at that moment when Charlotte, an older girl came in. Her carer informed us that Charlotte had had an epileptic fit earlier and fallen out of her bed onto the floor, so was feeling down in the dumps and was hoping we could cheer her up. We introduced her and her carer to our squeaky button pressing game, and pretty soon, there were 6 of us squeaking away and laughing together. It was at this point that Jack had to go, so we never actually got to go to the moon, but the fun we had getting ourselves ready to go was enough! Sometimes I find it amazing how simple it can be for us to find something to connect over." Dr. Dovetail
We are so grateful for your generous support, which has allowed us to continue bringing fun and laughter to children in hospital at a time when it is most needed.
If you have any questions or would like to find out more about our work, please feel free to get in touch at theodora.uk@theodora.org.
Links: