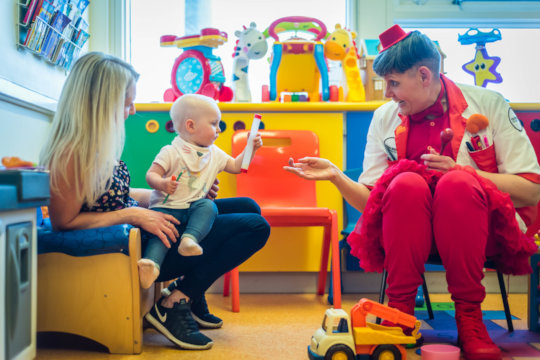 We want to say a big thank you for your very kind support of our work through GlobalGiving. At Theodora Children's Charity we improve children's experience of hospital by combining music, play and storytelling. Our Giggle Doctors aim to improve well-being and increase opportunities for play by bringing magical Giggle Doctor moments to children at a time when they need it most. We have been visiting children in hospitals, hospices and specialist care centres across England for 25 years.
During their visits our Giggle Doctors aim to:
Reduce distress and anxiety
Increase opportunities for play
Improve well-being
Each interaction is tailored to the child and the Giggle Doctor visits are designed to provide whatever the child needs at the time, whether it's a joke, a song or simply companionship.
We get so much wonderful feedback from the families of the children we visit and, to show the impact of your support, we would like to take the opportunity to share some of it with you.
"My daughter arrived on the ward today very teary eyed and nervous, with her little head full of memories of needles, pain and illness. However, we arrived at the same time as the Giggle Doctors! Within a minute they had completely captured her attention and put her totally at ease. She completely forgot where she was and thoroughly enjoyed her time with them both, as did I! Thank you so much for everything you did for Ava-Grace today, you made a huge difference in a little girls world and made the hospital a much brighter place to be" – A parent
We work closely with hospital staff to monitor the quality of our work through regular meetings. We collect feedback from children's families through our online survey which is open all year round. This provides us with detailed information about the impact of the Giggle Doctor visits. We also carry out in depth interviews with parents of children who have been seen by the Giggle Doctors and who are keen to share their story with us. Through this we are able to learn more about their child and the impact our visits have had. In addition to the parent feedback survey we also send out a survey to NHS staff twice a year.
"I would like to take this opportunity to tell you that we very much enjoy visits from your Giggle Doctors. We never cease to be impressed by how well they interact with all our young people and their families. They are all unfailingly sensitive; adaptable, and responsive to the individual needs of each child. Their skill and sense of fun bring enormous pleasure to the children; families and staff." - Hospital Play Specialist
How your support helps children in hospital
We receive lots of feedback from families about how our Giggle Doctors have made an impact for their child, but we also wanted to share this story from one of our very own Giggle Doctor's:
"I met a 10 year old girl who looked very fed up in her wheelchair with her leg in plaster. She and her mum welcomed me over saying cheering up was very needed, and we did lots of magic tricks with the sponge balls, the girl of course holding the magic wand. The nurses joined in the magic as well as the staff member at the reception desk, and a little boy I had played with earlier. She was really enjoying making the red balls appear and disappear and was completely thrilled when I said she could keep the wand as a present. I went on to play with other children in the department before seeing her again a while later. She said to me with a knowing smile "Dr Dotty, I tried to fix my leg with my magic wand and it didn't work." I offered her a smile back and said lightly, "The real Doctors will fix your leg, they are much better at fixing legs than me." And without a pause, she simply replied "But Dr Dotty, you're really good at fixing feelings!" - Dr Dotty, Giggle Doctor
We are so grateful for your generous support, which has allowed us to continue bringing fun and laughter to children in hospital at a time when it is most needed.
If you have any questions or would like to find out more about our work, please feel free to email ellen.blessington@theodora.org
Links: