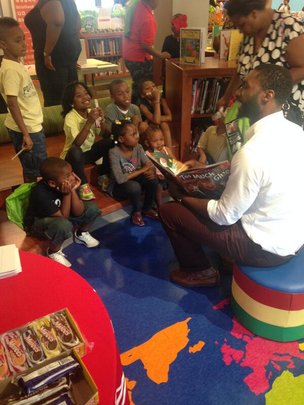 Here at Raising A Reader the weeks leading up to summer mean one very special thing – it's time for kids to graduate from the Raising A Reader program!
This is always a very special time of year and involves thousands of events across the country. At each event, children receive a Raising A Reader blue library bag to take home and use to carry books from the library. Teachers provide parents and children with information on local library membership and any child without a membership is shown where to sign up – This helps make summer all about books and opportunities for children to share books with their parents or caregivers.
Serramonte Head Start, San Mateo County CA, held one of the many blue library bag events this spring. Head Start programs in San Mateo provide an affordable high quality option for parents in a region that often sees families priced out of quality child care.
In Baltimore, Arlington Elementary hosted a summer reading event and had a very special guest drop by. Baltimore Mayor Stephanie Rawlings-Blake, a strong supporter of Raising A Reader and the more than 20,000 children enrolled in Raising A Reader throughout Baltimore, came to the event to showcase the progress being made by students throughout the city.
"It is so important for the future of our young people that they develop a love for reading. This is a great program. I am very proud that it's here in Baltimore. I'm glad to see so many parents here today. This is a group effort."
Baltimore Mayor Stephanie Rawlings-Blake on Raising A Reader
In the photo above, our Manager of Programs Derrell Washington reads to a room of Arlington Elementary students at the event last week.
Thank you for making wonderful events like these possible!
It is because of donors like you that we are able to provide these vital opportunities for children to experience the joy of reading and develop a love of books. Thank you from programs like Serramonte Head Start in California and schools like Arlington Elementary in Maryland. Donors like you make it possible for Raising A Reader to implement these opportunities across the country.
Yours in book sharing
The Raising A Reader Team
Ps. Keep an eye on our GlobalGiving updates – Next week Microsoft will be matching all gifts made to Raising A Reader! We'll keep you updated as we get closer to the day.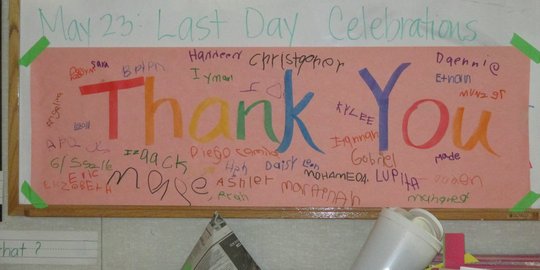 Links: