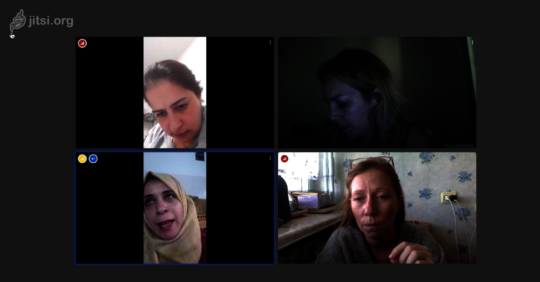 Dear Friends and Supporters. Since autumn 2019 we have been trying to get permission to enter Gaza to start our photography workshops with women living in Gaza. We have contacted various international organisations (mostly European aid groups but also an Israeli-Palestinian access group) and individuals working in media as well as human rights defenders. We have also reached out to both the Estonian embassy in Israel and the Israeli embassy in Estonia, and the Israeli border agency.
The replies were different. From refusal from some Israeli agencies with no explanation, to no answers from others. Some have explained to us that to get approval to enter Gaza, we need to register femLENS in Israel, however Israel hasn't been accrediting new NGOs to work in Gaza for several years already. We really appreciate those who replied and tried to give us some information. Others said "It is almost impossible for foreigners to get permission to enter Gaza... " and "it is highly unlikely that she can get to Gaza under the current stringent blockade."
So around February 2020 we felt that we had reached a deadend. After a long discussion and consultations with different parties we decided to move ahead and had agreed to consider conducting our workshops in the West Bank (I had also been invited to participate in a photo event organised by the EU in the West Bank). It could have been a stepping stone for us to get access to Gaza in the future. However, now with the global lockdown, the West Bank is also inaccessible, and this project will have to be placed on hold until the situation in the world improves.
But even in the midst of the pandemic we have been working hard. Earlier this year we organised a series of online documentary photography workshops for Palestinian women living in Isreal, with the help of Tsipi Karlik, an Isreali documentary short film maker. We found that while working online may be a good solution in some situations, we faced some technological challenges from the start that could not be resolved. You can read about the experience here.
Another problem that online workshops cannot not fix is the language barrier. During our real-world workshops we have someone who speaks the language of the participants to translate simultaneously which has always worked perfectly. Eventually we had to suspend these workshops.
However, one of the women who signed up for the femLENS workshops but couldn't participate because she doesn't speak English was Nivin. She is 22 years old and lives in the north Jordan Valley. Nivin has so much to share. She has been sending us photographs and comments about her photos. We use a translation site to translate her comments for the photographs, and sometimes guide her photo taking. We are building a website which we will continue to update with Nivin's photos so you can see into the world of Palestian women through their own eyes.
When the situation in the world stabilises, we will continue to make every effort to work with Palestinian women face to face, be it in Gaza or the West Bank. As for now, we will continue to empower women online. Please stay with us for updates on our achievements and support our efforts by spreading the word about our work.
Stay safe, and thanks for being with us!
Best wishes,
Jekaterina
Links: