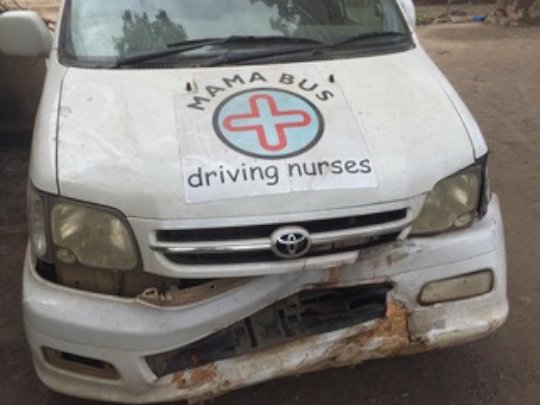 Dear followers,
Hereby our quartly report to inform you about our progress.
As we have told you in our previous report, our nurse had started the training for the ultrasound equipment. We are very happy to say that she has succesfully completed this training!
But unfortunately, july wasn't our lucky month. We received the extremely sad news that our MamaBus got an accident and the driver ran away. As you can see in the picture above, our bus got severly damaged and wasn't able to drive anymore.This also meant our nurse could not perform the ultrasounds as she had trained for.
But then there was this call today...
We were informed that our partner TPC Company has repared our Mamabus. The CEO was so compelled to get our bus driving again that even provided us with a driver from within their company. It is great to know that we have such a loyal and thrustworthy person driving our bus now.
We cannot express in words how extremely thankful we are for what TPC and FTK have done for us. Due to their benevolence we are back on track and we can reach the 24.000 mothers and children again that need urgently need our care!


Kind regards,
Team Driving Nurses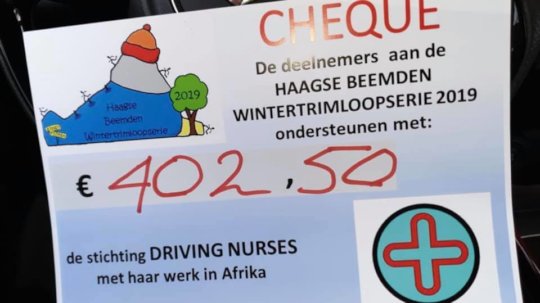 Dear friends,
Sorry for our longer-than-average silence but we are back!
It is already june which means our nurse has started the training for the ultrasound equipment. She is doing great and we hope to finalize the training very soon!
In the meanwhile our MamaBus is driving around as always to perform care for mothers and children. We cannot wait to fully implement the ultrasound service to our bus.
Last april we received an amazing gift from the runners who participated in the "Haagse Beemden Wintertrimloopserie". The amount they collected for this project is almost a full month salary for our ultrasound nurse! Big thanks to all the committed runners!
Furthermore, our chairman Suus has given a lecture about our project to a bunch of primary school children. Ofcourse, this creates awareness for our project but we especially do this to teach the kids more about poverty. These kids new very little about the world outside the luxurious life in the Netherlands and were therefore totally shocked by the stories Suus told them. The kids asked a bunch of questions and we loved their enthusiasm. It would be great to get so much more kids in the Netherlands motivated through this way!
Kind regards,
Team Driving Nurses
Dear friends,
First off al, ofcourse, thank you for your support on our first project!
We are overwhelmed by the love and support you have given us during the giving season.
With your help we have reached over a 1000$ on the counter and this gave us the opportunity to kick start our project!
The above amount enables us to arrange schooling for a nurse or midwife to perform ultrasounds.
And the even better news is that in the meantime we have found a nurse who is very eager to learn all about this and who is going to do this training.
She will start this training coming April and we wish her all the best of luck!
We are just over 1/10th of our final goal which means we will continue our fundraising campaigns for this project.
After our nurse has finished her training we all ofcourse want her to start working on the MamaBus as soon as possible.
Further fundraising will help us pay for her salary and finallly provide ultrasounds for all women in our area of operation.
Team Driving Nurses is enormously motivated to reach our final goal!
Once again, we want to sincerely thank you all.
You will be hearing from us!
Kind regards,
Team Driving Nurses
WARNING: Javascript is currently disabled or is not available in your browser. GlobalGiving makes extensive use of Javascript and will not function properly with Javascript disabled.
Please enable Javascript
and refresh this page.