Hi staunch supporters,
2020 has been a tough year for all of us. Despite these challenges, we as a foundation are still very proud of what we have achieved. Among other things, we have expanded our area, we have distributed a childrensbook about Corona in area of 80.000 inhabitants and ultrasounds were fully implented to our MamaBus. Unfortunately, laws and regulations around ultrasounds are on the verge of being severly changed in Tanzania. This might imply that Veronika is not allowed to perform ultrounds anymore on our MamaBus. While waiting for the finalized version of these new laws and regulations, we have decided to put fundraising for ultrasounds on a hold.
Such setback won't stop us. In 2020 we will be focussing on expanding our area once again. We have started a close collaboration with the Lutherian Hospital in Karatu. In 2020 we will start here with a completely new project in which we will connect 100,000 inhabitants to adequate care in rural areas. Moreover, we are involved in improving the mental health strategy throughout the entire Tanzania for the upcoming period. Driving Nurses has an advisory role in improving mental healthcare for women with severe postpartum depression and trauma of domestic violence and rape. We are thankfull for this opportunity.
We wish you all a merry christmas and the best for 2021. That 2021 may bring us more joy, health and happiness.
Kind regards,
Driving Nurses foundation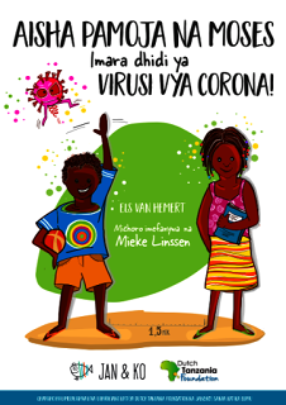 Hi all!
We hope you and your loved ones are doing well. Unfortunately, the coronavirus is still spreading and making new victims, also in Tanzania. But knowledge dissemination about the Corona Virus in Tanzania is limited. Mieke Linssen and Alberdine van Hulsbeek created a (audio)book to educate children about the Coronavirus. The book addresses the insecurity and excitement of children, whilst teaching how to behave to avoid further contamination simultaneously. Mieke and Alberdine developed this book in 5 different languages, amongst which Swahili.
"Aisha and Moses are the two main characters in the booklet "Aisha and Moses strong againts Coronavirus!". Aisha, a smart Tanzanian girl, paid close attention when her teacher explained why they could not come to school for a while. Moses however, a very vibrant little boy, doesn't quite get it and likes to be informed by his friend Aisha. Using illustrations in combination with a typical African context, this beautiful story is told. It is available in both text and audio and it is just a small file so it can also be used on a smartphone."
In order to reach the children in East-Africa, Mieke and Alberdine asked us, Driving Nurses, to partner up. In collabortation with our regular partner FTK Kilimanjaro in Lower Moshi, the booklet has now been printed and is already distributed in area of over 80,000 inhabitants.
For more information about Aisha and Friends, you can visit their website through the link below. You can also find the full story about Aisha and Moses on this website.
https://aishaandfriends.com/

We are beyond proud of this beautiful collaboration!
Kind regards,
Team Driving Nurses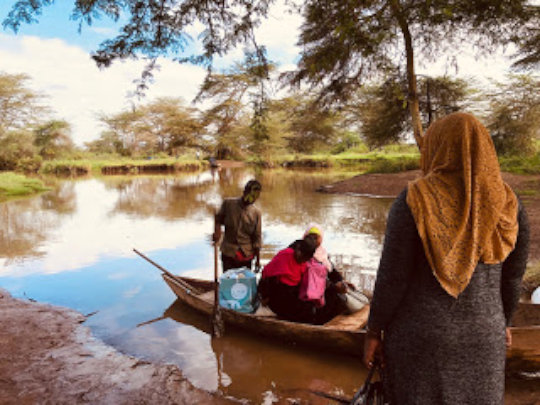 Dear all,
It has been a while since the last time you've heard from us and the world looks a whole lot different right now. COVID-19 has the whole world in its grip at this very moment and everybody is facing challenges they've never challenged before. First and foremost; we hope you and your loved ones are doing fine and are in good health.
Last january, before we expected anything but a pandemic, our chairman Suus travelled to Tanzania check up on our projects and meet with those involved. It was a real fruitful trip! We can now proudly tell you that ultrasounds are being made on our MamaBus! We have been working on this for years and it is a huge milestone for our organization. Adding up ultrasounds to the other services we already provided, we can now offer pregnant women the full set of care they need.
Furthermore we have once again added a new village to our area of support. The new village is very far from civilzation and in rainy season it is even completely closed off due to water that breaches the banks of the river around which the village is built. Exactly for these reasons our help is much needed! Suus travelled to this village herself and what an adventure! Once arrived our team educated the local midwives about our "safe childdelivery packages". One of our main goals is to convince women to give birth in hospitals. However, this village is this far away from any hospital, that we donated them these packages to still make sure they can deliver safely.
Besides our MamaBus we also have other projects running. One of these project is supporting a small group of underpriviliged children. As we all know, poverty is a great issue in Tanzania. We support children in the absolute lowest tier; children who are kept out of school, that have to beg, that are abused by their parents or have even have no parents.
During the trip in january, Suus also planned a visit to one of the schools we collaborate with and where some of the children we support are educated. When Suus was on her way to this school she ran, entirely coincedental, into a lovely young lady who was in real need of our help. And then Suus even found out that she was named Susie! What are the odds? This was predestined..
So as of last january we also support Susie through education and we cannot wait to see how she is progressing.
Lastly we want to wish you all a lot of strength in these times. Keep your distance and stay safe!
Kind regards,
Team Driving Nurses
WARNING: Javascript is currently disabled or is not available in your browser. GlobalGiving makes extensive use of Javascript and will not function properly with Javascript disabled.
Please enable Javascript
and refresh this page.