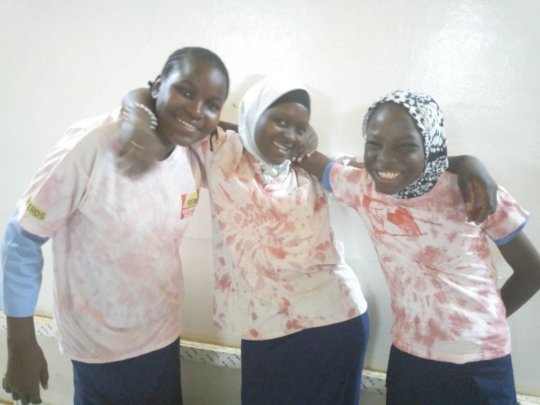 Dear Friends,
Our new Art Program for Girls has been rising to new heights :
- The art classes have expanded both in number and in the variety of projects over the last few months since March and we are so pleased with the results !
- In February, during the visit of the Association's President from Paris to the Hampaté Bâ School in Niamey, we stopped by the after school optional art classes on site that we are financing, to deliver art supplies that we wanted to donate to the program. At that time, we noticed that the art classes were overcrowded due to the growing popularity of this new art program and the talented and enthusiastic Art Teacher, Mr. Désiré.
« I have so many ideas and so many techniques to show to the students. I want
to teach them more than just simple drawing. I'm so amazed to see the progress
the students are making ! » remarked Mr. Désiré.
« I never held a paintbrush before and I never knew how to draw. I feel relaxed
when I come to this class and I like to see the artwork of my friends too. » Farida mentioned to us.
« I like this class because I am calm and concentrated and I discovered that I
can do things I didn't know how to do before. I like to share my drawings with my
friends . It makes me feel good. » commented Aminatou.
We pointed out to Mr. Désiré that the art projects needed more space and less students per class, and he accepted with glee to double the number of classes, allowing more students to participate in smaller groups. This gave the students more ease to carry out their projects and now there are never more than 20 students per class. The classes are given at three levels : 6ème, 5ème and 4ème. (6th, 7th and 8th grades).
We are moving ! We are active! The supplementary art classes filled up very rapidly and new art projects took off very fast as their novelty had a large appeal. One week after our visit, there were 3 new additional art classes set up, with inspired students coming to attend those classes despite the 45 degree heat in May!
What are these new art projects that have attracted so many of our girls?
Mr. Désiré did not disappoint us with his innovative ideas. During the next 3 months, one group of students decorated their own t-shirts, learning the technique of batik. Each student came with their own white t-shirt, which became a beautiful colorful t-shirt with great designs. The students were delighted to learn the technique of batik which requires a lot of patience.They were also proud to wear the t-shirts on the last day of class.
Another great project was oil painting on canvas. The students had done drawings before, but never had actually painted on a canvas, which required new techniques, dexterity and concentration.
« I like to paint because it is relaxing and I am in a world of silence, concentrating on my artwork. I don't think about how hot it is and I have a feeling of accomplishment when I leave. And Mr. Desire is always giving us good advice to improve » observed Fadimata.
With the end of the academic year approaching, we are happy to see that students have their own hand-made t-shirts and are ending the year with new skills. The students proudly displayed their t-shirts and canvasses to the delight
of the school community on the last day of May, just before the final exams took place.

There is still a lot to be done and yet this project has proved its worth already in a short amount of time by providing the girls with confidence, with new skills and with ideas for future jobs.
We are presently raising funds to be able to continue the doubled number of art classes next year to give opportunities to a larger number of deserving students.
Thank you so much for your continued support which means so much to us all, in France and in Niamey. We wouldn't be able to provide this opportunity to our girl students today without you . We are very grateful.