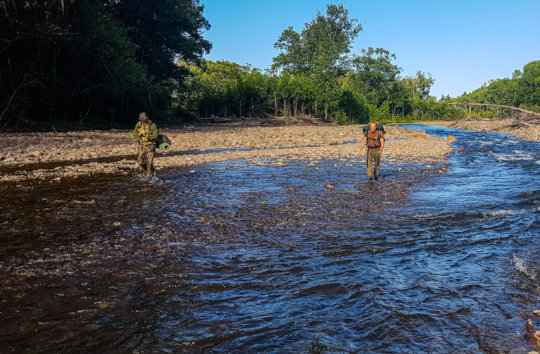 We are glad to report that poachers took a summer break and don't enter the territory of the Land of the Leopard.
From July through mid September, the team of central subordination continued patrolling the assigned territory. In all, the team conducted 51 anti-poaching patrols.
In the beginning of July, the team conducted a number of joint patrols with border guards. No violations were revealed. On July 17, during one of those patrols tiger tracks were discovered near the frontier post.
In August, a number of big typhoons caused a rise in water level. Given that, fish poachers appeared on the rivers. Two administrative citations were issued upon violators on the Brusya and Narva rivers. On August 22, during a foot patrol between Filippovka and Primorsky villages the rangers discovered quad bike tyre tracks and took measures to prevent illegal entry by violators.
In the end of August, the team mostly patrolled along the Narva river. During one of such patrols, the rangers apprehended a man from Slavyanka town and issued an administrative citation. Also, while patrolling along the Brusya river, the team discovered and removed two fishing nets.
Taking into account that chum salmon in large numbers enter the rivers in Khasan district in September, the team conducted patrols mostly along the spawning rivers, namely Barabashevka, Narva, Poima, Brysya, Kedrovka and others.