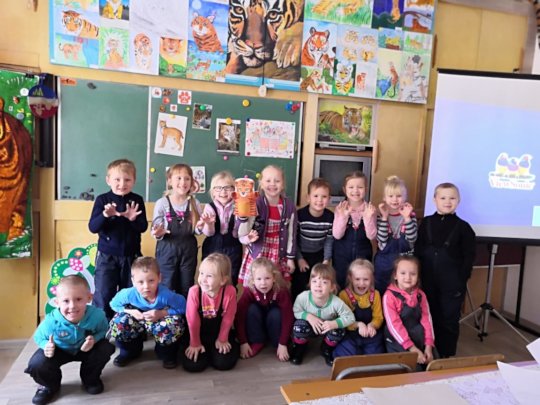 From November 2019 through January 2020 thanks to your support of our new project on ecological education we managed to fund the work of outstanding ecology teacher Valeria and covered her travel expenses. During reporting period she visited four remote villages of Krasnoarmeisky district and carried out special lessons for 118 children that live in close vicinity to Amur tiger habitat.
In November the teacher with young members of Namba eco-club visited Roschino and Krootoy Yar villages in order to give lessons for children aged 5-15. In Roschino, the lesson with kindergarten children was devoted to tiger cubs and outdoor behavior rules. At the beginning of the lesson, the children guessed riddles about animals and discussed how the world changes when winter comes. The teacher told about Amur tigers and dangers that the rare big cats face nowadays. Then, the children sang a song about a tiger cub and his mom and watched a video fragment about tiger habitat. At the end of the lesson, there was a discussion of basic outdoor behavior rules.
A lesson in Krootoy Yar village with pupils of 5th-9th grades was given to expand children's knowledge about ecological problems on the planet and their reasons. First the children watched "Man" cartoon by Steve Cutts about man's relationship with the natural world, talked about reasons for climate changes and the importance of nature conservation. Teacher also discussed vanishing of species and endangered status of Amur tigers. The children reflected on the possible solutions that could help conserve rare animals and their feasible contribution to this issue.
In December, the educator visited Boguslavets village and gave three lessons for 48 children aged 4-5 and 6 adults.
A lesson "Cats in our forest" was carries out for 16 kindergarten children aged 4-5 and two adults. The lesson began with riddles about big cats and a follow-up discussion about differences between wild and domestic cats. During the lesson, the children watched video fragments, presentations and cartoons about wild cats, learned about their food preferences, and dangers they face in the forest. The kids told that they would do their best to protect and conserve wild big cats.
Another lesson was devoted to the Amur leopard. 16 kindergarten children learnt how wild animals use camouflage to hide and hunt in the forest using the Amur leopard as an example. During the lesson, the children talked about camouflage as very important animal adaptation that helps animals both hunt for food and hide from predators, and watched video fragments in which animals chose to hide by finding a place with colors and patterns matching their skin or by altering the colors on their skin.
The third lesson was called "Tiger hunt". The objective of the lesson was to inform the children about hunting habits of tigers. During the lesson, the children played interactive games and found out what animals are prey species of he Amur tiger.
In January, the educator visited Novokreschenka village and gave two lessons for 26 children aged 7-15 and two adults.
On January 14, there was a lesson devoted to protected areas for 14 children aged 11-15. During the lesson, the children watched a video fragment about protected areas, discussed distinctive features of nature reserves and national parks, and watched a cartoon "What is a nature reserve?" Also, the children talked much about the Udege Legend National Park located in Krasnoarmeisky district and rare and endangered animals inhabiting the park. On the same day later, the educator gave a lesson "Safety around us" for 8 children aged 7-9. While playing, the schoolchildren learned that nature is much polluted as people used natural resources and never considered what harm they did to nature. The educator told about human behavior in outdoor recreation. At the end of the lessons, the children tried to formulate their ways to solve some ecological problems.
Also, a lesson "Treasures of Earth" was given to 12 children aged 7-9 in order to ingrain responsibility for the environment state and attract children's attention towards ecological problems and ways for their solution. During the lesson, the children discussed causes for climate changes, energy conservation rules, and extinction of animals and plants.