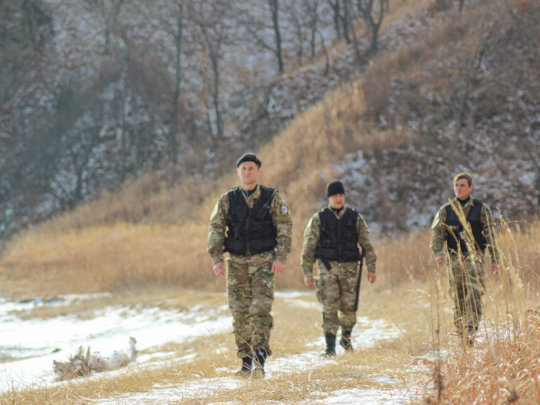 In November, the team carried out 26 anti-poaching patrols to protect the Land of the Leopard National Park. During the month, the rangers continued patrolling along the Nezhinka, Barabashevka and Narva rivers. The team patrolled on foot, by quad bikes and jeep, and made ambushes and with the use of thermal camera tried to detect poachers. The rangers also patrolled around human settlements, such as Bamburovo, Filippovka and Ovchinnikovo villages. No violations were revealed. In November, the rangers attended a special workshop during which they were trained to arrest violators.
In December, the team continued patrolling the park, mostly along Narva river, Ovchinnikova and Filippovka villages and newly assigned territory of Gamov wildlife refuge in order to prevent and reveal poaching. The rangers carried out 27 patrols. In total, the team covered about 180 km on foot.
When patrolling on foot at the central park of the park, the rangers spotted signs indicating that someone had entered the territory by car. Following the tracks the team apprehended two poachers with a backpack full of fresh sika deer meat. The violators are residents of Khasan district. The detainees could not explain its origin of the meat, but soon a site was discovered nearby with the carcass of an ungulate, and traces of a gunshot wound were found in its remains. Rangers called the police officers. They also filled out the materials, collecting and preserving the evidence necessary to initiate a criminal case.
During December, the state inspector of the central subordination team received training in UAV flying in Ussuriysk, and passed exams on the ATV driver course.
In January, the team carried out 23 anti-poaching patrols. During the New Year holidays rangers enhanced the patrol regime due to the predicted surge in poaching over the weekend. Increasing the number of patrols helped protect ungulates - prey of rare Amur leopards and tigers. The rangers were mostly focused on foot patrols.
Special attention was paid to the territories of the national park adjacent to Bamburovo village. When human activities near the Bystraya river were noticed at the end of January, the team focused its attention to this region and conducted patrols there.
On January 14, rangers detained an armed intruder who was hunting in a neighboring hunting lease, and according to his words "accidentally" went into the depths of the national park. The uninvited guest did not have time to kill the animals, but may become a defendant in a criminal case on illegal hunting. It is worth mentioning that in previous years this man has already been repeatedly detained by state inspectors of the Leopard Land for such violations. This fact also does not speak in favor of his version of the accident that happened. Now Police is in charge of the investigation.