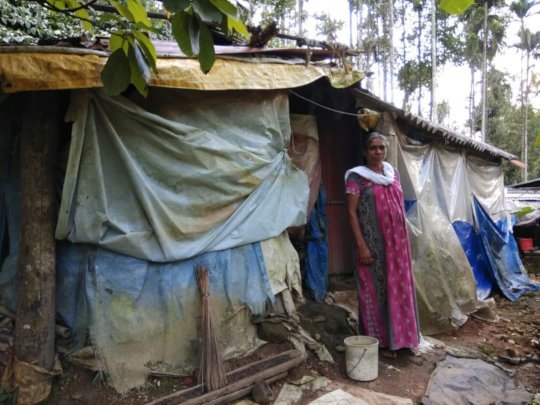 Thank you for your generous support!
The great support from #GlobalGiving on the job to rescue, recover and rehabilitate the most affected people Wayanad, Kerala, due to mammoth flood. The following success story which is an explicit example facilitated by our team.
The small dwelling units (max. 50 to 100 sq.ft) of these residents belonged to the oldest form of design with thatched roofing (with dried coconut/palm or used plastic carry bags collected from garbage's) added to overcrowding and congestion. Without proper roofing, during the rainy season they were forced to seek shelters in the nearby colony which has well constructed roof, which left young children and elderly people without a safe and protected ambiance. The heavy rain has worsened their situation leaving them in damaged shelter. The current financial strain has left these people unable to rebuild the damaged shelters.
SPPD's preparedness deploying its team for identifying the most vulnerable communities as segregated below, viz
Woman headed and poorest family
Girl children families
Differently able house less
Unreached community like Tribal and lower communities
Age old and alone people
One of the recent rescue recovery and rehabilitation success story – post recovery support
The provision of these most basic items will allow those affected to have an assured shelter for themselves and take care of their family members under proper safe roofing.
The photos taken before and after the provision of construction materials will help you have a clear vision of the needs of these people. We will keep you updated of our activities.
True Story
Mrs. Jansi (Name changed) , led her family as woman headed home and having 4 daughters. 36 years ago, her husband passed away due to illness. She had and has practice of hard working nature in coffee estate. Out of her very less remuneration, all 4 daughters are married to the poor son-in-laws. Mrs.Mary is alone now. During the Kerala Flood, her thatched hut house was totally damaged without any rescuers either from her relatives or from the society, she essentially required such support to renovate her house. At the crucial juncture, SPPD reached out her and facilitated to renovate her house. Her voice," without food we can bend, squat and sleep in the house as a safe mode of residing. But, without shelter, i could not imagine such situation. With God blessing, the team has rescued me from ill, panic and pathetic position. Very Thanks to the donors and the team ".
#SPPD has not expressed its work done in Kerala Floods, nevertheless, SPPD has explicitly and positively expressed its intervention experience for further assistance and support from the donors of #GlobalGiving#