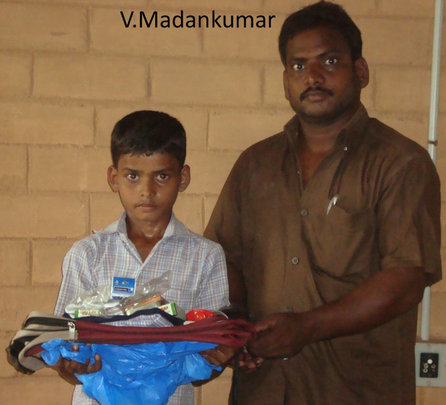 All our donors at the Global Giving,
Thank you for your recent donation given to Society for Poor People Development (SPPD), Trichy. Your commitment to helping abandoned / orphans / semi-orphans children in our community to continue their education with more flexibility, thereby reducing the growing rates of child dropouts now places them in a better position to help them prosper economically in the near future.
Thanks to donors like you, we have provided children the educational support. The children are now eager to go to school as their basic requirements are now at their reach. They can do their homework at ease and hence we hope that we could bring down child drop outs.
We invite you to take a tour of our residential site and meet some children who have benefited through this support. We are always proud to show off our facility and have our supporters meet the children we serve with the help of your generosity.
Meanwhile, we will keep you updated on the children profile and our campaign through our quarterly newsletter and monthly emails.
Again, thank you for all you do for our organization. We, and those we serve, deeply appreciate your generosity.
FUND DISBURSEMENT
After a thorough survey and detailed verification of the applications received, children were selected under the scheme "Education for 50 rural children". As the main object of the scheme is to support the deserving students the opportunity of continuing their education without any obstacles, the objective was brought to reality on 24th July 2011. We hope and pray that this support would continue for the students and believe that your continuous support will help us curtail the growing child labour.
Beneficiary 1
Name : V.Madankumar
V.Madankumar is studying 8th Std. in the Panchayat Union Middle School, Ganeshapuram. When he was in his early childhood, his father Mr.Veeramani expired. Later his mother Mrs.Thiruselvi got remarried. She left her son with his grandmother and now they do not about his mother's whereabouts. Since his grandmother is too old, Madankumar's uncle who is working in a textile factory, helps them with a small amount. They don't have anyone to support their family's financial shortcomings.
As days are passing by, his grandmother is now having problems in her vision. She approached SPPD to join her grandson in the Evening Study Center. Considering his situation and after cross verification by our staff, he was enrolled in the Centre. Madankumar has shown good improvement in his studies and hence he was recommended by his tutor to be selected for the bursary support. After verifying his educational status at the school, we supported him with this support. His ambition is to become a doctor and serve the people of his locality.
Beneficiary 2
Name : N.Manikandan
N.Manikandan is studying 8th Std. in the Adi dravidar Hr. Sec. School, Thiruthalaiyur. His father Mr.Nataraju was a drunkard. When he was in his drunken state, he consumed poison and died. Manikandan has three elder sisters and a younger brother. His mother Mrs.Rani was working as a coolie and with the income she was earning; she found it too hard to make both ends meet. In order to help the family, his elder sister, after completing her X std. started working as a coolie.
Their mother often falls sick and she is not able to go to work regularly. They don't have anyone else to support their family in financial terms. Now the family is totally depending on the eldest daughter's income only.
Manikandan has good interest in studies. His sister approached the tutor at the ESC and requested her to recommend her brother for the evening tuition center. Taking into consideration her family situation, we enrolled him in the ESC at Thiruthalaiyur.
After his enrollment, he has commendable improvement in his studies and also tries to develop his interest in other fields also. After verifying his educational status at the school, we enrolled him with this support.
Beneficiary 3
Name : R.Elayakumar
R.Elayakumar is studying 8th Std. in the Govt. Hr. Sec. School, Thiruthiyamalai. He belongs to a very poor family. His parents Mr.Puviyarashan and Mrs.Indurani expired eight years back as they were victims of HIV / AIDS. He is also found to be HIV +ve and is now under treatment. He consumes ART medicine regularly. He has one elder sister who has completed her X Std. She is working in a garment factory as an embroiderer in Thirupur. They are staying with their grandmother. She works as a daily wage laborer (coolie) and takes care of both the children. They don't have any other moral support. Elayakumar is an average student. Since the income they get is sufficient only for the daily needs, she approached the tutors to join her brother in the ESC at Thiruthiyamalai.
After enrollment in our ESC, he has shown much improvement in his academic records. His ambition in life is to become a teacher and render his services to the children of his locality. Considering his family situation and finding his interest in studies, he was recommended by our tutor for the support.