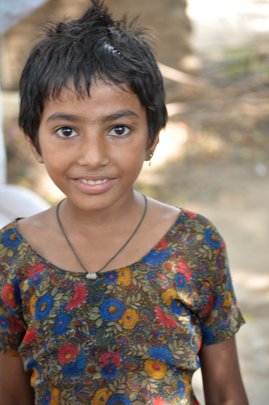 Dear Friends,
There was a small news item in the Times of India on Oct 31st, 2010. It said, 70% girls in India particularly in States like Uttar Pradesh, Madhya Pradesh, Rajasthan and Bihar marry before 18 years of age. This is a staggering number and we know from our field experience that most of these girls are married by 15 or 16, some even younger. The National Commission for Women (NCW) has called the situation "alarming".
We ourselves have identified over 11,000 girls in Pali Rajasthan who are between the ages of 6 to 14 years, out of school and at risk of early marriage. Through your support we have been able to bring over 6,000 at risk girls back into schools in the last 4 months. Bringing girls into schools helps to delay their marriage and an educated girl is the biggest agent of social change!
When you educate a girl:
- Birthrates fall: Each 4 years of schooling reduces family size by one birth.
- Literacy Accelerates: A mother with a primary school education is 500% more likely to educate her children than a mother with no education.
- Political Extremism and Violence against Women Decline: Education makes it less likely for girls to be beaten, raped, sold into sex trade or forced into early marriage.
- Household income grows: 10-20% for each additional year of schooling.
- Family Health Improves: A UN study found that education of girls had a greater impact on health than medical, nutrition, and water and sanitation interventions.
Your help is invaluable in helping us reach our goals of all girls in Pali to be in school and not married at puberty. We thank you for your support and hope you will share this with your friends and family and help us expand our work to create greater impact.
Sincerely,
Safeena Husain