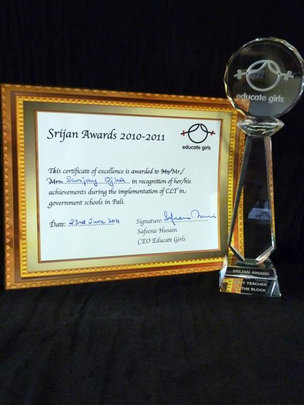 We would like to share our latest program results with you. "Creative Learning and Teaching" (CLT) techniques have proven crucial to improving quality of education, and we are very proud that the results display such a great impact.
The introduction of child-centric CLT techniques into the teaching process is one of our essential program features that improve learning levels and outcomes. The techniques focus on activity-based and playful learning: children learn more efficiently if they enjoy the process. The accelerated "Catch Up" methodology ensures that children who are lagging behind in the classroom can be taught successfully to catch up with the rest of the class.
In the past months we…
…trained 35 District Institute for Education and Training (DIET) members and 854 teachers in the Pali district of Rajasthan.
…administered pre and post tests all schools in order to track the impact of the CLT module on learning levels. More than 28,000 children from 3rd, 4th and 5th grades attended the pretests in Math, Hindi and English reading. This corresponds to over 70% of enrolled students, where as our post tests were attended by 79% of all enrolled students.
…trained 140 village-based education volunteers, or "Shiksha Preraks," that provided direct hand holding support to schools with poor pretest scores.
… supported an additional 300 schools with hands-on classroom support. To further support and motivate the teachers, our regional office made over 750+ phone calls. We sent out over 40,000 SMS to update, inform and involve the teaching community.
After intense months of training and hand holding teachers, giving pre and post tests, the results of improved learning levels and outcomes are as follows:
– Hindi: The number who can read a story went from 15% to 35%
– English: The number who can read a sentence or more went up from 9% to 29%
– Math: The number who can complete 2 digit multiplication and division went from 11% to 29%
Along with boosting learning levels for all children, we also found that CLT helps girls catch up to boys – a crucial result, especially in 5th grade, where girls are most at risk of dropping out of school. Please download the full report at: http://www.educategirls.in/clt_results.pdf
We are very proud to present these amazing results that have been analyzed internally and also by research associates at the Centre for Advanced Studies of
India (CASI), University of Pennsylvania:
"Students in Educate Girls program schools are almost 13% more likely to score in the upper achievement levels in Hindi and 14% more likely to score in the upper achievement levels in Math than students in non-program schools. Improvement occurs among both boys and girls in the program schools."
– Devesh Kapur, Director of the Center for the Advanced Study of India and Randall Akee, PhD Harvard University, Assist. Professor Tufts University, USA
Educate Girls also announced the winners of the "Best CLT Teacher Awards" at an Educate Girls function today in Pali. The Educate Girls trophies went to the best performing teachers, who recorded the biggest learning gains in Math, Hindi and English reading. We are very excited about these developments and are also gearing up for scaling CLT further to cover almost 1700+ schools this year!
We are very grateful to have you in our support network; it is our combined efforts that lead to real change for the rural and tribal children with which we work.
Sincerely,
Safeena Husain
CEO Foundation to Educate Girls Globally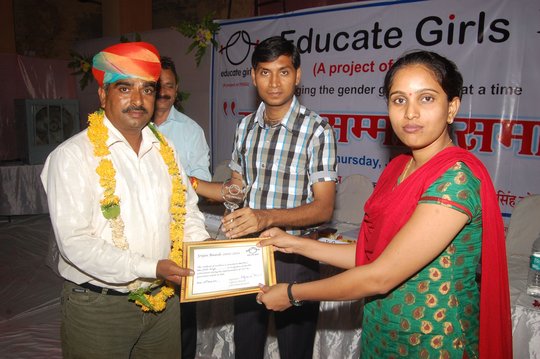 Links: