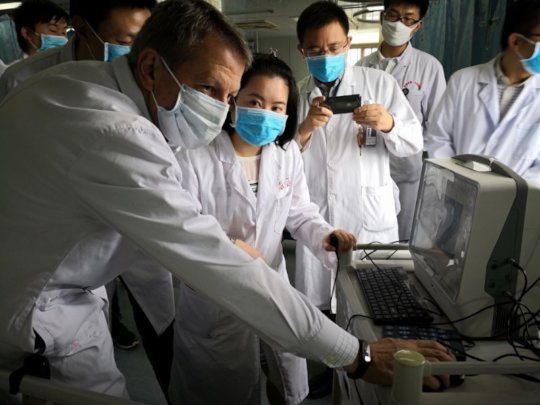 DTI Community, along with DTI Foundation have the mission of saving lives. At DTI (Donation and Transplantation Institute), we believe in the power of education, respect, diversity and transparency. Our way of doing this is by promoting knowledge transfer through our training courses in order to have more competent professionals specialized on organ donation and transplantation.
Our main goal is - through our project on GlobalGiving, Save 1 Million Lives - to facilitate access to practices and training related to organ donation and transplantation, to healthcare professionals who find themselves in developing countries. With the main goal of raising $50.000, we have been able to grant several scholarships to healthcare professionals living in under-resourced countries in Asia, Central and South America, and Africa.
It has been through our project on GlobalGiving, Save 1 Million Lives, that we have been able to grant various scholarships to healthcare professionals from all over the world. In doing so, we have created amazing relationships and a strong and vast network of friends, alumni and volunteers all inspired to save lives.
Dr. Martínez benefited from one of our grants last year.
On October 24th , 2019, we granted a scholarship for the TPM Advanced Course, to Dr. Martínez, from México. His time in Barcelona was of much importance to all of us. Dr. Martínez has made some progress towards improving their organ donation system after the training in Spain (February 2020).
According to Salvador Martínez, the experience of having participated in the postgraduate course was very good. "The advanced TPM program as well as the teachers are high-level, they bring all their experience to the course and leave a great learning for the Coordinators who come from countries where the donation has not had the strength that it should". Salvador did the internship at the Hospital Clínic of Barcelona, where he participated in 7 donation processes, "which allowed me to see the dynamics of the processes that are carried out in Spain", he says.
Dr Martínez is organizing training sessions among his colleagues at the hospital, transferring the knowledge he acquired during his training in Barcelona. Salvador Martínez has participated in projects where he has been able to help raise awareness about organ donation and transplantation: "I have participated in virtual talks in the sessions of the Mexican Transplant Society at the national level in the donation chapter where I have been able to share some of what I learned in Spain".
"The type of organization Spanish health care professionals have for work, as well as the scientific approach to the work of donation and transplants in research is what served him best as a profesional". This experience helped him implement changes in the hospital where he works: "I re-organized some aspects of our protocol in terms of detection and process logistics. I'm trying to implement an improvement for the end of life care treatment".
The challenges that Salvador Martínez has faced are the lack of proper counseling to the families. This scholarship and training were able to provide and teach Dr. Martínez about detection, identification and selection of donors; clinical approach of brain death diagnosis; instrumental tests for brain death diagnosis; donor management; bioethics and legislation in transplantation and other topics that will give him the chance to increase and expand his professional knowledge and skills in organ donation and transplantation. Thus, taking this expertise back to Mexico and applying it.
***Dr. Martínez has given us permission to use his name and picture for this report.