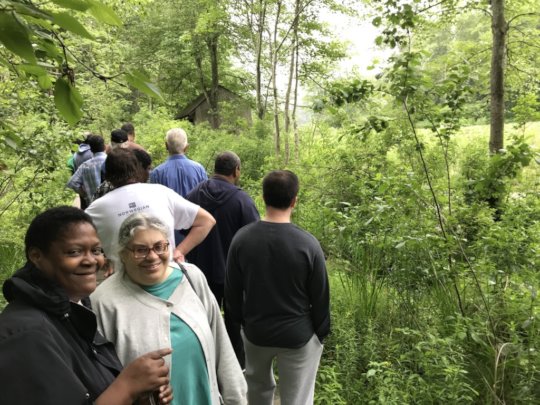 150 DISABLED PEOPLE WILL GAIN THE BENEFITS OF NATURE THIS FALL. NEW RESEARCH SHOWS THAT EVEN 20 MINUTES IN A NATURAL SETTING REDUCES STRESS HORMONES
This Autumn we will reach out to our seven partner organizations and create safe enjoyable nature experiences for their clientele. Peoples with intellectual challenges, brain injuries, autism, chronic mental illness, visually impairment, and developmental disabilities will enjoy our naturalist led outdoor programs.
Our followup questionnaire, created this year, is clearly showing that those who partake in our programs experience a decrease in depression, anxiety and stress. They feel better about themselves, are more calm and have better cognitive function following the outdoor program.
We will turn our focus to supporting the organizations to become self sufficient with the nature experience. Imparting knowledge and confidence, we will work closely with each group to support them to enjoy natural settings on their own. Our goal- a 20 minute walk in a park or preserve three times a week...for maximum Benefits.
THANK YOU FOR HELPING TO MAKE THIS A REALITY. SUCH A SIMPLE, BUT POWERFUL LIFETIME TOOL, FOR THOSE WHO NEED IT MOST.
IF YOU HAVENT ALREADY MADE A DONATION, PLEASE DO SO TODAY, SO WE CAN CONTINUE OUR WORK.
The Lewisboro Land Trust Access Nature Committee:
Bobbe Stultz
Deanna Novak
Dr. Andrea Synder
Bairbre Hanson
Professor Regina Toolin
Krista Munger
Bonnie Robins