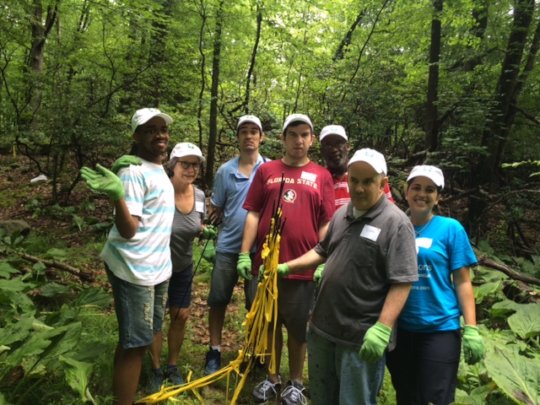 MEET THE PEOPLE WHO BENEFIT FROM OUR PROGRAMS:
Meet the folks from Community Based Services, (providing opportunities for individuals with autism and developmental disabilities). Here they are with our John Jay High School Senior Interns doing a work program on one of our preserves, building confidence while reaping the benefits of being in nature.
Meet Joanne and Margaret from Westchester Jewish Community Services Sunshine Social Club (for individuals disabled by mental illness). Here they are at Teatown Reservation with (staff) naturalist Chris Evers gaining knowledge of where and how to go to a nature preserve to enjoy nature's benefits.
And, meet this lovely young lady from The Community Center of Northern Westchester, (serving neighbors and families of limited means), enjoying a walk in the woods with (staff) naturalist Jim Nordgren. The many families who came on this outdoor program were surprised to learn that our parks and preserves are mostly free and open to the public.
These Access Nature participants have challenges which make it difficult for them to experience a natural setting. Our programs help them overcome anxiety and lack of information, building confidence, knowledge, and self sufficiency... giving them a lifetime tool to reduce stress and depression while increasing well being through nature.
2019: Doubled our programs to serve 225 underserved and disabled persons.
You helped make this happen! Please give generously so we can continue to sustain and grow our programs in 2020.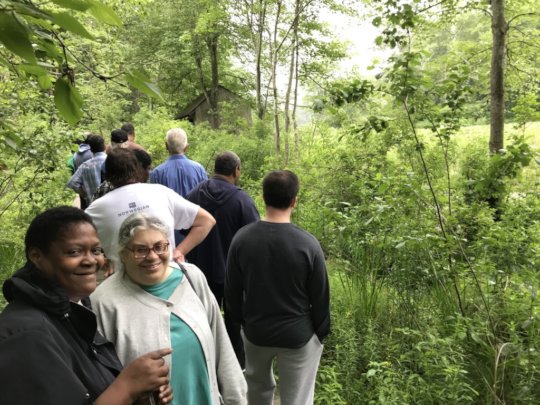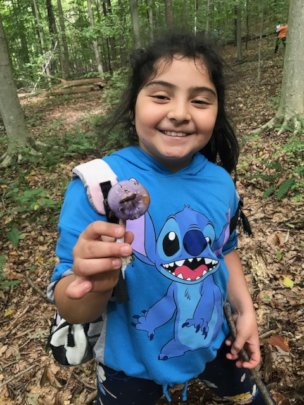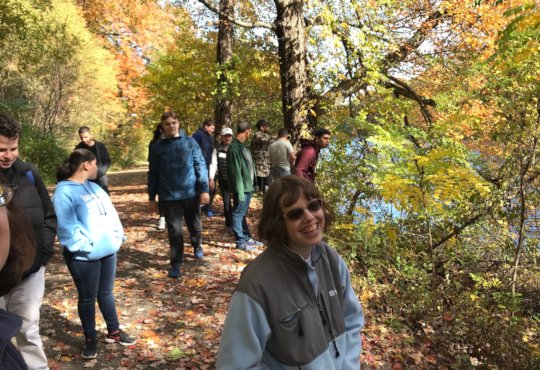 On November 16th, Access Nature successfully completed its programs for the season. After a winter hiatus, the AN programs will start up again in April 2020. During this time, in between programing, we will be working on several aspects of improving and growing our Access Nature reach.
in addition to preparing our 2020 schedule of 16-20 programs, we will be developing a video presentation and manual to present to other outdoor organizations and land trusts. Our goal is to start teaching other organizations how to create Access Nature programs in their communities. Our hope is that the concept and and knowledge of Access Nature will spread.
in 2019, with your help we accomplished our goals. Over 225 people with disabilities and the underserved enjoyed our outdoor nature programs enabling them to reap the benefits of nature. Our newly created followup questionnaire is confirming the results that exposure to nature decreases stress, anxiety and depression, and increases happiness and well being. Next year we will reach out to more partner organizations and plan to serve 40% more disabled and underserved people.
None of this could happen without your kind and generous support. So for that we thank you and give our gratitude. Please continue to consider a donation to Access Nature so we can sustain and grow our programs. Thank you for being a part of this Giving journey.
« I'm so proud this program exists in my community. I hope many other communities will also connect to local organizations with underserved populations to help them access the benefits of time spent in nature. You can see in the photos: members of various abilities, staff and volunteers benefit too— beautiful! » anonymous donor
« Nature is the key to everything. Everyone needs a little nature in their life. » Paul Collura, Access Nature volunteer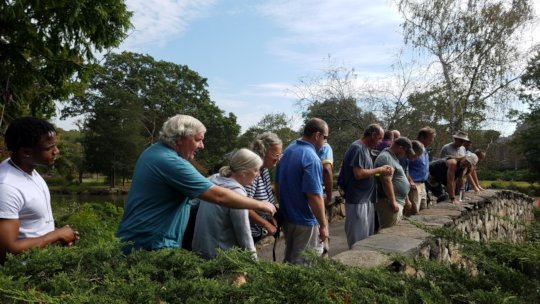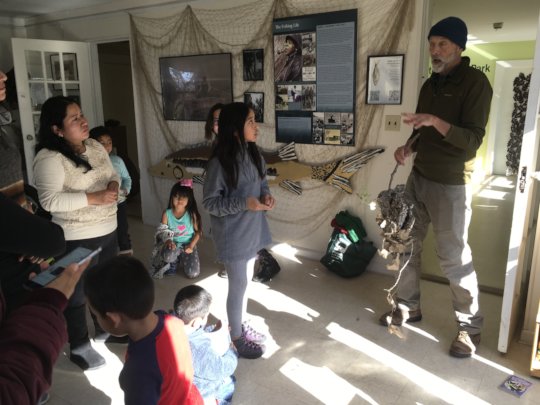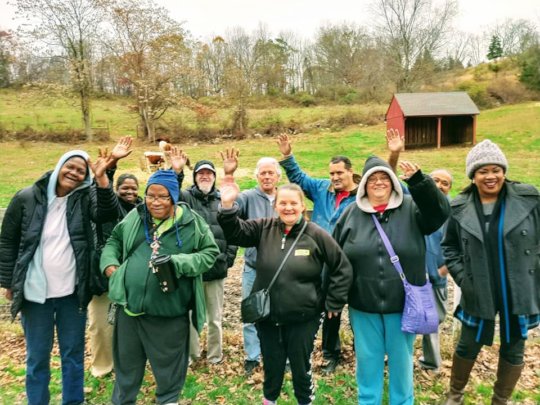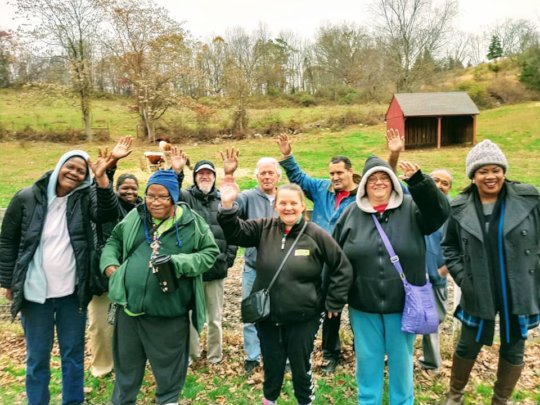 The following is an unedited report from Chris Evers of Animal Embassy. Chris has worked with the Access Nature programs as one of our naturalists, for several years now, helping people with various disabilities gain the benefits of nature.
"Today was a magical day at Muscoot Farm. Thanks to the Lewisboro Land Trust, and their Access Nature initiative, I had the pleasure of leading my second hike for the Westchester Jewish Community Services' Sunshine Social Club.
Many of the participants deal with the challenges of depression, anxiety, self doubt and isolation. The smiles on their faces were priceless. I look forward to seeing them all again soon.
A great big thank you to Bonnie Robbins, and the rest of the great folks at Lewisboro Land Trust, for their vision, and dedication to the preservation of open space, and as their tagline states: "linking people to the land".
We all have our challenges and struggles in life; nature can be an amazing elixir. Get outside:)"
And Steve, a Sunshine Club participant, summed it all up towards the end of the program: "I feel very amazing. The animals, the surrounding, being in nature...I feel very amazing!"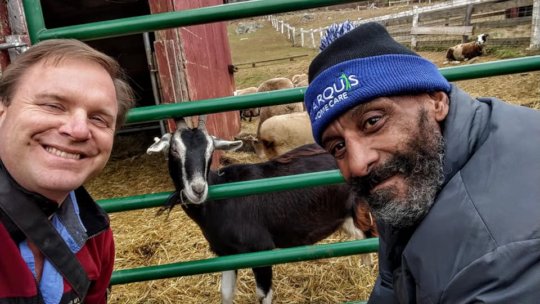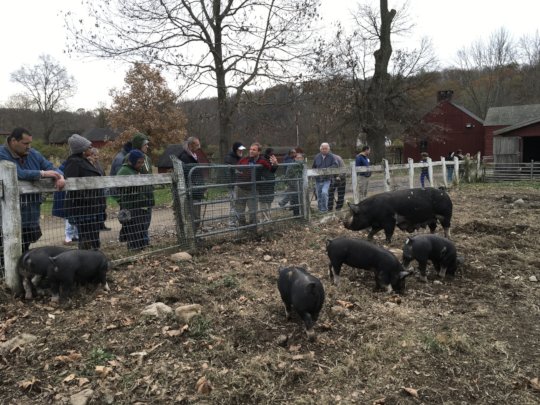 WARNING: Javascript is currently disabled or is not available in your browser. GlobalGiving makes extensive use of Javascript and will not function properly with Javascript disabled.
Please enable Javascript
and refresh this page.