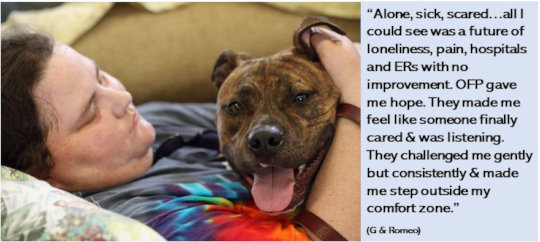 Although 80% of our clients are veterans, we provide the same services for non-veteran adults and young adults. This has had unanticipated benefits because it shows our disabled veterans that people from other backgrounds experience the same side effects as a result of trauma and other medical issues. Regardless of how they were injured, all our clients bond over their dogs and the shared challenges they are learning to face. Here is one civilian client's story:
"I was accepted into the service dog program at OFP on October 4, 2017. Operation Freedom Paws was my last hope. For years I had bounced between programs, doctors, and hospitals, trying to find help, but at that point, help was elusive. I was what my doctors referred to as a "tough case". I was dealing with multiple physical and mental illnesses, many of them lesser-known issues that were difficult to treat and rarely seen in people my age.
Prior to my first brush with illness, I was a classic overachiever, excelled in school, and played the tuba in the UCLA marching band. I fell ill towards the end of my freshman year at UCLA with what would eventually be diagnosed as fibromyalgia and migraines. I struggled to complete my degree but finally graduated with a BA in English. I immediately started teaching back home in the Bay Area. While I loved my job, I was getting sicker and sicker. As time went by the diagnoses piled up. Rheumatoid Arthritis. Bipolar. C-PTSD. Sjogren's. Gastroparesis. OCD. I was constantly in and out of the hospital and was told twice that I would not live to see the next day. (Spoiler alert: I did.) At the age of 32, I was completely unable to walk and spent Christmas in a convalescent hospital where the next youngest person was in their mid-80s. I had to take a medical leave from my job, which later became permanent.
For years I lived in a numb nightmare. I developed severe agoraphobia and refused to leave my house. Really, I rarely would even leave my bedroom, and would spend hours blasting hardcore music and pacing. I had insomnia so bad that I often would go days without sleep. When I did sleep I had horrific nightmares. My anxiety was through the roof and fueled the OCD and agoraphobia. My body was failing and my mind was ANGRY.
At one point, I had to switch to a new psychiatrist, and was surprised when he asked if I had ever considered getting a service dog. At that point I really only knew you were supposed to leave them alone in public, but I had no idea what they could do for someone like me. Weren't service dogs only for the blind and people with epilepsy? He gave me a prescription for a service dog and directed me to OFP. I quickly applied and was put on a wait list. I was so impressed by OFP and their mission that I decided that I wanted to volunteer at the center while I was waiting. But agoraphobia is cruel, and so for the next year I was in a vicious cycle of volunteering to come and then cancelling at the last minute when I realized that I would have to leave the house to get there. To this day I am amazed that I ever got off the wait list with behavior like that, but Mary and Janet took a chance on me and called me in for my interview.
My interview was at 4:30pm on October 4, 2017. I woke up at 4am, before the sun was up, to begin the lengthy ritual that my anxiety told me needed to be done before I left the house. I had roughly an hour drive to get to the center, so I did what any good, anxious person would do and I leftmyhouseat11am.For a 4:30pmappointment After killing some time at the In-n-Out nearthe center, I finally rolled into my interview about 2 hours early. I have never been more nervous in my life, but Mary saw through the fear and accepted me into the program.
My life changed in that moment. Mary took me to meet a dog that had come to the center that same day, a young Pitbull mix they were naming Romeo. He was beautiful, and so gentle, but a definite wiggle-butt at the same time. His personality was like sunshine breaking into my world after years in the dark. At the end of that first class, during puppy yoga, he fell asleep in my arms and snored so loud that everyone stopped to see who was making such a racket. I loved him from that very firstday.
The changes that came were not easy. For the first few months, all I could do was show up to class and cry on the couches until class was over. It was so overwhelming to just leave the house on a regular basis that I couldn't do much else except BE there. But slowly, change happened. OFP taught me to trust my dog, and I began to feel safe with him by my side. I began to leave the house to go on walks with him, and then we started to go to stores and even restaurants. He would alert me to medical issues hours before they happened, so I could take action. With him by my side, I felt safe enough to sleep, and when my nightmares came he would wake me up quickly with kisses and snuggle until I could go back to sleep. Slowly and steadily, with a lot of hard work and support from OFP, things were finally improving forme.
Romeo and I certified this past April, after a year and a half of training. 2019 has been a HUGE year for us as a team. We have gone to two major rock concerts, had a vacation in Las Vegas, and-my personal favorite- gone to Disneyland! Perhaps my most meaningful achievement of the year is that I began working at OFP! I am happy to say that I am now working at the front desk at the OFP Canine Education Center as Admin Manager. It makes me so happy to be able to work with such wonderful people, both as clients and as co-workers. I see clients at different stages of their journey and hope that what I do at OFP contributes to their success.
As I am writing this, I am sitting in my office at OFP, Christmas music is playing, and Romeo is curled up next to me, snoring sweetly. As I look back on the person I was before I came to OFP, it's like looking at a stranger.
Operation Freedom Paws not only saved my life, they made it a life worth living. My hope now is that I can continue to give back to the organization that has given me, and so many others, so much.
Giana and Romeo"