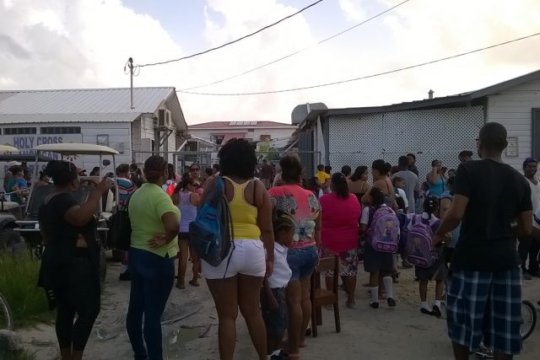 Hello one and all,
It has proven to be a somewhat slower-progress summer than I would have liked with respect to Phase Three -- and in fact with respect to our existing solar resources as well. Working with Baker Renewable Energy, we have chosen a local renewable energy company based in Belize. From them, we obtained conclusive feedback that at this time Belize Electricity Limited will no longer supply smart-meters for the type of SPV system we have installed or are planning to install. This means that our strategy will be changing:
1) We are in the process of contracting to have "eGauges" installed to enable tracking energy usage break down between grid-generated power and solar-generated power on both the smart meter and the standard meter based systems. We have every reason to believe that BEL has turned off net-metering on the smart meter they installed for Phase 1, and this will allow us to fully determine. It will allow us to understand how our power consumption is split between renewable solar on site and the grid acquired power.
Check out, for example: https://www.egauge.net/, from their website:
"eGauge is an affordable, flexible, secure, web-based electric energy and power meter that can measure up to 12 circuits on up to 3-phases (120V−480V, 50−60Hz). Use it to measure and record total building electrical consumption, solar, wind, consumption of individual circuits, such as appliances or geothermal system pumps, and motors. eGauge is best suited to provide:
Real time energy information
Renewable Energy monitoring
Measurement and Verification of essential equipment (M&V)
Operations and Maintenance of asset portfolio (O&M)
Data export via push or pull with an open data API
Lower energy cost
Lower emission associated with fossil fuel energy
Establish building energy benchmark and LEED points
Peak Demand analysis
Energy Efficiency projects and commissioning
"Track your usage and compare it to your renewable energy generation, helping you achieve net-zero energy consumption, maximize your payback, and lower your monthly electricity bill"
2) This will allow us to automate and tune the solar panel on/off so that they run only when demand is high enough to consume all they generate and not needlessly waste renewable generation by sending it back to the grid--and get charged for it to boot!!
3) Once the eGauges are installed, we will also have much improved data re: the repairs needed to the Phase 1 array.
4) The local Belizean renewable energy company will be employed to install both the eGauges and to make Phase 1 repairs. We believe that hiring a local company will create good will all around -- and may eventually help break the freeze on bi-directional smart meters that even our local company is upset about.
5) Now that we know we cannot continue with net-metering but rather have to shift strategies, we believe we can begin to make progress again toward Phase 3 installation. But this means that your donations are even more important because this tactic may increase overall deployment costs. But that's what committed donors like you are all about: making the world a better place, one project at a time.

Again -- I thank one and all of you for continuing to believe in us and in our mission to serve the poorest of the poor through Holy Cross Anglican School.

Sincerely,

John