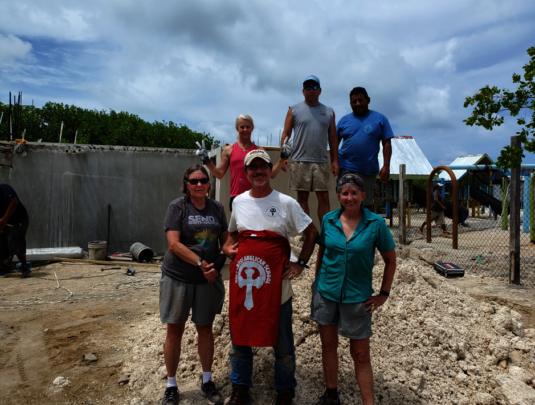 Greetings on behalf of our solar renewable energy project!
As I had mentioned last report, I was preparing for a site visit to Holy Cross Anglican Public School in San Mateo Belize, which I was able to conduct along with a group of volunteers. While navigating the COVID regulations added a extra layer of detail to our trip, we found traveling very manageable and our visit to be of great comfort to the staff and community at HCAS. Although we did not directly work on the solar project, we were able accomplish -- along with our Belizean partners -- a lot of construction targeted to our new multipurpose building. This new building, when complete, will house additional classrooms and office space, a community center and chapel, a vocational training lab, and will be constructed to meet Category 3 hurricane shelter standards. To do this, we have had to landfill substantial areas of the tidal marsh that encroaches on the school (indeed, the school is all built on or over water) while developing the foundation including a functional cistern (see photos attached). The cistern, when filled, will provide the school with potable water sufficient to mitigate the need to buy expensive city water, which is above the operations budget it can afford. So, we are really excited about this.
In addition, we plan for the new building to house an additional array of solar panels. A second set of new panels will be placed atop the on-campus residence that will provide modest housing for volunteers -- both short and long-term.
Unfortunately, COVID has and is still having a major impact on the nation of Belize. The government budget has suffered serious shortfalls / reductions including a 10% pay-cut for teachers. At the same time, students are still not being allowed back in classrooms -- we hope this won't last more than a couple of more months. This means our campus is largely unoccupied during much of the week. Due to this situation, we have not yet been able to address some malfunctioning connectivity so that presently, although we know they are working, we cannot monitor our two sets of solar panels that many of you have helped to fund. Furthermore, the government has *not* made any more progress toward the net-metering auction that had been promised, and we are attempting to get clarification as to why.
Hopefully we will have additional answers/clarification and connectivity repairs before our next report, while at the same time looking forward to our next site visit in February of 2022.
As always, your support means everything in terms of our ability to develop the school in an environmentally responsible way while also reducing the day-to-day costs to operate. With such savings, we could not serve the approximately 450 children that attend, most of whom come from below-the-poverty line homes.
With gratitude,
John