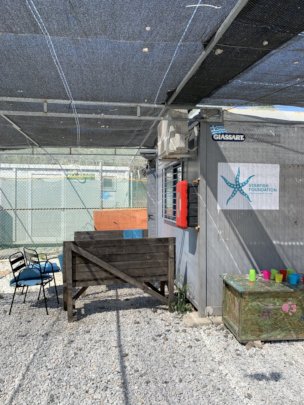 Starfish Foundation at the beginning of July held the first classes of our newly established self-defence program for vulnerable women living in Moria. Through this project, we aim to bring effective self-defence training to over 300 refugee women residing in the camp over the coming months. Starfish has been dedicated to the empowerment of female refugees on the island of Lesvos since its inception, constantly seeking to provide programs and classes to inspire and support women living in the camp.
Through our experience in organising and leading these events, we identified a need to offer a regular self-defence program held exclusively in Moria. The camp is home to over 10,000 refugees, of which approximately 3000 are women. The chaotic and cramped environment frequently proves exceptionally difficult for women, especially those who are single, alone or underage. Women in the camp - and particularly the aforementioned vulnerable groups - are routinely subject to harassment and intimidation, to the extent of which that some women feel unable to leave their tents alone. The security measures currently in place in the camp are not sufficient to provide the women with the level of protection they require, contributing to the unstable and sometimes threatening position these women and girls are forced to contend with.
Having previously run similar classes at our Open Space facility in Mytilini, we came to understand that holding the sessions outside Moria prevented the most vulnerable women from taking part. This is due to a prevailing fear within these groups of venturing outside the familiarity of the camp or their inability to have access to transport. It became clear that to include these particular women, the sessions must be held in a space where they would feel comfortable and safe - even whilst being inside of Moria. We therefore selected Starfish's on-site container for the classes and sought permission to manage these events weekly.
Building on our experience gained through previous programs, we were able to crystalise the most effective way to educate refugee women in self-defence, whilst providing a nurturing environment to encourage their development as individuals and to find their own voices. We landed at a 7 week structured course, which participating women would need to attend consecutively to complete. The overarching goal of the new self-defence program is to empower these women with the practical skills to reduce risks to their safety whilst living in Moria, as well as to build self-confidence and a sturdy foundation for personal growth for life outside the camp.
The sessions are run by qualified, female trainers from around the world who are dedicated to delivering a thorough education in self-defence to women in need. Our first couple of months of classes have been a great success, and we have also seen the sessions forster firm friendships between women who previously felt isolated, allowing them to feel part of a community and strengthening the sense of security in Moria we set out to deliver with these classes.
We continue to further strengthen our team in order to support the quality and delivery of the programs, in the past couple of months have joined us both a new Field Coordinator and a new Project Manager. We have been ecstatic to see how their passion of empowering women has been able to translate into a new wind of energy and passion for the project, showing much promise for the future.
A special empowering Yoga update:

The Starfish Foundation has continued to offer Yoga classes for women in OpenSpace, originally this was offered once a week on Friday but the increasing popularity of the class as well as the proven positive impact on the empowerment of vulnerable women has led us to increase this to 2 classes a week in our space. This has been extremely successful, a key part of this success has revolved around the ability of Starfish to be able to provide bus tickets, to and from Moria Camp costing upwards of 200 euros week.
As well as this Starfish as started to provide Yoga classes for smaller groups of women inside of the Foundation's Moria container, this allows women who aren't comfortable or unable to leave the camp to have access to specialized focused yoga classes in small groups. The focus has been on allowing newly arrived women to access the classes and learn meditation and relaxation techniques helping empower them and facilitating their transition into life in Greece.
Our new Yoga instructor has been creating programs specifically focused on key issues and focus areas so that the classes are able to respond to the real needs of women attending the classes. This is central to the women feeling like they are able to experience positive results over time.

This would not be possible without the continuing support of people around the world who allow us to grow and bring our project to more women each month. Thank you!