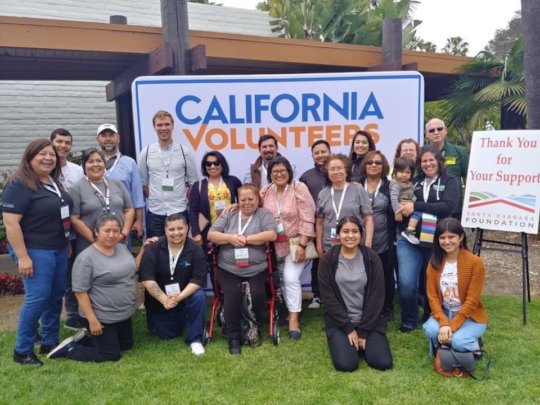 Project Overview:
Thanks to the generous support of GlobalGiving the Santa Barbara Foundation (SBF) has been able to mobilize support for long-term recovery efforts and help all residents prepare for future emergencies and disasters by incorporating lessons learned from the Thomas Fire and subsequent Debris Flow (2017-18). Regional and local partnerships in Santa Barbara County coalesced to create a roadmap for recovery from the devastation of the Thomas Fire and subsequent debris flows as well as putting in place measures of preparedness and mitigation for future disasters in a region where wildfires and crises have become all too commonplace.
The following report outlines Santa Barbara Foundation's deployment of resources via GlobalGiving's support, this in addition to the ongoing work in the community following the Thomas Fire, a wildfire that burned approximately 281,893 acres and registered as one of the ten most destructive wildfires in California history. Three weeks later, flooding and debris flows in the Montecito area near Santa Barbara devastated the community killing 23 and destroying/damaging hundreds of homes.
Disaster and philanthropic leadership determined that dividing support between individual financial support and allocating resources for preparedness and mitigation would be the recipe for success in addressing critical needs and providing for future safeguards.
Two $75,000 grant disbursements were allocated to these frameworks. They are described in detail, below:
Individual Financial Need:
Santa Barbara Foundation facilitated funding to support individual assistance and disaster case management thanks to GlobalGiving's generous investment in recovery efforts. This individual assistance was delivered via the Thomas Fire and Debris Flow Community Long Term Recovery Group (CLTRG).
The Santa Barbara CLTRG accepted oversight for clients who qualified for disaster case management through a partnership with Unity Shoppe of Santa Barbara. Unity Shoppe, is a 501c3 organization that has over 100 years of community trust and partnerships in assisting individuals in need. First responders, churches, schools and hospitals often refer qualified disaster clients to Unity Shoppe for clothing, food, personal care items, household goods and furniture to help with immediate and long term needs in times of crisis. Unity Shoppe's reputation, deep community partnerships and ongoing distribution facility was crucial to responding and delivering on requests for assistance in both immediate and long term bases.
A Disaster Case Manager was hired and assigned to occupy a desk located at Unity Shoppe for approximately half of the duration of the Long Term Recovery timeline and for the remainder of the formal process timeline moved to The Salvation Army and United Way of Santa Barbara County. Additionally, a Director of Long Term Recovery was contracted with to assist with auditing, mentoring and guidance of the Disaster Case Manager.
In person interviews of 240 households/families were conducted in the days, weeks and months following the Thomas Fire and 1/9 Debris Flow. A total of 191 individuals received critical needs information, referral follow-up and immediate financial assistance to assist them with their recovery needs.
It was determined that 49 households would need disaster case management to address their unmet needs. The 49 households/families were supported for approximately 18 months as they navigated through their recoveries. The following demographic breakdown details/represents the clients who were served by the disaster case management services.
Gender:
51% female
49% male.
Socioeconomic Status Data (self-reported):
49.6% Unknown Income
3.8% Not Low Income
12.9% Low Income
14.2% Very Low Income
19.6% Extremely Low Income
Ethnicity:
11% Unknown
2% Asian
46% White
41% Hispanic
Primary Language:
61.3% English
38.7% Spanish
Furthermore, of the clients who received disaster case management for a year or more, 61.2% had their employment or source of income compromised, 63.3% had home damage, and 30.6% had both home damage and source of income affected.
The clients served received the following breakdown of funding (as reported by clients):
The Santa Barbara Community Long Term Recovery Group (CLTRG) provided $178,431 through the fiscal agent United Way of Santa Barbara County (as reported by the Disaster Case Manager).
Total direct client funding: $814,223.
CLTRG Unmet Needs -- $178,431 (of which GlobalGiving supported)
Salvation Army -- $204,194
FEMA -- $245,615
American Red Cross -- $49,770
United Way -- $77,526 (with Individual Assistance prior to CLTRG being activated)
Tzu Chi -- $16,050
Direct Relief -- $6,900
Association of Realtors -- $11,120
Santa Barbara High School -- $8,500
93108 Fund -- $6,000
Miscellaneous Orgs -- $10,117
Preparedness & Mitigation
In the areas of preparation and mitigation, funding was directed to the Community Emergency Response Team (CERT) and the California originated "Listos" program serving Santa Barbara County to facilitate trainings and workshops throughout Santa Barbara County.
The CERT program educates volunteers about disaster preparedness for hazards that may impact their area(s) and trains volunteers in basic disaster response skills, such as fire safety, light search and rescue, team organization, and disaster medical operations. The Santa Barbara County CERT program is robust in all eight major jurisdictions along with Cuyama and Montecito. These strong programs continue to be supported by local government agencies and community-based organizations. Additionally, there is a Santa Barbara County CERT Committee that meets monthly to provide oversight of the program and facilitate the sharing of information, best practices and deployment of financial resources.
Since June 2019, the CERT program has graduated over 550 individuals and teens. These CERT program graduates are from Carpinteria, Santa Barbara, Goleta, Lompoc, Santa Maria and at the University of California, Santa Barbara. Graduates are provided a backpack of disaster ready supplies along with a hand-crank radio to celebrate their completion of the rigorous volunteer program and future engagement in CERT volunteer activities. Grant funds were also utilized to support the Annual Santa Barbara County CERT Drill that took place on October 29, 2019 at a past Direct Relief warehouse. This gathering included over 40 CERT graduates and first responders from Santa Barbara County Fire.
Following the COVID-19 pandemic, additional response efforts began. Over 100 CERT volunteers have been deployed in Santa Maria, Lompoc, Santa Barbara and Carpinteria to support emergency center operations, help staff information ad resource hotlines, assist with food distribution, and spontaneous volunteer management.
The Listos evaluation report outlines many interesting findings.
Listos is committed to providing vulnerable populations with information about the importance of disaster readiness. This includes the sharing of preparedness skills and information with family and friends. The Listos curriculum was developed as part of the Aware & Prepare Initiative, a public-private partnership to strengthen emergency and disaster readiness in Santa Barbara County. Since 2010, the Listos program has both evolved and expanded statewide – with 53 registered programs, 400 active instructors, and serving over 3,000 families.
Despite ongoing COVID-19 challenges and limitations, Alertar y Preparar Listos has accomplished many of its programmatic objectives in Santa Barbara County including:
-- Five monthly team meetings and trainings in Santa Maria with two instructors from Guadalupe and surrounding areas. Eight of the participants were developed with the LISTOS Coordinator living in Guadalupe.
-- Participated with an informational table and safety demonstrations at the Annual Health Fair in New Cuyama on September 28, 2019.
-- Coordinated a Listos Train-the-Trainer course in Santa Maria in October 2019 and a second course in Lompoc in conjunction with several local organizations including Promotores de Salud. Regrettably, both of these classes were cancelled because of a lack of registrations. They are set to be rescheduled at a to-be-determiend date.
-- Conducted a successful Basic Listos course with 20 participants (3 from Guadalupe) in conjunction with the Lompoc Valley Medical Center.
-- Participated in the Child Development Resources Fair in May 2019 in Santa Maria. This included two one-hour presentations, one in Spanish, one in English, on family preparedness and emergency planning.
-- Participated in various community events promoting the Listos program.
-- The new Spanish and English Alertar y Preparar LISTOS Student Manuals are currently being distributed throughout Santa Barbara County.
Notes during the of COVID-19 pandemic:
At the time of this report (late June 2020), the Listos program has been impacted by the COVID-19 pandemic. Due to the training being delivered in-person without audio/visual aids. These challenges represent the cultural adaptations that partners have been very conscious not to compromise because of the current public health emergency.
With this in mind, the network of bi-lingual trainers over Zoom and other mediums has been recruited and has increased. The success of the Listos program requires community-building as building trust between neighbors and first responders and government agencies is vital.
When this trust is achieved, amazing results follow. Empowerment for individual volunteers and their families is palpable for those working in community.
The CERT program has audio/visual aids, and as such, content is being transitioned to webinar training/delivery in partnership with the California Office of Emergency Services and the Federal Emergency Management Agency. Notably, a launching of a professional development series for CERT graduates is anticipated by end of June 2020.
The community of Santa Barbara County has experienced significant crises during the past several years and as attention converges on the myriad impacts of the COVID-19 pandemic, many of the lessons learned and partnerships forged during the aftermath of the Thomas Fire and Debris Flow have been applied and helped to make our community better prepared to respond in times of crisis.
While these crises differ significantly, the underlying lessons and the networks of support created during these trying times better position our community to endure. In an effort to build resilient communities, working in collaboration with myriad partners and leveraging resources, we can hope to emerge from these trying times with continued benefit in knowing that future disasters will be met by a more well positioned, educated and prepared community.
Thank you for your generosity in support of this ongoing important work.
Links: