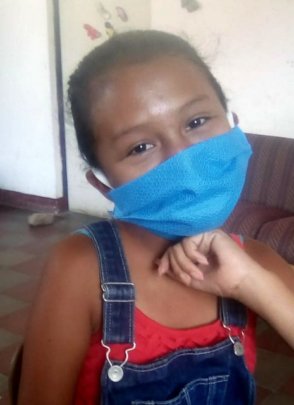 I am so happy! In March I could visit Ocotal!
We are very lucky to have a wonderful coordinator and Dulce did a great job!
Now I could meet our new doctor, Luis and drive to all our villages, check the botequines with him, talk to the brigadistas and examine patients together with Luis. Dr. Evertz had helped us choosing him and he trained him for some weeks so that without any interruption our work continued. Luis is seriously involved, very skillfull and even performing small surgeries in our Ocotal clinic.
Towards the end of my visit suddenly, within days the Corona pandemia grew rapidly. Oficially there were only very few Corona cases in Managua - up to today...but we decided to teach the local community how to protect themselves with very simply hygenic actions. Our team started to produce face masks and we distributed them together with soap and some desinfectant to our brigadistas.
We also decided that we will not be able to continue with our teaching weekends in Ocotal, cancelled them and intensified the teaching during the doctors visit.
Our botequines, the visits in the villages and our clinic in Ocotal continue as usuall! And are needed even more in this difficult times!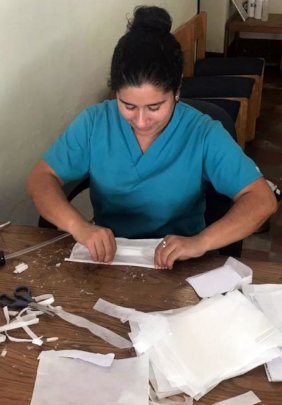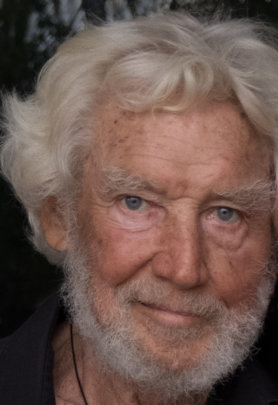 Nicaragua-Projekt is working well inspite of the difficult situation in the country and inspite of many recent changes.

I have to let you know the sad news that my husband Reinhart Bein, who founded Nicaragua-Projekt together with me 14 years ago, passed away on November 20th. For 15 years this work was very important to the two of us. Therefore we will continue our efforts and continue with our projects.
I have asked at Reinharts memorial for donations instead of flowers, knowing that he wanted that.
We had to elect a new second chairman for our NGO and choose Martina Morich who is involved in the project from the first day.

As of January Dr. Tercero stopped working for us and we are thankful for hs support and the wonderful job he did. He was replaced by Dr. Luis Flores after he had trained him for several weeks.
I will visit Ocotal in March and join Dr. Flores during his visit of the villags
Dr. Flores seeing patients during the clinic: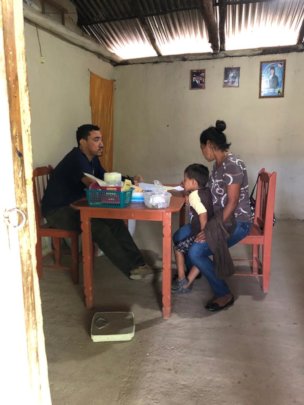 The big news this quarter at Nicaragua Projekt's health-care project is the addition of a new doctor, Dr. Luis Flores, to our medical staff. Dr. Flores is a general practitioner originally from Esteli, a city not far from Ocotal. Dr. Flores started work in October and participated in the monthly visits to the ten villages we serve. He also began treating patients in our consulting rooms in Ocotal. He is young, energetic and understands our patients' circumstances very well. Dr. Evertz Tercero, who has worked with our project since spring of 2018, will be leaving at the end of the year to join his wife, who is a doctor practicing in the United States. We wish Dr. Tercero all the best in his future endeavors.
Many patients attend the monthly clinics in the villages, but the bedrock of our program is our local health-care providers – brigadistas -- who see patients in their home villages on a daily basis. If necessary, the brigadistas consult by telephone with the doctor in Ocotal. They may also refer the patients to Ocotal, where we have relationships with several specialists who treat our patients for a reduced fee. To date, during 2019, our brigadistas, nurse, and doctors, have recorded over 4,500 patient visits from inhabitants of the remote villages encircling Ocotal.
Our local healthcare providers received their initial training from Accion Medica Cristiana (AMC) in 2016-2017. When Dr. Tercero joined our staff in 2018, he initiated quarterly continuing education seminars for the brigadistas. During these training sessions, not only do the brigadistas have the opportunity to review and improve their medical skills, they also share information about situations they have encountered and learn from each other's experiences. These quarterly meetings are an important part of our program. The final training session of 2019 was held on November 9 at our headquarters in Ocotal, with both Dr. Tercero and Dr. Flores participating.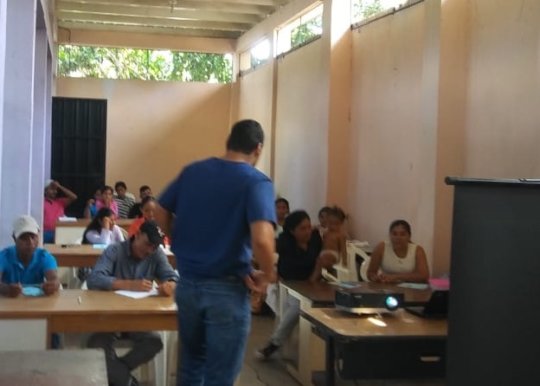 WARNING: Javascript is currently disabled or is not available in your browser. GlobalGiving makes extensive use of Javascript and will not function properly with Javascript disabled.
Please enable Javascript
and refresh this page.