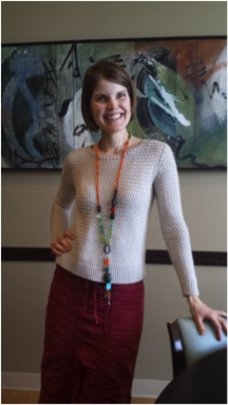 Here is a tale about true radiance as witnessed at one of CHAP's partner hospitals. I pass a patient in the hallway who has her hair in the most beautiful twist. I complement her and she, in turn, tells me she likes my skirt and reveals that she has the same skirt in her wardrobe at home. I invite her come to the Family Room to do art with us. She responds favorably, but I don't see her for a couple hours. When she does return, she arrives with her husband. He is pushing the wheelchair behind her. She sits down at the table and quickly dives into a jewelry project. She has an amazing sense of style. She starts laying out orange, crimson red and canary yellow beads. Vibrance seems to be the order of the day. With great clarity, she describes to me her vision. Originality prevails and within minutes we are doing amateur wire wrapping. All the while, she shares little parts of her private story with me. She wants the look of fringe or a tassel on the bottom of her dramatically long necklace. We pull out the headpins for making earrings and we tinker and scheme about how to achieve the goal. This lady exudes radiance and gratitude. She openly expresses her delight to have this opportunity to make something. She has sewn all her life, but this is the first necklace she has made. She beckons her husband to the table. She encourages him to make a necklace for her. He works quietly.
At the end of our hour together, she is bursting with joy. She made a stunning one of a kind piece for herself and she is so proud of her husband. She, in her hospital gown, wants to document her creation. She puts it around my neck and asks me if I am willing to pose for a picture. I tell her I cannot wait to show my co-workers the design she came up with. She tells me where to stand and directs her husband to move a cart of books out of the shot. She takes this picture of me. She was incredible and she was amazing to spend time with. As I was leaving the floor, I passed her and her spouse in the hallway. She was seated in her wheelchair, wearing both the necklace she engineered and the purple necklace her husband made for her. She was sharing her experience with her nurse. She walked towards me and hugged me good-bye. This will register as one of the most unforgettable CHAP moments. It was a powerful intersection of art (in the hospital) and . . . Humanity.
Children's Healing Art Project (CHAP) provides over 9000 unique healing art experiences each year to children and their families in medical crisis, working in partnership with community hospitails and organizations.
We invite you to donate on GlobalGiving's Bonus Day today, Wednesday, May 13th, from 6am PST to 9pm PST. Your generous donation during this time will be matched ensuring that CHAP can continue to bring our renowned art programs to children and families in medical crisis - always free of charge.
CHAP thanks you for your continued support!
"Strength, Comfort and Love"
On a recent afternoon, CHAP easily recruits a mother-daughter pair to the art table. They decide to start with painting. Within a few minutes, the mother has a game plan. She scrolls through photos on her phone and finds what she is looking for. About a year ago, her oldest child painted a memorable painting and the mom decides to try and replicate it. Art teacher Mary offers a deluxe foam core 'canvas' to Mom and another to her little girl, the patient. The mom gets to work quickly, but she keeps referring to the image on her phone. She asks for exactly the same paint colors. Mary notices her reliance on the smart phone and liberates the woman by saying, "Okay, you know what it looks like. Now make your own version." Freed up, the mom works from her impression of the child's painting. She already knows the spirit, energy and the mood of the painting. In fact, she knows it intimately and she simply switches over to a place where she trusts herself. It just took a well-timed nudge from Mary. Mom paints happily, commenting at one point that she has spent the past 5 years raising 5 children. "I have been busy, no time for art." Now here she is with this bizarre idle time in the hospital. She seizes the opportunity. Dives in. Mary engages the young child. The canvases that belong to the mother-daughter pair are essentially back-to-back, raised up on little tabletop easels. They cannot see what the other is doing. Mary and the child are squeezing generous amounts of glitter glue all across the 20" x 20" surface. When both mom & daughter get to a stopping point, mom comes around the table to admire her little girl's artwork. Then it's time for the child to go see what her mom has been focusing on. Together, they walk over to mom's canvas. The look on the little girl's face is priceless. With big eyes and an open mouth, she says, 'Wow. It's awesome!" The mother is giggling and proud. Mom lets it dry a little bit before adding a few finishing touches. When she steps back to regard her painting, she says this to me. "When I look at this - I feel strength, comfort and love." She really is reflecting while she states these words. It's incredible to be there to hear her say it. She debates adding some text to her painting, but she's skeptical about her lettering skills and doesn't want to ruin her masterpiece. I suggest to her that she can use those words as a title for her piece. She likes this idea and fills out a form to enter her painting in our next hospital art show. She entitles the piece, "Strength, Comfort and Love - in honor of Sarah.
Links: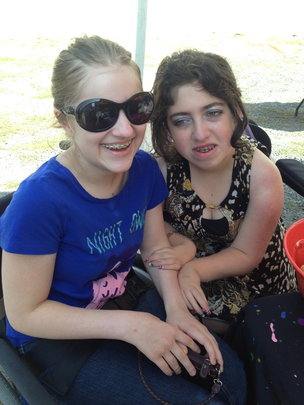 At CHAP's annual Art Camp, two teenage girls of the same age, both confined to wheelchairs meet and greet for the first time. While making art, their friendship takes off like they have known each other for a lifetime. They begin to giggle about boys, talk about fashion, preferred colors of nail polish, what music they like, schools they attend, movies and the best pizza in town. They assist each other in getting materials and talk about ideas. Their disabilities disappear.
The first two days were full of painting, glittering, beading and mask making, followed by shortstop action videos the next. This is where I overheard, the now best friends, talk about the bullying they experienced in their lives. It wasn't an occasional thing, but a daily harassment that kept them feeling connected to the peers around them. They commiserate with one another and one begins to cry. She talked about the cruelty and how it impacted her daily life. One example she shared was that she was unable to go to the bathroom in a public place without the assistance of her mother or caretaker for fear of ridicule. Her new friend was quick to respond with love and compassion assuring her that she would find a way.
On the fourth day of camp, a miracle of sorts occurred. The young woman who had cried the day before came in with a newly found confidence that we hadn't seen in the preceding days. Whether direct or indirect, the connections made while making of art can heal the deepest of wounds. What we experienced that week will impact each of us for the rest of our lives.
WARNING: Javascript is currently disabled or is not available in your browser. GlobalGiving makes extensive use of Javascript and will not function properly with Javascript disabled.
Please enable Javascript
and refresh this page.