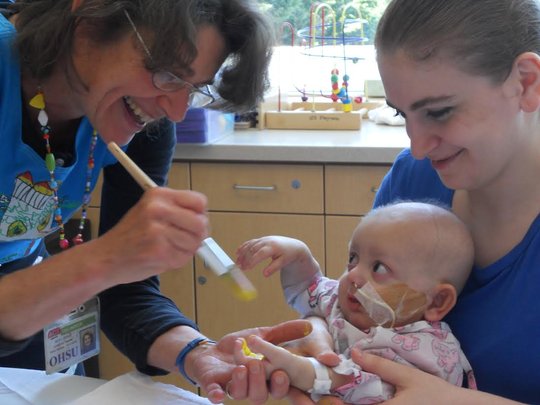 Children's Healing Art Project is pleased to present a new monthly feature showcasing our hospital art teachers! Mary Milly Doyle has been a teacher at CHAP for over 8 years and is the first to be honored in this month's "Teacher Feature." Mary shares her own personal CHAP journey and the lessons she has learned from the children she works with at the hospital.
Can you share your history with CHAP? In 2007 I was teaching workshops out of my home studio, when I decided I wanted to connect with a group of some sort and reach a needier population. At the top of my list was Doernbecher Children's Hospital (DCH), as my family had all become aware of a world not known to us before our son had two open heart surgeries before his second birthday. We were the lucky ones, walking OUT of the hospital in record time with successful surgeries and no complications. My son is happily nineteen now and goes for yearly check ups and will probably need a heart transplant at some point, but we thank God, that point is not today.
However, many families are not so lucky and their extended stays in hospitals are emotionally and physically draining in a sterile and foreign world. I had hoped I could bring art into the hospital in some way, but had no idea how or who to connect with. That's when I learned that the "art guy" that had been coming up to DCH needed help. I called and he asked if I could come that day. Mr. Etxaniz, blue haired and in painted clothes, came to collect me and take me up to the oncology floor. I spent one afternoon with the children, and that was that. I have been happily teaching with CHAP since.
I watched us grow from two teachers and one office person to where we are now: leading over 60 hours of art experiences weekly. There have been many ups and downs, worries and relief, joys and terrible sorrows, but through it all there has been laughter and hope and belief in this vision and this need for artists bringing the healing power of art to these lovely and grateful children. I have always held on because of the strength of these magic connections.

What have you learned from making art with critically ill children? Working with the population at the hospitals has humbled me and also taught me to let go of many of the details that slow me down. CHAP's founder, Frank, always encouraged us to abandon the rules and create our own. Watching these kids and adults with tubes and poles and pain and drugs under their belts, tuck in to tiny chairs, under tables that are flat and too low, STILL create beautiful work without any excuse about perfect conditions or proper papers or brushes or light, is a gift and a brilliant lesson. In the little time they might get between transfusions or chemo or whatever procedure or bout of nausea is up next, they create with joy and concentration and a sweet peace and appreciation for their escape into the bliss and freedom of light and color. If I could maintain that attitude in my own work, I would be satisfied that I was giving the best I could give to the world.
In 2013, CHAP grew significantly, providing over 7,000 healing arts experiences to children and their families dealing with critical and chronic illnesses and disabilities. CHAP's mobile team of teaching artists bring creative, engaging art projects directly to hospital bedsides, playrooms and waiting rooms each week.
Signing up for CHAP's Monthly Giving Program TODAY supports CHAP in the continuation of what we do best - sharing the Healing Power of Art with children and families!